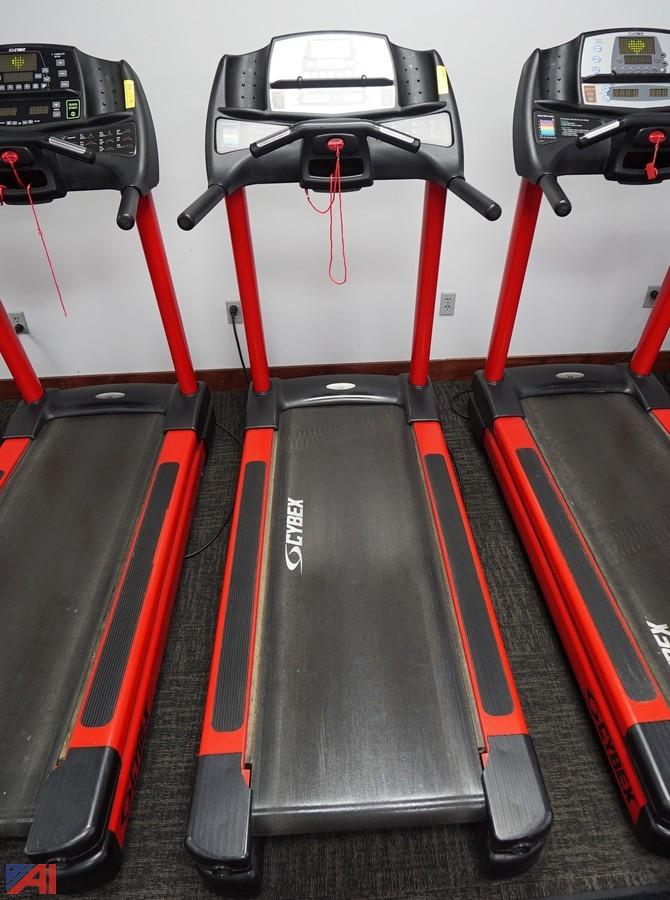 Lot #0033:
Cybex #CX-445T Treadmill
SPECIAL TERMS FOR THIS SECURED CREDITOR AUCTION
BY BIDDING IN THIS AUCTION YOU AGREE TO THE FOLLOWING TERMS:
PAYMENT: Upon sale approval all payments must be completed by 6-11-18
REMOVAL: All purchasers must come prepared to remove their items. There is no personnel to assist with removal at this facility. Please bring the equipment you need to remove your purchases including carts and tools.
REMOVAL TIMES: The facility will be open from 9:00am to 4:00pm daily on 6-11-18, 6-12-18 & 6-13-18 to pick up your purchase. Failure to remove your items on those days places the buyer at risk of forfeiting their purchase without refund.
PROPERTY DAMAGE: The landlord is cooperating with this auction; however, if a buyer damages the premises while removing their purchase, the buyer agrees to pay for any damages incurred to the reasonable satisfaction of the landlord.
EQUIPMENT CONDITION: The equipment offered in this auction was in working condition when the business closed but has not been tested by the auctioneer, all lots are sold "AS IS"
IMPORTANT: Most all of the fitness equipment will need some amount of disassembly to fit out the property doorway, please be prepared for some dismantle work of your purchase
ALSO: Pay attention to any additional terms that may apply to a specific listing
PUBLIC INSPECTION: You are invited to inspect all items in this auction from 10am-2pm on 5-21-18 & 5-31-18
Up for bid is this Cybex #CX-445T Treadmill
115V, 60Hz, 15 Amps, 1 Phase
The CYBEX CX 445T is a full blown commercial treadmill that won't blow your budget or your floor plan. The robust dual-level design speaks volumes about durability and demonstrates why the IS3 suspension is so comfortable. Its ingenious design provides a wide open running area with an ultra low hood cover in an exceptionally small footprint.
General Statement Regarding CYBEX Equipment:
Features
•Compact: The full sized running surface is delivered with an ultra compact footprint that emphasizes the user experience. The elegant low profile hood design provides an unobstructed path for the user's stride which maximizes the usable running area.
•Durable: The 3.0 HP motor with PWM control combines with rugged 3.0" diameter rollers to provide exceptionally smooth and reliable operation at all speeds. The waxed-marine hardwood deck is double sided for extended life and needs no external lubrication.
•Comfort: Our Intelligent Suspension 3 (IS3) deck suspension system flexes primarily at the point of impact, absorbing shock where it occurs to provide an exceptionally comfortable experience unlike the traditional floating decks which indiscriminately give way and cause instability in a runner's stride. The dual-level design of the base lets you see IS3 at work.
•Convenience: The streamlined operation of the display provides direct use of Quick Start and intuitive access to the nine available programs. The Cool Down feature presents a two-minute cool down at the press of the button. The dual water bottle holder and utility tray keep everything at your fingertips.
•Personal Cooling Fan: No
•Display: Matrix LED
•Display Readout: Programs, Set Up, Scan, Distance, Calories, Calories/Hour, METs, Miles/km, Incline, Speed
•Programs: Quick Start, Manual, Progress, Heart Rate Control, Time, Level, Weight, Cool Down
•Heart Rate Monitoring: Contact and Polar Telemetry
•TV: Optional
•Step Up Height: 11" (28 cm)
•Elevation Range: 0% to 15%
•Speed Range: 0.5 mph to 11 mph (0.8 kph to 17.6 kph)
•Running Surface: 20" x 60" (51 x 152 cm)
•Safety: Permanently attached lanyard with removable key. CYBEX exclusive Safety Sentry
•Compliance: CE, UL, ASTM, CSA, FCC Class B
•Max User Weight: 350 lbs (159 kg)
•Weight: 320 lbs (145 kg)
•Dimensions: 72" L x 32" W x 61" H / (183 x 81 x 155 cm)
There is a video of a similar unit through the video tab
Good Luck Bidding!
***Please review all Auction terms at left side of auction before bidding***
Terms of Sale:
All sales are final. No refunds will be issued. This item is being sold as is, where is, with no warranty, expressed written or implied. The seller shall not be responsible for the correct description, authenticity, genuineness, or defects herein, and makes no warranty in connection therewith. No allowance or set aside will be made on account of any incorrectness, imperfection, defect or damage. Any descriptions or representations are for identification purposes only and are not to be construed as a warranty of any type. It is the responsibility of the buyer to have thoroughly inspected this item and to have satisfied himself or herself as to the condition and value and to bid based upon that judgment solely. The seller shall and will make every reasonable effort to disclose any known defects associated with this item at the buyer request prior to the close of sale. Seller assumes no responsibility for any repairs regardless of any oral statements about the item. Seller is NOT responsible for providing tools or heavy equipment to aid in removal. Items left on seller premises after this removal deadline will revert back to possession of the seller, with no refund.
---
| | | |
| --- | --- | --- |
| Bid Date | Bid Amount | Bidder |
| Jun 5, 2018 - 6:32:16 PM | $770.00 | ivoncarlton |
| Jun 5, 2018 - 6:32:11 PM | $760.00 | impac89 |
| Jun 5, 2018 - 6:32:11 PM | $750.00 | ivoncarlton |
| Jun 5, 2018 - 6:32:00 PM | $740.00 | impac89 |
| Jun 5, 2018 - 6:32:00 PM | $730.00 | ivoncarlton |
| Jun 5, 2018 - 6:31:51 PM | $720.00 | impac89 |
| Jun 5, 2018 - 6:31:45 PM | $710.00 | ivoncarlton |
| Jun 5, 2018 - 6:31:46 PM | $710.00 | impac89 |
| Jun 5, 2018 - 6:25:04 PM | $700.00 | ivoncarlton |
| Jun 5, 2018 - 6:24:52 PM | $690.00 | imdovidio221 |
| Jun 5, 2018 - 6:24:52 PM | $680.00 | ivoncarlton |
| Jun 5, 2018 - 6:24:49 PM | $670.00 | imdovidio221 |
| Jun 5, 2018 - 6:24:49 PM | $660.00 | ivoncarlton |
| Jun 5, 2018 - 6:24:47 PM | $650.00 | imdovidio221 |
| Jun 5, 2018 - 6:24:47 PM | $640.00 | ivoncarlton |
| Jun 5, 2018 - 6:24:45 PM | $630.00 | imdovidio221 |
| Jun 5, 2018 - 6:24:45 PM | $620.00 | ivoncarlton |
| Jun 5, 2018 - 6:24:43 PM | $610.00 | imdovidio221 |
| Jun 5, 2018 - 6:24:43 PM | $600.00 | ivoncarlton |
| Jun 5, 2018 - 6:24:38 PM | $590.00 | imdovidio221 |
| Jun 5, 2018 - 6:24:38 PM | $580.00 | ivoncarlton |
| Jun 5, 2018 - 6:19:36 PM | $570.00 | imdovidio221 |
| Jun 5, 2018 - 6:13:00 PM | $560.00 | ivoncarlton |
| Jun 5, 2018 - 6:12:57 PM | $550.00 | impac89 |
| Jun 5, 2018 - 6:12:57 PM | $540.00 | ivoncarlton |
| Jun 5, 2018 - 6:12:13 PM | $530.00 | impac89 |
| Jun 5, 2018 - 6:08:44 PM | $520.00 | ivoncarlton |
| Jun 5, 2018 - 6:04:46 PM | $510.00 | impac89 |
| Jun 5, 2018 - 6:04:03 PM | $500.00 | iSMG 94 |
| Jun 5, 2018 - 6:04:04 PM | $500.00 | impac89 |
| Jun 5, 2018 - 6:03:29 PM | $410.00 | iSMG 94 |
| Jun 5, 2018 - 6:03:29 PM | $400.00 | impac89 |
| Jun 5, 2018 - 6:02:24 PM | $390.00 | iSMG 94 |
| Jun 5, 2018 - 6:02:24 PM | $380.00 | impac89 |
| Jun 5, 2018 - 5:43:52 PM | $370.00 | iSMG 94 |
| Jun 5, 2018 - 5:43:52 PM | $360.00 | iMCM123 |
| Jun 5, 2018 - 5:20:58 PM | $290.00 | iSMG 94 |
| Jun 5, 2018 - 5:20:58 PM | $280.00 | ijef098 |
| Jun 3, 2018 - 9:04:51 PM | $260.00 | ijef098 |
| May 25, 2018 - 3:41:59 PM | $250.00 | iSyracuseselect |
| May 25, 2018 - 3:42:00 PM | $250.00 | ijef098 |
| May 25, 2018 - 3:41:08 PM | $230.00 | iSyracuseselect |
| May 25, 2018 - 3:41:08 PM | $220.00 | ijef098 |
| May 21, 2018 - 2:13:33 PM | $180.00 | iSyracuseselect |
| May 21, 2018 - 2:13:33 PM | $175.00 | ijef098 |
| May 16, 2018 - 12:22:22 PM | $155.00 | ijef098 |
| May 16, 2018 - 12:22:10 PM | $150.00 | iSMG 94 |
| May 16, 2018 - 12:22:11 PM | $150.00 | ijef098 |
| May 16, 2018 - 12:21:59 PM | $105.00 | iSMG 94 |
| May 16, 2018 - 12:21:59 PM | $100.00 | ijef098 |
| May 16, 2018 - 7:56:37 AM | $10.00 | iSMG 94 |