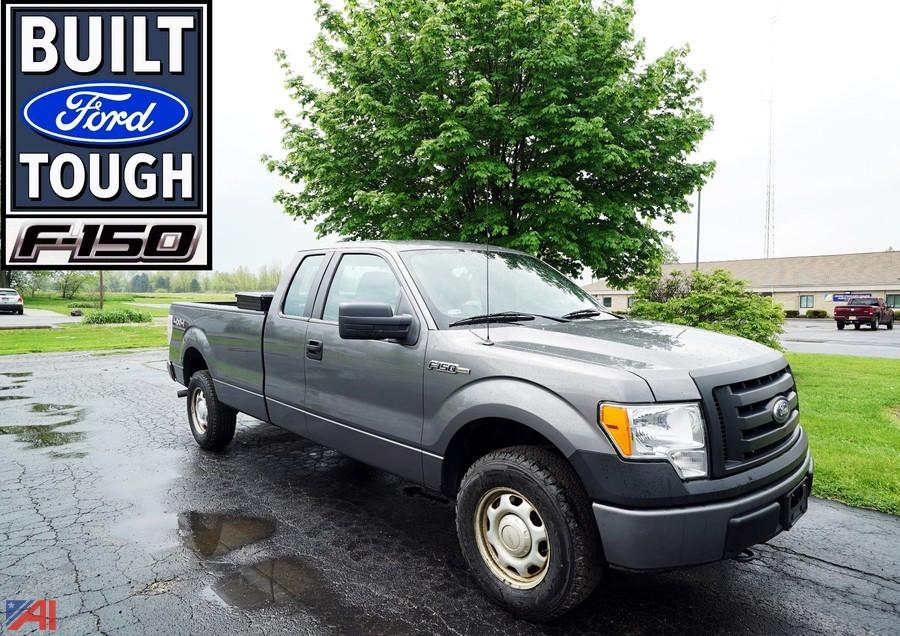 2011 Ford F150 Extended Cab Long-Box Pickup Truck with Tool Box
Bidding is

closed

.
High Bid:
$13,300.00
NA
Bidding Ended:
Wed, Jun 12 6:32:50 pm ET
High Bidder:
Nedra
Bid Increment:
$100.00
Starting Bid:
$25.00
Item Location:

446 West Ave.

,

Albion, Orleans

,

NY

14411

Distance:
Please click on the location address to view the item's location on a map.
Item has been viewed 3,563 times.
2011 Ford F150 Extended Cab Long-Box, 4X4 Pickup Truck with Toolbox
This clean Ford starts runs & drives and is in good operational condition, after the tires were recently updated the tire pressure light remains on
The body is solid and in good shape, with minor areas of spot rust and paint loss, the long-box has a bed liner and ProMaxx aluminum tool box with a black finish, view images
The interior is clean with less than average wear, the drivers seat entrance side has a plastic piece of trim plate that needs to be re-glued (as shown in the photos). This truck is equipped with a factory towing package, A/C & audio, also an aftermarket trailer brake system unit
***NOTE we advise that when bidding on motorized equipment or vehicles that you inspect the unit prior to bidding
Sold AS IS
Good luck bidding!
***Please review all Auction terms at left side of auction before bidding***
Terms of Sale:
All sales are final. No refunds will be issued. This item is being sold as is, where is, with no warranty, expressed written or implied. The seller shall not be responsible for the correct description, authenticity, genuineness, or defects herein, and makes no warranty in connection therewith. No allowance or set aside will be made on account of any incorrectness, imperfection, defect or damage. Any descriptions or representations are for identification purposes only and are not to be construed as a warranty of any type. It is the responsibility of the buyer to have thoroughly inspected this item and to have satisfied himself or herself as to the condition and value and to bid based upon that judgment solely. The seller shall and will make every reasonable effort to disclose any known defects associated with this item at the buyer request prior to the close of sale. Seller assumes no responsibility for any repairs regardless of any oral statements about the item. Seller is NOT responsible for providing tools or heavy equipment to aid in removal. Items left on seller premises after this removal deadline will revert back to possession of the seller, with no refund.
Year: 2011
Make: Ford
Model: F150
Body Style: Extended Cab Long-Box Pickup Truck with Tool Box
VIN/SN: 1FTVX1EF3BKD38701
Odometer Numbers: 105,054
Engine Make/Model: 5.0L
Cyl: 8
Fuel Type: Gas
Transmission Model: 4-Speed
Transmission Type: Auto
Single Axle/Dual Axle: Single
Tire Size/Type: LT245/75R17 Recently updated with under mount spare
Tire Condition: Good
2WD/4WD: 4WD
Does the unit operate?: Yes
Does the vehicle start?: Yes
Are keys available?: Yes
Ownership Documents: Clear Title
Mechanical Condition: Good
Mechanical Notes: Fleet maintained. Towing package.
Body Condition: Good
Body Notes: Minor paint loss & spot rust, view images.
Interior Condition: Good
Titled: Yes
GVWR: 8,200lbs
---
| | | |
| --- | --- | --- |
| Bid Date | Bid Amount | Bidder |
| Jun 12, 2019 - 6:31:50 PM | $13,300.00 | iNedra |
| Jun 12, 2019 - 6:31:50 PM | $13,200.00 | iNortheastern1 |
| Jun 12, 2019 - 6:31:15 PM | $13,100.00 | iNedra |
| Jun 12, 2019 - 6:30:34 PM | $13,000.00 | iNortheastern1 |
| Jun 12, 2019 - 6:30:35 PM | $13,000.00 | iNedra |
| Jun 12, 2019 - 6:30:28 PM | $12,900.00 | iNortheastern1 |
| Jun 12, 2019 - 6:30:14 PM | $12,800.00 | iNedra |
| Jun 12, 2019 - 6:30:15 PM | $12,800.00 | iNortheastern1 |
| Jun 12, 2019 - 6:29:42 PM | $12,700.00 | iNedra |
| Jun 12, 2019 - 6:29:42 PM | $12,600.00 | iNortheastern1 |
| Jun 12, 2019 - 6:29:21 PM | $12,500.00 | iNedra |
| Jun 12, 2019 - 6:29:21 PM | $12,400.00 | iNortheastern1 |
| Jun 12, 2019 - 6:29:07 PM | $12,300.00 | iNedra |
| Jun 12, 2019 - 6:29:07 PM | $12,200.00 | iNortheastern1 |
| Jun 12, 2019 - 6:28:48 PM | $12,100.00 | iNedra |
| Jun 12, 2019 - 6:28:48 PM | $12,000.00 | iNortheastern1 |
| Jun 12, 2019 - 6:28:32 PM | $11,900.00 | iNedra |
| Jun 12, 2019 - 6:28:32 PM | $11,800.00 | iNortheastern1 |
| Jun 12, 2019 - 6:27:00 PM | $11,700.00 | iNedra |
| Jun 12, 2019 - 6:27:00 PM | $11,600.00 | iNortheastern1 |
| Jun 12, 2019 - 4:01:24 PM | $11,400.00 | iNortheastern1 |
| Jun 12, 2019 - 4:00:48 PM | $11,300.00 | iNedra |
| Jun 12, 2019 - 4:00:49 PM | $11,300.00 | iNortheastern1 |
| Jun 12, 2019 - 3:48:26 PM | $11,100.00 | iNedra |
| Jun 12, 2019 - 3:48:26 PM | $11,000.00 | iNortheastern1 |
| Jun 12, 2019 - 3:48:06 PM | $10,800.00 | iNedra |
| Jun 12, 2019 - 3:48:06 PM | $10,700.00 | iNortheastern1 |
| Jun 12, 2019 - 3:47:56 PM | $10,600.00 | iNedra |
| Jun 12, 2019 - 3:47:56 PM | $10,500.00 | iNortheastern1 |
| Jun 12, 2019 - 3:47:44 PM | $10,400.00 | iNedra |
| Jun 12, 2019 - 3:47:44 PM | $10,300.00 | iNortheastern1 |
| Jun 12, 2019 - 3:46:14 PM | $10,200.00 | iNedra |
| Jun 12, 2019 - 3:46:14 PM | $10,100.00 | iNortheastern1 |
| Jun 12, 2019 - 3:45:46 PM | $9,600.00 | iNedra |
| Jun 12, 2019 - 3:45:46 PM | $9,500.00 | iNortheastern1 |
| Jun 12, 2019 - 3:45:30 PM | $9,400.00 | iNedra |
| Jun 12, 2019 - 3:45:30 PM | $9,300.00 | iNortheastern1 |
| Jun 12, 2019 - 3:45:03 PM | $9,200.00 | iNedra |
| Jun 12, 2019 - 3:45:03 PM | $9,100.00 | iNortheastern1 |
| Jun 12, 2019 - 3:31:17 PM | $8,600.00 | iNedra |
| Jun 12, 2019 - 3:31:17 PM | $8,500.00 | iNortheastern1 |
| Jun 12, 2019 - 2:17:17 PM | $8,100.00 | iNedra |
| Jun 12, 2019 - 2:17:17 PM | $8,000.00 | iNortheastern1 |
| Jun 12, 2019 - 11:16:34 AM | $7,300.00 | iNortheastern1 |
| Jun 12, 2019 - 11:16:21 AM | $7,200.00 | iNU-NU |
| Jun 12, 2019 - 11:16:21 AM | $7,100.00 | iNortheastern1 |
| Jun 12, 2019 - 11:16:05 AM | $7,000.00 | iNU-NU |
| Jun 12, 2019 - 11:16:05 AM | $6,900.00 | iNortheastern1 |
| Jun 7, 2019 - 9:25:19 PM | $6,600.00 | iNU-NU |
| Jun 7, 2019 - 6:21:20 PM | $6,500.00 | iforklifttruck |
| Jun 7, 2019 - 6:21:20 PM | $6,400.00 | ibanat1 |
| Jun 7, 2019 - 9:21:56 AM | $6,200.00 | iforklifttruck |
| Jun 6, 2019 - 9:48:28 PM | $6,100.00 | iNU-NU |
| Jun 6, 2019 - 9:48:28 PM | $6,000.00 | iforklifttruck |
| Jun 4, 2019 - 4:15:46 PM | $5,500.00 | iforklifttruck |
| Jun 4, 2019 - 4:15:46 PM | $5,400.00 | igracie55 |
| Jun 4, 2019 - 4:15:15 PM | $5,200.00 | iforklifttruck |
| Jun 4, 2019 - 4:15:15 PM | $5,100.00 | igracie55 |
| Jun 3, 2019 - 9:02:55 PM | $4,950.00 | iforklifttruck |
| Jun 3, 2019 - 9:02:55 PM | $4,900.00 | iMontikass |
| Jun 3, 2019 - 9:02:38 PM | $4,850.00 | iforklifttruck |
| Jun 3, 2019 - 9:02:38 PM | $4,800.00 | iMontikass |
| Jun 3, 2019 - 9:02:18 PM | $4,700.00 | iforklifttruck |
| Jun 3, 2019 - 9:02:18 PM | $4,650.00 | iMontikass |
| May 31, 2019 - 10:22:01 AM | $4,550.00 | iforklifttruck |
| May 31, 2019 - 10:21:15 AM | $4,500.00 | iNU-NU |
| May 31, 2019 - 10:21:16 AM | $4,500.00 | iforklifttruck |
| May 30, 2019 - 10:14:23 PM | $4,300.00 | iNU-NU |
| May 30, 2019 - 10:14:23 PM | $4,250.00 | ibanat1 |
| May 30, 2019 - 9:06:38 PM | $4,050.00 | ibanat1 |
| May 30, 2019 - 1:05:36 AM | $4,000.00 | iforklifttruck |
| May 30, 2019 - 1:05:37 AM | $4,000.00 | ithegga |
| May 29, 2019 - 11:40:21 PM | $3,700.00 | iforklifttruck |
| May 29, 2019 - 11:40:01 PM | $3,650.00 | ibanat1 |
| May 29, 2019 - 11:40:01 PM | $3,600.00 | iforklifttruck |
| May 29, 2019 - 7:08:32 PM | $3,550.00 | ibanat1 |
| May 29, 2019 - 7:08:32 PM | $3,500.00 | iforklifttruck |
| May 29, 2019 - 5:14:18 PM | $3,050.00 | iforklifttruck |
| May 29, 2019 - 5:14:05 PM | $3,000.00 | idanaconda** |
| May 29, 2019 - 5:14:06 PM | $3,000.00 | iforklifttruck |
| May 29, 2019 - 5:13:52 PM | $2,650.00 | idanaconda** |
| May 29, 2019 - 5:13:52 PM | $2,600.00 | iforklifttruck |
| May 29, 2019 - 4:40:14 PM | $2,550.00 | idanaconda** |
| May 29, 2019 - 4:40:14 PM | $2,500.00 | iforklifttruck |
| May 29, 2019 - 2:50:49 PM | $2,225.00 | iforklifttruck |
| May 29, 2019 - 2:50:04 PM | $2,200.00 | idanaconda** |
| May 29, 2019 - 2:50:05 PM | $2,200.00 | iforklifttruck |
| May 29, 2019 - 2:49:40 PM | $2,175.00 | idanaconda** |
| May 29, 2019 - 2:49:40 PM | $2,150.00 | iforklifttruck |
| May 29, 2019 - 2:48:57 PM | $2,125.00 | idanaconda** |
| May 29, 2019 - 2:48:57 PM | $2,100.00 | iforklifttruck |
| May 29, 2019 - 2:48:26 PM | $2,075.00 | idanaconda** |
| May 29, 2019 - 2:48:26 PM | $2,050.00 | iforklifttruck |
| May 29, 2019 - 12:36:53 PM | $2,025.00 | idanaconda** |
| May 29, 2019 - 12:36:53 PM | $2,000.00 | iPoorDon |
| May 29, 2019 - 11:28:04 AM | $1,600.00 | idanaconda** |
| May 29, 2019 - 11:28:04 AM | $1,575.00 | ilandtech |
| May 29, 2019 - 9:54:11 AM | $25.00 | ilandtech |