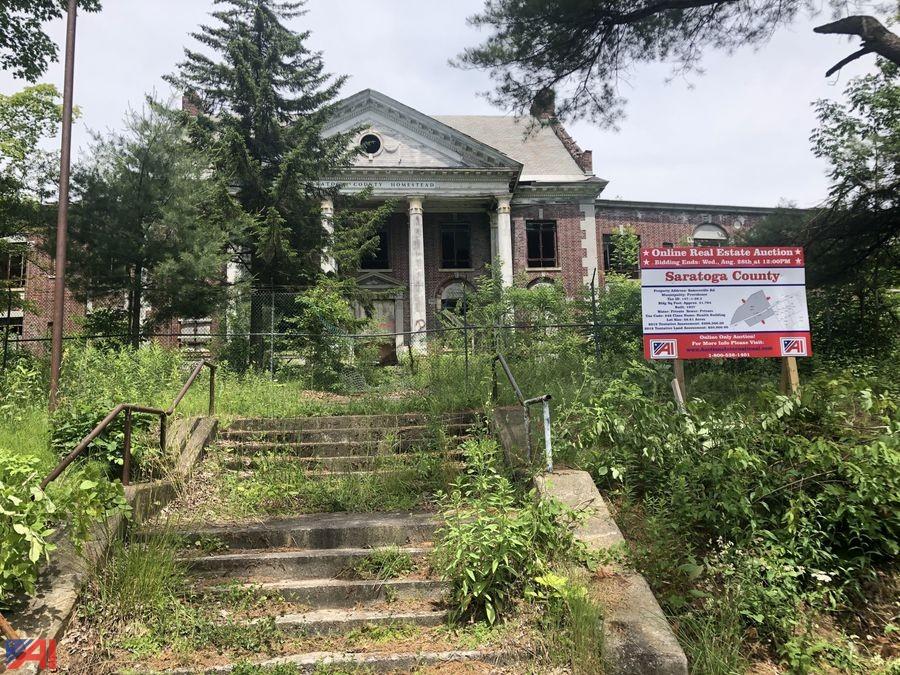 Former Saratoga County Homestead on 28.61 Acres
***Please review all Auction terms at left side of auction before bidding***
Property Address: Bakersville Rd
Municipality: Providence
Tax ID: 147.-1-38.3
School District: Galway

Water: Private
Sewer: Private
Number Stories: 2
Acreage: 28.61 
Property Type: 642 - Health Bldg 
Longitude: 619858
Latitude: 1556077
2019 Assessment: $208,500
2019 Land Assessment: $50,000
2019 Full Market Value: $224,194
West side of parcel has a single story metal building that sits back off the road.
To the left of the building there is a 2 story wood sided house that sits approximately 100ft west of the main building.
Property marker is approximately 50ft east of telephone pole number 65k on south side. Western most marker of southern section is directly across the street from small driveway.
Western property border of the larger portion is approximately 50ft east of telephone pole number 130/83. Property line appears to follow the small creek.
Eastern property line is posted directly to the right of the small driveway.
Parcel is approximately 1/4 mile from Volunteer Fire Dept., 1 1/2 miles from the Town of Providence municipal building, and 4 miles from Route 29.
County Route 16 has recently been paved as of 6/27/2019.
Google Earth - Bird's Eye View
IN THE NEWS:
THE SARATOGIAN

THE DAILY GAZETTE

WAMC Northeast Public Radio

CBS 6 Albany

ABC News 10

Kiss 103.2- Albany

Big Frog 104 (CNY)
Terms of Sale:
All sales are final. No refunds will be issued. This item is being sold as is, where is, with no warranty, expressed written or implied. The seller shall not be responsible for the correct description, authenticity, genuineness, or defects herein, and makes no warranty in connection therewith. No allowance or set aside will be made on account of any incorrectness, imperfection, defect or damage. Any descriptions or representations are for identification purposes only and are not to be construed as a warranty of any type. It is the responsibility of the buyer to have thoroughly inspected this item and to have satisfied himself or herself as to the condition and value and to bid based upon that judgment solely. The seller shall and will make every reasonable effort to disclose any known defects associated with this item at the buyer request prior to the close of sale. Seller assumes no responsibility for any repairs regardless of any oral statements about the item. Seller is NOT responsible for providing tools or heavy equipment to aid in removal. Items left on seller premises after this removal deadline will revert back to possession of the seller, with no refund.
---
| | | |
| --- | --- | --- |
| Bid Date | Bid Amount | Bidder |
| Aug 28, 2019 - 11:58:41 AM | $55,100.00 | ijwalk2515 |
| Aug 28, 2019 - 11:52:41 AM | $55,000.00 | iAlbertlaw34 |
| Aug 28, 2019 - 11:52:42 AM | $55,000.00 | ijwalk2515 |
| Aug 28, 2019 - 11:17:10 AM | $54,100.00 | iAlbertlaw34 |
| Aug 28, 2019 - 11:17:10 AM | $54,000.00 | ijwalk2515 |
| Aug 28, 2019 - 11:16:38 AM | $53,500.00 | ijwalk2515 |
| Aug 28, 2019 - 11:16:38 AM | $53,400.00 | iAlbertlaw34 |
| Aug 28, 2019 - 10:38:01 AM | $53,300.00 | ijwalk2515 |
| Aug 28, 2019 - 10:38:01 AM | $53,200.00 | iAlbertlaw34 |
| Aug 28, 2019 - 10:31:19 AM | $52,200.00 | iAlbertlaw34 |
| Aug 28, 2019 - 10:31:19 AM | $52,100.00 | ijwalk2515 |
| Aug 26, 2019 - 9:14:57 PM | $51,300.00 | iAlbertlaw34 |
| Aug 25, 2019 - 1:31:14 PM | $51,200.00 | iJbernardg |
| Aug 25, 2019 - 1:30:58 PM | $51,100.00 | ijwalk2515 |
| Aug 25, 2019 - 1:30:59 PM | $51,100.00 | iJbernardg |
| Aug 25, 2019 - 1:30:49 PM | $51,000.00 | ijwalk2515 |
| Aug 25, 2019 - 1:30:49 PM | $50,900.00 | iJbernardg |
| Aug 25, 2019 - 1:30:36 PM | $50,800.00 | ijwalk2515 |
| Aug 25, 2019 - 1:30:36 PM | $50,700.00 | iJbernardg |
| Aug 24, 2019 - 11:20:00 AM | $50,600.00 | ijwalk2515 |
| Aug 24, 2019 - 11:20:00 AM | $50,500.00 | iAlbertlaw34 |
| Aug 24, 2019 - 9:29:47 AM | $50,100.00 | ijwalk2515 |
| Aug 24, 2019 - 9:29:47 AM | $50,000.00 | iAlbertlaw34 |
| Aug 24, 2019 - 9:27:22 AM | $47,100.00 | iAlbertlaw34 |
| Aug 24, 2019 - 9:27:22 AM | $47,000.00 | ijwalk2515 |
| Aug 24, 2019 - 9:27:12 AM | $45,100.00 | iAlbertlaw34 |
| Aug 24, 2019 - 9:27:12 AM | $45,000.00 | ijwalk2515 |
| Aug 24, 2019 - 9:26:59 AM | $44,100.00 | iAlbertlaw34 |
| Aug 24, 2019 - 9:26:59 AM | $44,000.00 | ijwalk2515 |
| Aug 24, 2019 - 9:26:43 AM | $43,100.00 | iAlbertlaw34 |
| Aug 24, 2019 - 9:26:43 AM | $43,000.00 | ijwalk2515 |
| Aug 21, 2019 - 5:37:35 PM | $42,200.00 | iAlbertlaw34 |
| Aug 21, 2019 - 5:37:35 PM | $42,100.00 | iCbrew1 |
| Aug 16, 2019 - 5:17:12 PM | $42,000.00 | iCbrew1 |
| Aug 16, 2019 - 5:17:13 PM | $42,000.00 | iMr.Dirt |
| Aug 16, 2019 - 5:17:07 PM | $41,900.00 | iCbrew1 |
| Aug 16, 2019 - 5:17:07 PM | $41,800.00 | iMr.Dirt |
| Aug 16, 2019 - 5:17:01 PM | $41,700.00 | iCbrew1 |
| Aug 16, 2019 - 5:17:01 PM | $41,600.00 | iMr.Dirt |
| Aug 16, 2019 - 5:16:50 PM | $41,500.00 | iCbrew1 |
| Aug 16, 2019 - 5:16:50 PM | $41,400.00 | iMr.Dirt |
| Aug 16, 2019 - 5:16:26 PM | $41,300.00 | iCbrew1 |
| Aug 16, 2019 - 5:16:26 PM | $41,200.00 | iMr.Dirt |
| Aug 16, 2019 - 5:16:19 PM | $41,100.00 | iCbrew1 |
| Aug 16, 2019 - 5:16:19 PM | $41,000.00 | iMr.Dirt |
| Aug 16, 2019 - 5:15:51 PM | $40,900.00 | iCbrew1 |
| Aug 16, 2019 - 5:15:51 PM | $40,800.00 | iMr.Dirt |
| Aug 16, 2019 - 5:15:41 PM | $40,700.00 | iCbrew1 |
| Aug 16, 2019 - 5:15:41 PM | $40,600.00 | iMr.Dirt |
| Aug 16, 2019 - 5:15:33 PM | $40,500.00 | iCbrew1 |
| Aug 16, 2019 - 5:15:33 PM | $40,400.00 | iMr.Dirt |
| Aug 16, 2019 - 5:15:24 PM | $40,300.00 | iCbrew1 |
| Aug 16, 2019 - 5:15:24 PM | $40,200.00 | iMr.Dirt |
| Aug 15, 2019 - 7:48:54 PM | $40,100.00 | iCbrew1 |
| Aug 15, 2019 - 7:48:38 PM | $40,000.00 | iAlbertlaw34 |
| Aug 15, 2019 - 7:48:39 PM | $40,000.00 | iCbrew1 |
| Aug 15, 2019 - 7:48:23 PM | $38,100.00 | iAlbertlaw34 |
| Aug 15, 2019 - 7:48:23 PM | $38,000.00 | iCbrew1 |
| Aug 15, 2019 - 7:48:00 PM | $35,100.00 | iAlbertlaw34 |
| Aug 15, 2019 - 7:48:00 PM | $35,000.00 | iCbrew1 |
| Aug 7, 2019 - 10:41:34 PM | $32,600.00 | iAlbertlaw34 |
| Aug 7, 2019 - 10:41:34 PM | $32,500.00 | iMr.Dirt |
| Aug 4, 2019 - 10:55:29 AM | $30,100.00 | iMr.Dirt |
| Aug 4, 2019 - 10:55:20 AM | $30,000.00 | i24stoneman |
| Aug 4, 2019 - 10:55:21 AM | $30,000.00 | iMr.Dirt |
| Aug 4, 2019 - 10:55:10 AM | $27,600.00 | i24stoneman |
| Aug 4, 2019 - 10:55:10 AM | $27,500.00 | iMr.Dirt |
| Aug 4, 2019 - 10:54:56 AM | $25,100.00 | i24stoneman |
| Aug 4, 2019 - 10:54:56 AM | $25,000.00 | iMr.Dirt |
| Aug 1, 2019 - 9:09:04 PM | $20,600.00 | i24stoneman |
| Aug 1, 2019 - 9:09:04 PM | $20,500.00 | ijp1430 |
| Aug 1, 2019 - 9:08:49 PM | $15,600.00 | i24stoneman |
| Aug 1, 2019 - 9:08:49 PM | $15,500.00 | ijp1430 |
| Aug 1, 2019 - 9:08:40 PM | $11,600.00 | i24stoneman |
| Aug 1, 2019 - 9:08:40 PM | $11,500.00 | ijp1430 |
| Aug 1, 2019 - 3:06:08 PM | $8,100.00 | i24stoneman |
| Aug 1, 2019 - 3:06:08 PM | $8,000.00 | ijp1430 |
| Aug 1, 2019 - 3:05:57 PM | $6,800.00 | ijp1430 |
| Aug 1, 2019 - 3:05:57 PM | $6,700.00 | i24stoneman |
| Jul 31, 2019 - 11:05:50 PM | $6,600.00 | ijp1430 |
| Jul 31, 2019 - 11:05:50 PM | $6,500.00 | ijohns |
| Jul 31, 2019 - 4:35:28 AM | $5,600.00 | ijp1430 |
| Jul 31, 2019 - 4:35:28 AM | $5,500.00 | ipillage1 |
| Jul 30, 2019 - 7:05:24 PM | $5,200.00 | ipillage1 |
| Jul 30, 2019 - 6:40:24 PM | $5,100.00 | iCTrucking |
| Jul 28, 2019 - 7:59:57 PM | $5,000.00 | iPleasehelme |
| Jul 28, 2019 - 7:59:58 PM | $5,000.00 | i141414 |
| Jul 28, 2019 - 1:13:36 AM | $1,075.00 | iPleasehelme |
| Jul 26, 2019 - 11:04:39 PM | $1,050.00 | iCTrucking |
| Jul 26, 2019 - 5:44:06 PM | $1,025.00 | igotwood1 |
| Jul 26, 2019 - 2:40:43 AM | $1,000.00 | iCTrucking |
| Jul 26, 2019 - 2:40:44 AM | $1,000.00 | iPleasehelme |
| Jul 24, 2019 - 7:35:00 PM | $810.00 | iCTrucking |
| Jul 24, 2019 - 7:35:00 PM | $800.00 | iMagilla |
| Jul 24, 2019 - 5:19:08 PM | $25.00 | iCTrucking |