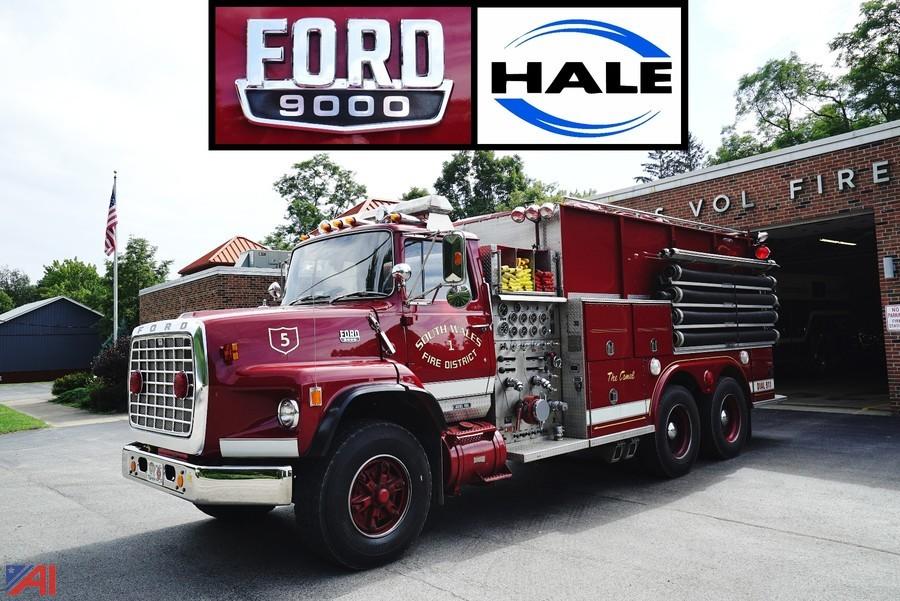 1983 Ford L9000 Saulsbury 3000 Gal. Pumper/Tanker
Bidding is

closed

.
High Bid:
$10,000.00
NA
Bidding Ended:
Wed, Sep 18 6:00:00 pm ET
High Bidder:
fire109
Bid Increment:
$100.00
Starting Bid:
$25.00
Item Location:

6406 Olean Road

,

South Wales, Erie

,

NY

14139

Distance:
Please click on the location address to view the item's location on a map.
Item has been viewed 4,542 times.
Additional Information:
Overall Length 36'
Overall Height 11'
Hale 1250 GPM single stage pump with 300 hours, #QSMF150 midship type
3,000 Gallon steel tank with epoxy coating renewed 5 years ago
(1) LDH Discharge
(1) Rear 2 1/2" discharge
(2) 1 3/4" Crosslays
(1) 1 3/4" Deadlay
14" Rear electric dump valve with side dump chute
Portable pond rack with a 3,000 gallon portable pond
(2) Fire axes, red 3" hose, 6" hard suction hoses, 16' extension ladder
Not included:
Two way radios, most of all the tools, nozzles and loose items
Sold AS IS
Good Luck Bidding
**EMERGENCY VEHICLE DISCLAIMER**
This vehicle is being sold as retired emergency vehicle and may be equipped with red/white lights, strobes and/or sirens. If a municipality or legal law enforcement agency is NOT the highest bidder for this lot, it will be the responsibility of the bidder to decommission ALL EMERGENCY INSTRUMENTS prior to the vehicle leaving the facility. This means you will have to cut power to; lights, sirens and/or any radio equipment (shall it be equipped). You must also de-identify this vehicle as being an emergency vehicle. Failure to do so may result in legal ramifications and potential accusations of impersonation. Please keep in mind that former emergency vehicles may have the following (but not limited to): holes in roof or trunk from removed antennas, lights and sirens, missing center console, specialty rear seating, interior cages, and any other emergency vehicle equipment. It is the responsibility of the bidder to inspect each asset you are bidding on and make satisfactory determinations about the condition thereof.
***Please review all Auction terms at left side of auction before bidding***
Terms of Sale:
All sales are final. No refunds will be issued. This item is being sold as is, where is, with no warranty, expressed written or implied. The seller shall not be responsible for the correct description, authenticity, genuineness, or defects herein, and makes no warranty in connection therewith. No allowance or set aside will be made on account of any incorrectness, imperfection, defect or damage. Any descriptions or representations are for identification purposes only and are not to be construed as a warranty of any type. It is the responsibility of the buyer to have thoroughly inspected this item and to have satisfied himself or herself as to the condition and value and to bid based upon that judgment solely. The seller shall and will make every reasonable effort to disclose any known defects associated with this item at the buyer request prior to the close of sale. Seller assumes no responsibility for any repairs regardless of any oral statements about the item. Seller is NOT responsible for providing tools or heavy equipment to aid in removal. Items left on seller premises after this removal deadline will revert back to possession of the seller, with no refund.
Year: 1983
Make: Ford
Model: L9000
Body Style: Saulsbury 3000 Gal. Pumper/Tanker
VIN/SN: 1FDZY90W0DVA20973
Odometer Numbers: 25,588
Hours: 1,868
Engine Make/Model: Cummins NTC300 Turbo Charged
Cyl: 6
Fuel Type: Diesel
Transmission Model: Allison 4 Speed
Transmission Type: Auto
Single Axle/Dual Axle: Dual Wheel
Tire Size/Type: 385/65R22.5
Tire Condition: Good
Drivetrain: 2WD
Does the unit operate?: Yes
Does the vehicle start?: Yes
Are keys available?: Yes
Ownership Documents: Certificate of Origin
Mechanical Condition: Good
Mechanical Notes: Well maintained, transmission was changed from a manual to an automatic in 1994.
Body Condition: Good
Body Notes: Solid less than average wear, view images.
Interior Condition: Good
GVWR: 62,000 lbs
Titled: No
---
| | | |
| --- | --- | --- |
| Bid Date | Bid Amount | Bidder |
| Sep 18, 2019 - 5:55:00 PM | $10,000.00 | ifire109 |
| Sep 18, 2019 - 5:55:00 PM | $9,900.00 | iGorick27 |
| Sep 18, 2019 - 3:45:07 PM | $9,400.00 | iGorick27 |
| Sep 18, 2019 - 3:45:07 PM | $9,300.00 | igoodneighbor |
| Sep 18, 2019 - 3:44:26 PM | $9,100.00 | iGorick27 |
| Sep 18, 2019 - 3:44:26 PM | $9,000.00 | igoodneighbor |
| Sep 18, 2019 - 3:42:03 PM | $8,900.00 | iGorick27 |
| Sep 18, 2019 - 3:42:03 PM | $8,800.00 | igoodneighbor |
| Sep 18, 2019 - 3:34:27 PM | $8,600.00 | iGorick27 |
| Sep 18, 2019 - 3:34:27 PM | $8,500.00 | igoodneighbor |
| Sep 18, 2019 - 1:06:03 PM | $8,100.00 | igoodneighbor |
| Sep 18, 2019 - 1:06:03 PM | $8,000.00 | iSTT7850 |
| Sep 18, 2019 - 12:04:24 PM | $7,900.00 | iSTT7850 |
| Sep 18, 2019 - 12:04:24 PM | $7,800.00 | igoodneighbor |
| Sep 18, 2019 - 11:50:23 AM | $7,300.00 | iSTT7850 |
| Sep 18, 2019 - 11:50:23 AM | $7,200.00 | iaerosnow1 |
| Sep 18, 2019 - 11:49:56 AM | $6,900.00 | iaerosnow1 |
| Sep 18, 2019 - 11:49:56 AM | $6,800.00 | iSTT7850 |
| Sep 18, 2019 - 11:04:47 AM | $6,100.00 | iaerosnow1 |
| Sep 18, 2019 - 11:04:47 AM | $6,000.00 | i08173059 |
| Sep 18, 2019 - 4:53:33 AM | $5,500.00 | i08173059 |
| Sep 18, 2019 - 4:53:33 AM | $5,400.00 | igoodneighbor |
| Sep 17, 2019 - 7:13:54 AM | $5,200.00 | i08173059 |
| Sep 16, 2019 - 8:45:50 PM | $5,100.00 | ihud1958 |
| Sep 16, 2019 - 8:45:50 PM | $5,000.00 | i08173059 |
| Sep 9, 2019 - 9:44:06 AM | $4,550.00 | i08173059 |
| Sep 9, 2019 - 9:44:06 AM | $4,500.00 | ikvaw1 |
| Sep 8, 2019 - 2:48:13 PM | $4,350.00 | i08173059 |
| Sep 8, 2019 - 2:48:13 PM | $4,300.00 | irr5555 |
| Sep 8, 2019 - 8:55:16 AM | $4,250.00 | i08173059 |
| Sep 8, 2019 - 8:55:16 AM | $4,200.00 | idollar |
| Sep 6, 2019 - 7:29:27 PM | $4,050.00 | idollar |
| Sep 5, 2019 - 8:09:18 AM | $4,000.00 | i08173059 |
| Sep 5, 2019 - 8:09:19 AM | $4,000.00 | irr5555 |
| Sep 5, 2019 - 8:08:37 AM | $3,600.00 | i08173059 |
| Sep 5, 2019 - 8:08:37 AM | $3,550.00 | irr5555 |
| Sep 5, 2019 - 8:08:03 AM | $3,200.00 | i08173059 |
| Sep 5, 2019 - 8:08:03 AM | $3,150.00 | irr5555 |
| Sep 5, 2019 - 8:07:15 AM | $2,550.00 | i08173059 |
| Sep 5, 2019 - 8:07:15 AM | $2,500.00 | irr5555 |
| Sep 5, 2019 - 8:06:14 AM | $2,325.00 | i08173059 |
| Sep 5, 2019 - 8:06:14 AM | $2,300.00 | irr5555 |
| Sep 5, 2019 - 8:05:42 AM | $2,075.00 | i08173059 |
| Sep 5, 2019 - 8:05:42 AM | $2,050.00 | irr5555 |
| Sep 4, 2019 - 8:50:19 PM | $2,025.00 | i08173059 |
| Sep 4, 2019 - 8:50:19 PM | $2,000.00 | imartinbulldogs |
| Sep 4, 2019 - 1:55:24 PM | $1,525.00 | imartinbulldogs |
| Sep 4, 2019 - 1:55:24 PM | $1,500.00 | irr5555 |
| Sep 4, 2019 - 8:43:32 AM | $25.00 | irr5555 |