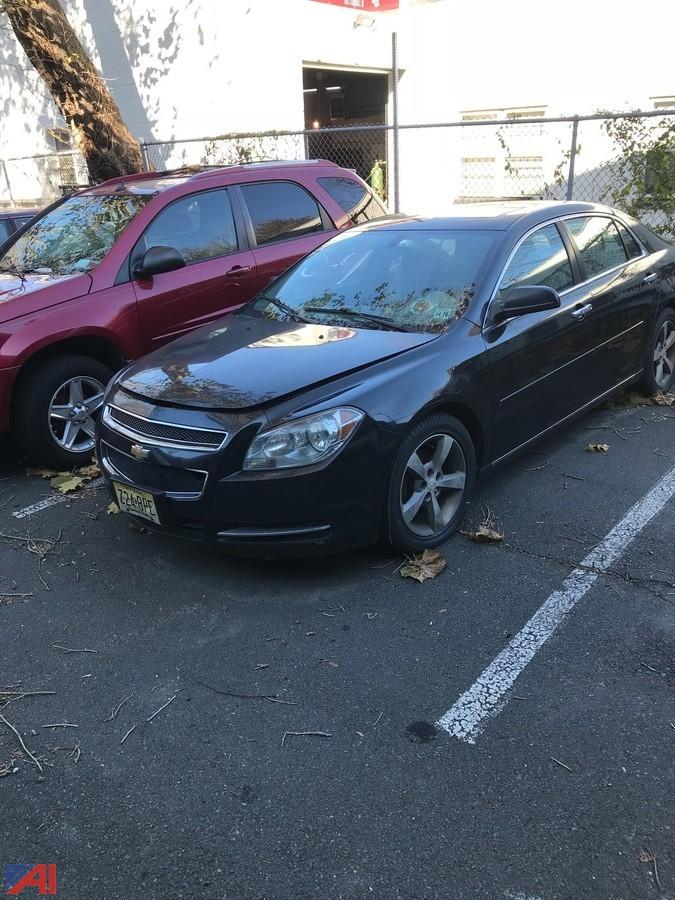 Lot #0004:
2012 Chevy Malibu 4 Door
Bidding is

closed

.
High Bid:
$1,800.00
NA
Bidding Ended:
Fri, Dec 6 7:15:40 pm ET
High Bidder:
sebduval
Bid Increment:
$25.00
Starting Bid:
$25.00
Item Location:

Ferris Ave.

,

White Plains, Westchester

,

NY

10601

Item has been viewed 789 times.
**Viewing Date 11/30/2019 between 10 am and 11 am** 
This is a "scofflaw" vehicle, seized by the City for unpaid parking tickets. The last registered owner(s) have been notified by registered mail and failed to respond. We do not have keys unless stated. We do not know the vehicle's mechanical condition nor mileage (unless otherwise noted). This vehicle is sold "as-is, where is" without guarantee or warranty. Inspection before bidding is recommended.
The City will issue a "Bill of Sale" with copies of the registered letter and response from the last know owner(s) and legal notice of sale. These items are sufficient to register a vehicle in New York State, check other states requirements before bidding. The purchaser does not owe for unpaid parking tickets, storage and towing.
The City of White Plains reserves the right to withdraw any item before time of sale.
All items sold "as is, where is", no guarantee or warranty from the City is given with any item and no sales shall be invalidated by an reason of any fault on any item or by reason of any item being incorrectly described in the auction of otherwise.
**Please review all auction terms on the left side of the auction before bidding**
***Please review all Auction terms at left side of auction before bidding***
Terms of Sale:
All sales are final. No refunds will be issued. This item is being sold as is, where is, with no warranty, expressed written or implied. The seller shall not be responsible for the correct description, authenticity, genuineness, or defects herein, and makes no warranty in connection therewith. No allowance or set aside will be made on account of any incorrectness, imperfection, defect or damage. Any descriptions or representations are for identification purposes only and are not to be construed as a warranty of any type. It is the responsibility of the buyer to have thoroughly inspected this item and to have satisfied himself or herself as to the condition and value and to bid based upon that judgment solely. The seller shall and will make every reasonable effort to disclose any known defects associated with this item at the buyer request prior to the close of sale. Seller assumes no responsibility for any repairs regardless of any oral statements about the item. Seller is NOT responsible for providing tools or heavy equipment to aid in removal. Items left on seller premises after this removal deadline will revert back to possession of the seller, with no refund.
Fleet #: S-4
Year: 2012
Make: Chevy
Model: Malibu
Body Style: 4 Door
VIN/SN: 1G1ZC5E07CF162335
Odometer Numbers: Unknown
Engine Make/Model: 2.4L L4 DOHC 16V
Cyl: 4
Fuel Type: Gas
Transmission Type: Auto
Tire Condition: Fair
Drivetrain: Unknown
Does the unit operate?: Unknown
Does the vehicle start?: Unknown
Are keys available?: No
Ownership Documents: Impound
Mechanical Condition: Unknown
Body Condition: Fair
Interior Condition: Fair
Titled: Yes
---
| | | |
| --- | --- | --- |
| Bid Date | Bid Amount | Bidder |
| Dec 6, 2019 - 7:14:40 PM | $1,800.00 | isebduval |
| Dec 6, 2019 - 7:14:40 PM | $1,775.00 | icdjs4433 |
| Dec 6, 2019 - 7:14:01 PM | $1,750.00 | isebduval |
| Dec 6, 2019 - 7:14:01 PM | $1,725.00 | icdjs4433 |
| Dec 6, 2019 - 7:13:34 PM | $1,700.00 | isebduval |
| Dec 6, 2019 - 7:13:34 PM | $1,675.00 | icdjs4433 |
| Dec 6, 2019 - 7:12:40 PM | $1,650.00 | isebduval |
| Dec 6, 2019 - 7:12:29 PM | $1,625.00 | icdjs4433 |
| Dec 6, 2019 - 7:11:35 PM | $1,600.00 | isebduval |
| Dec 6, 2019 - 7:11:35 PM | $1,575.00 | icdjs4433 |
| Dec 6, 2019 - 7:10:42 PM | $1,550.00 | isebduval |
| Dec 6, 2019 - 7:10:42 PM | $1,525.00 | icdjs4433 |
| Dec 6, 2019 - 7:09:50 PM | $1,500.00 | isebduval |
| Dec 6, 2019 - 7:09:50 PM | $1,475.00 | icdjs4433 |
| Dec 6, 2019 - 7:08:55 PM | $1,450.00 | isebduval |
| Dec 6, 2019 - 7:08:55 PM | $1,425.00 | icdjs4433 |
| Dec 6, 2019 - 7:08:03 PM | $1,400.00 | isebduval |
| Dec 6, 2019 - 7:08:03 PM | $1,375.00 | icdjs4433 |
| Dec 6, 2019 - 7:07:12 PM | $1,350.00 | isebduval |
| Dec 6, 2019 - 7:07:12 PM | $1,325.00 | icdjs4433 |
| Dec 6, 2019 - 7:06:20 PM | $1,300.00 | isebduval |
| Dec 6, 2019 - 7:06:20 PM | $1,275.00 | icdjs4433 |
| Dec 6, 2019 - 7:05:26 PM | $1,250.00 | isebduval |
| Dec 6, 2019 - 7:05:26 PM | $1,225.00 | icdjs4433 |
| Dec 6, 2019 - 7:04:33 PM | $1,200.00 | isebduval |
| Dec 6, 2019 - 7:04:33 PM | $1,175.00 | icdjs4433 |
| Dec 6, 2019 - 7:03:41 PM | $1,150.00 | isebduval |
| Dec 6, 2019 - 7:03:41 PM | $1,125.00 | icdjs4433 |
| Dec 6, 2019 - 7:02:49 PM | $1,100.00 | isebduval |
| Dec 6, 2019 - 7:02:49 PM | $1,075.00 | icdjs4433 |
| Dec 6, 2019 - 4:13:55 PM | $1,050.00 | isebduval |
| Dec 6, 2019 - 4:13:55 PM | $1,025.00 | ijunior101 |
| Dec 6, 2019 - 1:29:39 PM | $920.00 | ijunior101 |
| Dec 6, 2019 - 1:29:39 PM | $910.00 | isebduval |
| Dec 5, 2019 - 12:47:00 PM | $830.00 | isebduval |
| Dec 5, 2019 - 12:47:00 PM | $820.00 | iKobi.A |
| Dec 5, 2019 - 4:41:18 AM | $810.00 | isebduval |
| Dec 5, 2019 - 4:41:07 AM | $800.00 | iKobi.A |
| Dec 5, 2019 - 4:41:08 AM | $800.00 | isebduval |
| Nov 25, 2019 - 8:48:12 AM | $590.00 | iKobi.A |
| Nov 25, 2019 - 8:48:12 AM | $580.00 | isas4702 |
| Nov 23, 2019 - 7:36:51 PM | $570.00 | iKobi.A |
| Nov 23, 2019 - 7:36:51 PM | $560.00 | ijunior101 |
| Nov 23, 2019 - 7:36:46 PM | $520.00 | ijunior101 |
| Nov 23, 2019 - 7:36:46 PM | $510.00 | iKobi.A |
| Nov 23, 2019 - 7:36:42 PM | $500.00 | ijunior101 |
| Nov 23, 2019 - 7:36:42 PM | $490.00 | iKobi.A |
| Nov 23, 2019 - 7:36:39 PM | $480.00 | ijunior101 |
| Nov 23, 2019 - 7:36:39 PM | $470.00 | iKobi.A |
| Nov 23, 2019 - 3:03:37 PM | $460.00 | ijunior101 |
| Nov 23, 2019 - 9:19:32 AM | $450.00 | iCasttt2 |
| Nov 23, 2019 - 9:19:32 AM | $440.00 | imes-55 |
| Nov 23, 2019 - 9:19:03 AM | $410.00 | imes-55 |
| Nov 23, 2019 - 9:19:03 AM | $400.00 | iCasttt2 |
| Nov 23, 2019 - 9:18:55 AM | $360.00 | imes-55 |
| Nov 23, 2019 - 9:18:55 AM | $350.00 | iCasttt2 |
| Nov 23, 2019 - 9:18:47 AM | $310.00 | imes-55 |
| Nov 23, 2019 - 9:18:47 AM | $300.00 | iCasttt2 |
| Nov 23, 2019 - 9:18:38 AM | $280.00 | imes-55 |
| Nov 23, 2019 - 9:18:38 AM | $270.00 | iCasttt2 |
| Nov 23, 2019 - 9:17:55 AM | $260.00 | imes-55 |
| Nov 23, 2019 - 9:17:55 AM | $250.00 | iCasttt2 |
| Nov 23, 2019 - 9:11:12 AM | $210.00 | iCasttt2 |
| Nov 23, 2019 - 9:11:01 AM | $200.00 | iKobi.A |
| Nov 23, 2019 - 9:11:02 AM | $200.00 | iCasttt2 |
| Nov 23, 2019 - 9:10:29 AM | $155.00 | iKobi.A |
| Nov 23, 2019 - 9:10:29 AM | $150.00 | iCasttt2 |
| Nov 23, 2019 - 12:58:04 AM | $105.00 | iKobi.A |
| Nov 23, 2019 - 12:58:04 AM | $100.00 | igraceotun |
| Nov 23, 2019 - 12:57:58 AM | $27.00 | igraceotun |
| Nov 23, 2019 - 12:57:58 AM | $26.00 | iKobi.A |
| Nov 22, 2019 - 8:21:01 PM | $25.00 | igraceotun |