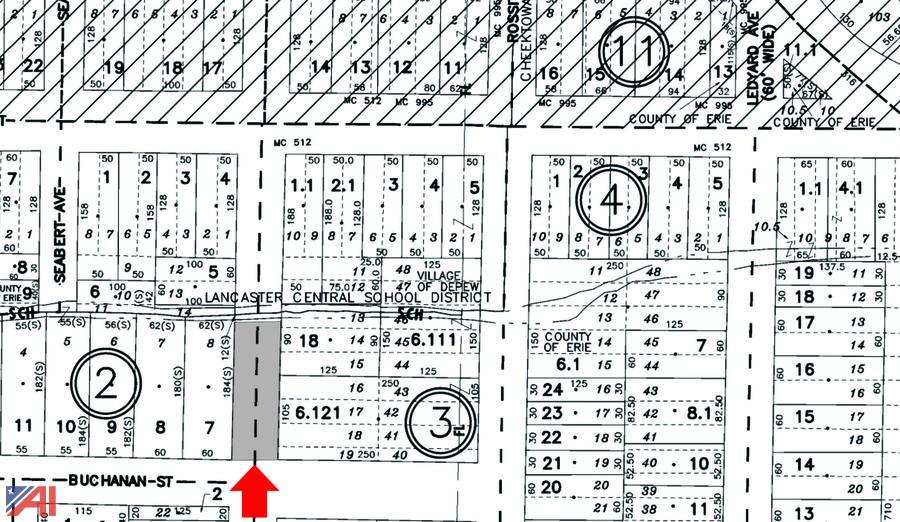 Lot #0002:
Portion of Bissell Avenue
Bidding is

closed

.
High Bid:
$7,400.00
NA
Bidding Ended:
Wed, Jul 1 12:03:45 pm ET
High Bidder:
eagle520
Bid Increment:
$100.00
Starting Bid:
$25.00
Item Location:

85 Manitou Street

,

Depew, Erie

,

NY

14043

Distance:
Please click on the location address to view the item's location on a map.
Item has been viewed 1,999 times.
Surplus Real Estate, Owned by the Village of Depew.
Parcel is located in the Village of Depew, Town of Cheektowaga, County of Erie and State of New York. This parcel was originally a paper street of Bissell Ave.  Parcel is located across from Bissell Ave, to the right of 206 Buchanan St and to the left of 220 Buchanan St.
Parcel Dimensions: 60' wide x 150' deep
Parcel contains 8,999 Sq.Ft. more or less.
Parcel has frontage on Buchanan Street at the Southern most property line. Property has frontage on Scajaquada Creek at the Northern most property line.
Parcel is conforming as a build-able lot.
Parcel is zoned as residential.
Click here for a Google Street view of the parcel (From Buchanan St)
This parcel does not yet have a Tax ID number assigned to it. Upon closing the legal description contained herein (under documents tab) will be filed with the County Clerk on the deed. Once filed the County will assign a dedicated Tax ID number for this parcel.
**Property lines noted in the photos may not be completely accurate**
***Please review all Auction terms at left side of auction before bidding***
Terms of Sale:
All sales are final. No refunds will be issued. This item is being sold as is, where is, with no warranty, expressed written or implied. The seller shall not be responsible for the correct description, authenticity, genuineness, or defects herein, and makes no warranty in connection therewith. No allowance or set aside will be made on account of any incorrectness, imperfection, defect or damage. Any descriptions or representations are for identification purposes only and are not to be construed as a warranty of any type. It is the responsibility of the buyer to have thoroughly inspected this item and to have satisfied himself or herself as to the condition and value and to bid based upon that judgment solely. The seller shall and will make every reasonable effort to disclose any known defects associated with this item at the buyer request prior to the close of sale. Seller assumes no responsibility for any repairs regardless of any oral statements about the item. Seller is NOT responsible for providing tools or heavy equipment to aid in removal. Items left on seller premises after this removal deadline will revert back to possession of the seller, with no refund.
---
| | | |
| --- | --- | --- |
| Bid Date | Bid Amount | Bidder |
| Jul 1, 2020 - 12:02:45 PM | $7,400.00 | ieagle520 |
| Jul 1, 2020 - 12:02:45 PM | $7,300.00 | iMax2021 |
| Jul 1, 2020 - 12:01:59 PM | $7,200.00 | ieagle520 |
| Jul 1, 2020 - 12:01:59 PM | $7,100.00 | iMax2021 |
| Jul 1, 2020 - 12:01:28 PM | $6,900.00 | ieagle520 |
| Jul 1, 2020 - 12:01:28 PM | $6,800.00 | iMax2021 |
| Jul 1, 2020 - 12:00:48 PM | $6,700.00 | ieagle520 |
| Jul 1, 2020 - 12:00:48 PM | $6,600.00 | iMax2021 |
| Jul 1, 2020 - 11:59:29 AM | $6,500.00 | ieagle520 |
| Jul 1, 2020 - 11:59:29 AM | $6,400.00 | iMax2021 |
| Jul 1, 2020 - 11:51:40 AM | $6,300.00 | ieagle520 |
| Jul 1, 2020 - 11:51:40 AM | $6,200.00 | iMax2021 |
| Jul 1, 2020 - 11:51:05 AM | $6,100.00 | ieagle520 |
| Jul 1, 2020 - 11:51:05 AM | $6,000.00 | iMax2021 |
| Jul 1, 2020 - 11:50:33 AM | $5,900.00 | ieagle520 |
| Jul 1, 2020 - 11:50:33 AM | $5,800.00 | iMax2021 |
| Jul 1, 2020 - 11:48:19 AM | $5,700.00 | ieagle520 |
| Jul 1, 2020 - 11:48:19 AM | $5,600.00 | iMax2021 |
| Jul 1, 2020 - 11:44:37 AM | $5,500.00 | ieagle520 |
| Jul 1, 2020 - 11:44:37 AM | $5,400.00 | iD.EARNHARDT |
| Jul 1, 2020 - 11:44:02 AM | $5,300.00 | ieagle520 |
| Jul 1, 2020 - 11:44:02 AM | $5,200.00 | iD.EARNHARDT |
| Jul 1, 2020 - 11:43:51 AM | $5,100.00 | ieagle520 |
| Jul 1, 2020 - 11:43:51 AM | $5,000.00 | iD.EARNHARDT |
| Jul 1, 2020 - 11:43:47 AM | $4,950.00 | ieagle520 |
| Jul 1, 2020 - 11:43:47 AM | $4,900.00 | iD.EARNHARDT |
| Jul 1, 2020 - 11:43:41 AM | $4,850.00 | ieagle520 |
| Jul 1, 2020 - 11:43:41 AM | $4,800.00 | iD.EARNHARDT |
| Jul 1, 2020 - 11:43:13 AM | $4,750.00 | ieagle520 |
| Jul 1, 2020 - 11:43:13 AM | $4,700.00 | iMax2021 |
| Jul 1, 2020 - 11:37:07 AM | $4,650.00 | ieagle520 |
| Jul 1, 2020 - 11:37:07 AM | $4,600.00 | iMax2021 |
| Jul 1, 2020 - 11:18:17 AM | $4,550.00 | ieagle520 |
| Jul 1, 2020 - 11:18:17 AM | $4,500.00 | iMorabi031 |
| Jul 1, 2020 - 11:17:43 AM | $4,350.00 | ieagle520 |
| Jul 1, 2020 - 11:17:43 AM | $4,300.00 | iMax2021 |
| Jul 1, 2020 - 11:16:02 AM | $4,200.00 | ieagle520 |
| Jul 1, 2020 - 11:16:02 AM | $4,150.00 | iMax2021 |
| Jul 1, 2020 - 10:08:55 AM | $4,100.00 | ieagle520 |
| Jul 1, 2020 - 10:08:55 AM | $4,050.00 | iMax2021 |
| Jul 1, 2020 - 8:55:24 AM | $4,000.00 | ieagle520 |
| Jul 1, 2020 - 8:55:24 AM | $3,950.00 | iMorabi031 |
| Jul 1, 2020 - 8:55:07 AM | $3,900.00 | ieagle520 |
| Jul 1, 2020 - 8:55:07 AM | $3,850.00 | iMorabi031 |
| Jul 1, 2020 - 8:54:34 AM | $3,800.00 | ieagle520 |
| Jul 1, 2020 - 8:54:34 AM | $3,750.00 | iMorabi031 |
| Jun 30, 2020 - 10:35:19 PM | $3,700.00 | ieagle520 |
| Jun 30, 2020 - 10:35:19 PM | $3,650.00 | i68cutlass |
| Jun 30, 2020 - 10:34:59 PM | $3,400.00 | ieagle520 |
| Jun 30, 2020 - 10:34:59 PM | $3,350.00 | i68cutlass |
| Jun 30, 2020 - 6:40:36 PM | $3,100.00 | ieagle520 |
| Jun 30, 2020 - 6:40:36 PM | $3,050.00 | i68cutlass |
| Jun 30, 2020 - 6:37:49 PM | $2,950.00 | i68cutlass |
| Jun 30, 2020 - 6:37:49 PM | $2,900.00 | ieagle520 |
| Jun 30, 2020 - 1:37:28 AM | $2,700.00 | ieagle520 |
| Jun 30, 2020 - 12:16:27 AM | $2,650.00 | i68cutlass |
| Jun 30, 2020 - 12:16:19 AM | $2,600.00 | ieagle520 |
| Jun 30, 2020 - 12:16:20 AM | $2,600.00 | i68cutlass |
| Jun 27, 2020 - 11:29:21 AM | $2,550.00 | ieagle520 |
| Jun 27, 2020 - 11:29:21 AM | $2,500.00 | iLancaster |
| Jun 27, 2020 - 11:29:11 AM | $2,275.00 | iLancaster |
| Jun 27, 2020 - 11:29:11 AM | $2,250.00 | ieagle520 |
| Jun 27, 2020 - 11:29:03 AM | $1,800.00 | iLancaster |
| Jun 27, 2020 - 11:29:03 AM | $1,775.00 | ieagle520 |
| Jun 27, 2020 - 11:28:53 AM | $1,575.00 | iLancaster |
| Jun 27, 2020 - 11:28:53 AM | $1,550.00 | ieagle520 |
| Jun 27, 2020 - 10:45:41 AM | $1,350.00 | iLancaster |
| Jun 27, 2020 - 10:45:41 AM | $1,325.00 | ieagle520 |
| Jun 24, 2020 - 9:57:20 AM | $1,275.00 | ieagle520 |
| Jun 24, 2020 - 9:57:20 AM | $1,250.00 | iD.EARNHARDT |
| Jun 23, 2020 - 4:10:31 AM | $1,225.00 | ieagle520 |
| Jun 23, 2020 - 4:10:20 AM | $1,200.00 | iWillF150 |
| Jun 23, 2020 - 4:10:20 AM | $1,175.00 | ieagle520 |
| Jun 22, 2020 - 11:58:43 PM | $970.00 | iWillF150 |
| Jun 22, 2020 - 11:58:43 PM | $960.00 | ieagle520 |
| Jun 22, 2020 - 8:40:04 AM | $910.00 | ieagle520 |
| Jun 22, 2020 - 8:40:04 AM | $900.00 | iyoelevan |
| Jun 22, 2020 - 8:05:20 AM | $810.00 | iyoelevan |
| Jun 22, 2020 - 8:03:21 AM | $800.00 | ieagle520 |
| Jun 22, 2020 - 8:03:22 AM | $800.00 | iyoelevan |
| Jun 22, 2020 - 8:03:11 AM | $710.00 | ieagle520 |
| Jun 22, 2020 - 8:03:11 AM | $700.00 | iyoelevan |
| Jun 19, 2020 - 1:06:47 PM | $620.00 | ieagle520 |
| Jun 19, 2020 - 12:38:01 AM | $610.00 | iLukaszek |
| Jun 14, 2020 - 7:51:16 AM | $600.00 | ijohns |
| Jun 14, 2020 - 7:51:17 AM | $600.00 | iHebert58 |
| Jun 10, 2020 - 10:45:56 PM | $510.00 | ijohns |
| Jun 9, 2020 - 10:22:52 PM | $500.00 | iljp1 |
| Jun 9, 2020 - 10:22:53 PM | $500.00 | iSH8DYSS |
| Jun 9, 2020 - 1:08:31 PM | $360.00 | iljp1 |
| Jun 9, 2020 - 1:08:31 PM | $350.00 | ipacamillo222 |
| Jun 9, 2020 - 1:08:23 PM | $310.00 | iljp1 |
| Jun 9, 2020 - 1:08:23 PM | $300.00 | ipacamillo222 |
| Jun 9, 2020 - 1:08:14 PM | $270.00 | iljp1 |
| Jun 9, 2020 - 1:08:14 PM | $260.00 | ipacamillo222 |
| Jun 9, 2020 - 1:07:41 PM | $240.00 | iljp1 |
| Jun 9, 2020 - 1:07:41 PM | $230.00 | ipacamillo222 |
| Jun 8, 2020 - 10:44:46 PM | $105.00 | iljp1 |
| Jun 8, 2020 - 10:44:46 PM | $100.00 | isdwtow |
| Jun 8, 2020 - 5:04:20 PM | $29.00 | isdwtow |
| Jun 8, 2020 - 5:03:55 PM | $28.00 | iumustpay |
| Jun 8, 2020 - 5:03:56 PM | $28.00 | isdwtow |
| Jun 8, 2020 - 4:18:51 PM | $27.00 | iumustpay |
| Jun 8, 2020 - 4:18:51 PM | $26.00 | iMorabi031 |
| Jun 8, 2020 - 1:14:56 PM | $25.00 | iumustpay |