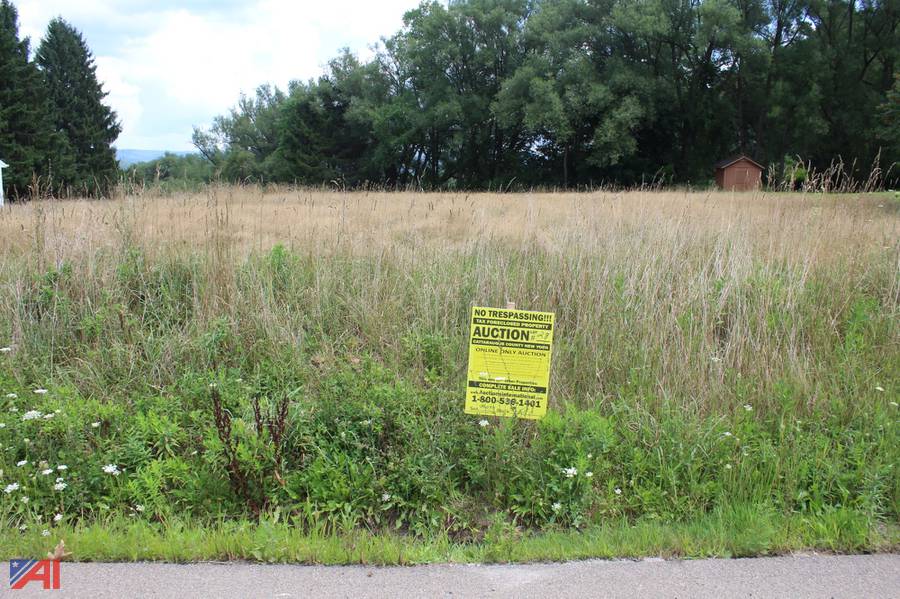 Lot #0028:
533 Indiana Ave, City of Olean
Bidding is

closed

.
High Bid:
$3,950.00
NA
Bidding Ended:
Tue, Sep 8 10:31:34 am ET
High Bidder:
mdembrow
Bid Increment:
$50.00
Starting Bid:
$50.00
Item has been viewed 1,271 times.
Property Address: 533 Indiana Ave
Municipality: City of Olean
Tax ID: 94.082-3-9.2
School District: Olean

Acreage: 0.68
Property Type: 311 - Res vac land
Longitude: 1192377
Latitude: 752621
Total Assessment: 2020 - $28,100
Land Assessment: 2020 - $28,100
Full Market Value: 2020 - $31,932
Directions & Description: Vacant lot located between houses 519 and 543.
Taxes Due Upon Closing: $421.74
***Please review all Auction terms at left side of auction before bidding***
Information deemed reliable, but NOT guaranteed. Bidders should rely on their own inspections and research of each property they are interested in, including revision of public records.  Bidders are not permitted on any properties included in this auction, for any reason whatsoever. Any physical inspection of properties should be done from the roadway or sidewalk.
---
| | | |
| --- | --- | --- |
| Bid Date | Bid Amount | Bidder |
| Sep 8, 2020 - 10:30:34 AM | $3,950.00 | imdembrow |
| Sep 8, 2020 - 10:29:48 AM | $3,900.00 | igregh14760 |
| Sep 8, 2020 - 10:29:19 AM | $3,850.00 | imdembrow |
| Sep 8, 2020 - 10:28:55 AM | $3,800.00 | igregh14760 |
| Sep 8, 2020 - 10:28:56 AM | $3,800.00 | imdembrow |
| Sep 8, 2020 - 10:28:25 AM | $3,750.00 | igregh14760 |
| Sep 8, 2020 - 10:28:16 AM | $3,700.00 | idhill1228 |
| Sep 8, 2020 - 10:28:17 AM | $3,700.00 | igregh14760 |
| Sep 8, 2020 - 10:28:10 AM | $3,650.00 | idhill1228 |
| Sep 8, 2020 - 10:28:10 AM | $3,600.00 | imdembrow |
| Sep 8, 2020 - 10:28:04 AM | $3,550.00 | idhill1228 |
| Sep 8, 2020 - 10:27:31 AM | $3,500.00 | igregh14760 |
| Sep 8, 2020 - 10:27:32 AM | $3,500.00 | idhill1228 |
| Sep 8, 2020 - 10:27:04 AM | $3,250.00 | igregh14760 |
| Sep 8, 2020 - 10:27:04 AM | $3,200.00 | idhill1228 |
| Sep 8, 2020 - 10:26:59 AM | $3,050.00 | igregh14760 |
| Sep 8, 2020 - 10:26:59 AM | $3,000.00 | i745entertainment |
| Sep 8, 2020 - 10:26:30 AM | $2,950.00 | igregh14760 |
| Sep 8, 2020 - 10:26:30 AM | $2,900.00 | idhill1228 |
| Sep 8, 2020 - 10:26:16 AM | $2,850.00 | igregh14760 |
| Sep 8, 2020 - 10:26:16 AM | $2,800.00 | i745entertainment |
| Sep 8, 2020 - 10:25:21 AM | $2,750.00 | igregh14760 |
| Sep 8, 2020 - 10:25:21 AM | $2,700.00 | idhill1228 |
| Sep 8, 2020 - 9:40:47 AM | $2,650.00 | igregh14760 |
| Sep 8, 2020 - 9:40:47 AM | $2,600.00 | iBrianbish93 |
| Sep 8, 2020 - 9:40:41 AM | $2,550.00 | igregh14760 |
| Sep 8, 2020 - 9:40:41 AM | $2,500.00 | iBrianbish93 |
| Sep 8, 2020 - 9:40:31 AM | $2,425.00 | igregh14760 |
| Sep 8, 2020 - 9:40:31 AM | $2,400.00 | iBrianbish93 |
| Sep 8, 2020 - 9:40:20 AM | $2,225.00 | igregh14760 |
| Sep 8, 2020 - 9:40:20 AM | $2,200.00 | iBrianbish93 |
| Sep 5, 2020 - 8:39:56 PM | $2,025.00 | igregh14760 |
| Sep 5, 2020 - 8:39:56 PM | $2,000.00 | iBidalot1 |
| Sep 5, 2020 - 8:37:20 PM | $1,725.00 | igregh14760 |
| Sep 5, 2020 - 8:37:20 PM | $1,700.00 | iBidalot1 |
| Sep 5, 2020 - 8:36:38 PM | $1,625.00 | igregh14760 |
| Sep 5, 2020 - 8:36:38 PM | $1,600.00 | iBidalot1 |
| Aug 29, 2020 - 2:43:06 AM | $1,500.00 | igregh14760 |
| Aug 29, 2020 - 2:43:07 AM | $1,500.00 | iRudy1 |
| Aug 29, 2020 - 2:37:26 AM | $1,025.00 | igregh14760 |
| Aug 29, 2020 - 2:37:26 AM | $1,000.00 | iRudy1 |
| Aug 29, 2020 - 2:37:18 AM | $530.00 | igregh14760 |
| Aug 29, 2020 - 2:37:18 AM | $520.00 | iRudy1 |
| Aug 29, 2020 - 2:33:57 AM | $510.00 | igregh14760 |
| Aug 29, 2020 - 2:33:57 AM | $500.00 | iRudy1 |
| Aug 29, 2020 - 12:07:42 AM | $250.00 | igregh14760 |
| Aug 29, 2020 - 12:07:42 AM | $240.00 | iRudy1 |
| Aug 29, 2020 - 12:07:35 AM | $230.00 | igregh14760 |
| Aug 29, 2020 - 12:07:35 AM | $220.00 | iRudy1 |
| Aug 29, 2020 - 12:07:21 AM | $210.00 | igregh14760 |
| Aug 29, 2020 - 12:07:21 AM | $200.00 | iRudy1 |
| Aug 29, 2020 - 12:07:13 AM | $145.00 | igregh14760 |
| Aug 29, 2020 - 12:07:13 AM | $140.00 | iRudy1 |
| Aug 29, 2020 - 12:07:08 AM | $135.00 | igregh14760 |
| Aug 29, 2020 - 12:07:08 AM | $130.00 | iRudy1 |
| Aug 29, 2020 - 12:07:03 AM | $125.00 | igregh14760 |
| Aug 29, 2020 - 12:07:03 AM | $120.00 | iRudy1 |
| Aug 28, 2020 - 11:35:53 PM | $115.00 | igregh14760 |
| Aug 28, 2020 - 11:35:53 PM | $110.00 | iRudy1 |
| Aug 28, 2020 - 6:32:01 PM | $105.00 | igregh14760 |
| Aug 28, 2020 - 6:32:01 PM | $100.00 | iBRKNX9 |
| Aug 28, 2020 - 6:31:53 PM | $65.00 | igregh14760 |
| Aug 28, 2020 - 6:31:53 PM | $62.50 | iBRKNX9 |
| Aug 28, 2020 - 6:31:49 PM | $60.00 | igregh14760 |
| Aug 28, 2020 - 6:31:49 PM | $57.50 | iBRKNX9 |
| Aug 28, 2020 - 11:50:36 AM | $55.00 | igregh14760 |
| Aug 26, 2020 - 6:58:33 PM | $52.50 | imikes79 |
| Aug 26, 2020 - 4:53:12 PM | $50.00 | iLgould0314 |