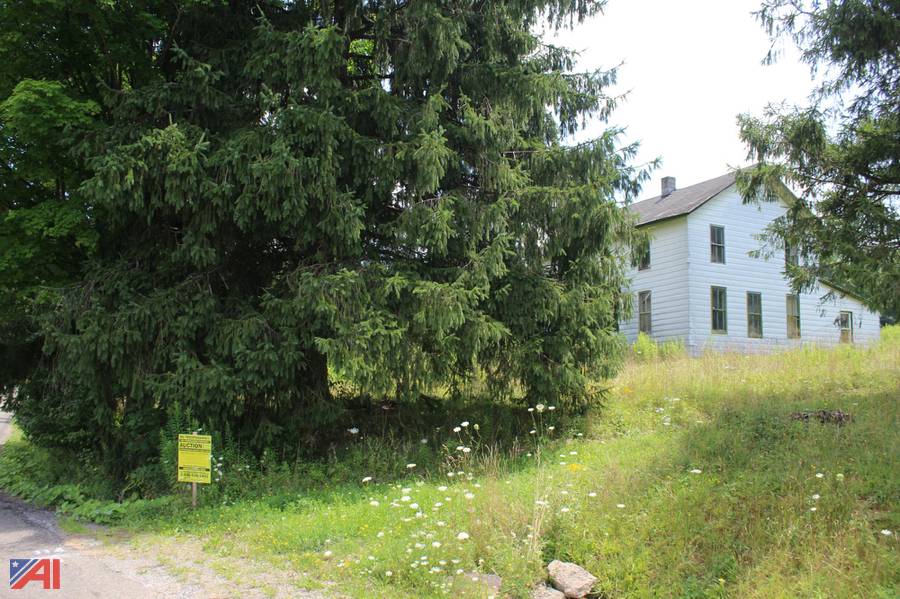 Lot #0159:
5487 Loney Hollow Rd, Town of Carrollton
Bidding is

closed

.
High Bid:
$201,000.00
NA
Bidding Ended:
Tue, Sep 8 11:21:59 am ET
High Bidder:
Mtj11
Bid Increment:
$100.00
Starting Bid:
$50.00
Item has been viewed 2,884 times.
Property Address: 5487 Loney Hollow Rd
Municipality: Town of Carrollton
Tax ID: 101.004-1-24.1
School District: Allegany - Limestone
Bldg Sq Feet: 2496
Built: 1985
Water: Comm/public
Sewer: Comm/public

Acreage: 74.05
Property Type: 240 - Rural res
Longitude: 1141347
Latitude: 742145
Total Assessment: 2020 - $80,000
Land Assessment: 2020 - $40,100
Full Market Value: 2020 - $100,000
Directions & Description: Large 74+ Acre Parcel Located at the corner of Loney Hollow Rd and Leonard Run Rd, Leonard Run Rd Runs through the parcel. The portion of the property on the South side of Leonard Run has a 2 Story white house. Appears to have some type of well on the property, research mineral rights. Behind the house appears to have been used as farmland. Majority of the acreage is on the north side of Leonard Run Rd and appears to be mostly wooded.
***Please review all Auction terms at left side of auction before bidding***
Information deemed reliable, but NOT guaranteed. Bidders should rely on their own inspections and research of each property they are interested in, including revision of public records.  Bidders are not permitted on any properties included in this auction, for any reason whatsoever. Any physical inspection of properties should be done from the roadway or sidewalk.
---
| | | |
| --- | --- | --- |
| Bid Date | Bid Amount | Bidder |
| Sep 8, 2020 - 11:20:59 AM | $201,000.00 | iMtj11 |
| Sep 8, 2020 - 11:20:59 AM | $200,900.00 | iLandowner2021 |
| Sep 8, 2020 - 11:20:41 AM | $200,800.00 | iMtj11 |
| Sep 8, 2020 - 11:20:41 AM | $200,700.00 | iLandowner2021 |
| Sep 8, 2020 - 11:19:46 AM | $200,500.00 | iMtj11 |
| Sep 8, 2020 - 11:19:46 AM | $200,400.00 | iLandowner2021 |
| Sep 8, 2020 - 11:19:05 AM | $200,300.00 | iMtj11 |
| Sep 8, 2020 - 11:19:05 AM | $200,200.00 | iLandowner2021 |
| Sep 8, 2020 - 11:18:34 AM | $200,100.00 | iMtj11 |
| Sep 8, 2020 - 11:18:14 AM | $200,000.00 | iLandowner2021 |
| Sep 8, 2020 - 11:18:15 AM | $200,000.00 | iMtj11 |
| Sep 8, 2020 - 11:18:02 AM | $180,100.00 | iLandowner2021 |
| Sep 8, 2020 - 11:17:18 AM | $180,000.00 | iMtj11 |
| Sep 8, 2020 - 11:17:19 AM | $180,000.00 | iLandowner2021 |
| Sep 8, 2020 - 11:16:50 AM | $175,100.00 | iMtj11 |
| Sep 8, 2020 - 11:16:50 AM | $175,000.00 | iLandowner2021 |
| Sep 8, 2020 - 11:16:24 AM | $173,300.00 | iMtj11 |
| Sep 8, 2020 - 11:16:24 AM | $173,200.00 | iLandowner2021 |
| Sep 8, 2020 - 11:15:28 AM | $173,100.00 | iMtj11 |
| Sep 8, 2020 - 11:15:28 AM | $173,000.00 | iLandowner2021 |
| Sep 8, 2020 - 11:14:30 AM | $170,100.00 | iMtj11 |
| Sep 8, 2020 - 11:14:30 AM | $170,000.00 | iLandowner2021 |
| Sep 8, 2020 - 11:14:05 AM | $161,000.00 | iMtj11 |
| Sep 8, 2020 - 11:14:05 AM | $160,900.00 | iLandowner2021 |
| Sep 8, 2020 - 11:13:39 AM | $160,800.00 | iMtj11 |
| Sep 8, 2020 - 11:13:39 AM | $160,700.00 | iLandowner2021 |
| Sep 8, 2020 - 11:12:48 AM | $160,600.00 | iMtj11 |
| Sep 8, 2020 - 11:12:48 AM | $160,500.00 | iLandowner2021 |
| Sep 8, 2020 - 11:12:19 AM | $160,300.00 | iMtj11 |
| Sep 8, 2020 - 11:12:19 AM | $160,200.00 | iLandowner2021 |
| Sep 8, 2020 - 11:11:48 AM | $160,100.00 | iMtj11 |
| Sep 8, 2020 - 11:11:48 AM | $160,000.00 | iLandowner2021 |
| Sep 8, 2020 - 11:11:24 AM | $150,900.00 | iMtj11 |
| Sep 8, 2020 - 11:11:24 AM | $150,800.00 | iLandowner2021 |
| Sep 8, 2020 - 11:10:38 AM | $150,600.00 | iMtj11 |
| Sep 8, 2020 - 11:10:38 AM | $150,500.00 | iLandowner2021 |
| Sep 8, 2020 - 11:06:36 AM | $150,100.00 | iMtj11 |
| Sep 8, 2020 - 11:06:11 AM | $150,000.00 | iLandowner2021 |
| Sep 8, 2020 - 11:06:12 AM | $150,000.00 | iMtj11 |
| Sep 8, 2020 - 11:05:54 AM | $120,100.00 | iLandowner2021 |
| Sep 8, 2020 - 11:05:54 AM | $120,000.00 | iMtj11 |
| Sep 8, 2020 - 11:05:22 AM | $100,100.00 | iLandowner2021 |
| Sep 8, 2020 - 11:05:22 AM | $100,000.00 | iMtj11 |
| Sep 8, 2020 - 11:04:55 AM | $91,100.00 | iLandowner2021 |
| Sep 8, 2020 - 11:04:55 AM | $91,000.00 | iMarlin10 |
| Sep 8, 2020 - 11:03:54 AM | $88,100.00 | iLandowner2021 |
| Sep 8, 2020 - 11:03:54 AM | $88,000.00 | iMarlin10 |
| Sep 8, 2020 - 11:03:42 AM | $87,900.00 | iLandowner2021 |
| Sep 8, 2020 - 11:03:42 AM | $87,800.00 | iMarlin10 |
| Sep 8, 2020 - 11:03:36 AM | $87,700.00 | iLandowner2021 |
| Sep 8, 2020 - 11:03:36 AM | $87,600.00 | iMarlin10 |
| Sep 8, 2020 - 11:03:24 AM | $87,500.00 | iLandowner2021 |
| Sep 8, 2020 - 11:03:24 AM | $87,400.00 | iMarlin10 |
| Sep 8, 2020 - 11:03:05 AM | $87,300.00 | iLandowner2021 |
| Sep 8, 2020 - 11:03:05 AM | $87,200.00 | iMarlin10 |
| Sep 8, 2020 - 10:53:09 AM | $87,100.00 | iLandowner2021 |
| Sep 8, 2020 - 10:53:09 AM | $87,000.00 | ischweick |
| Sep 8, 2020 - 10:20:58 AM | $85,100.00 | iLandowner2021 |
| Sep 8, 2020 - 10:20:58 AM | $85,000.00 | ischweick |
| Sep 8, 2020 - 10:19:35 AM | $82,100.00 | iLandowner2021 |
| Sep 8, 2020 - 10:19:35 AM | $82,000.00 | ischweick |
| Sep 8, 2020 - 10:19:06 AM | $80,100.00 | iLandowner2021 |
| Sep 8, 2020 - 10:19:06 AM | $80,000.00 | ischweick |
| Sep 8, 2020 - 10:18:37 AM | $78,100.00 | iLandowner2021 |
| Sep 8, 2020 - 10:18:37 AM | $78,000.00 | ischweick |
| Sep 8, 2020 - 9:38:46 AM | $76,100.00 | iLandowner2021 |
| Sep 8, 2020 - 9:38:46 AM | $76,000.00 | itomenter |
| Sep 7, 2020 - 8:30:19 PM | $75,300.00 | iLandowner2021 |
| Sep 7, 2020 - 8:30:19 PM | $75,200.00 | ipmhanley1 |
| Sep 7, 2020 - 8:29:32 PM | $74,600.00 | iLandowner2021 |
| Sep 7, 2020 - 8:29:32 PM | $74,500.00 | ipmhanley1 |
| Sep 7, 2020 - 8:29:21 PM | $73,600.00 | iLandowner2021 |
| Sep 7, 2020 - 8:29:21 PM | $73,500.00 | ipmhanley1 |
| Sep 7, 2020 - 8:29:06 PM | $73,000.00 | iLandowner2021 |
| Sep 7, 2020 - 8:29:06 PM | $72,900.00 | ipmhanley1 |
| Sep 7, 2020 - 8:28:52 PM | $72,200.00 | iLandowner2021 |
| Sep 7, 2020 - 8:28:52 PM | $72,100.00 | ipmhanley1 |
| Sep 7, 2020 - 8:28:37 PM | $71,600.00 | iLandowner2021 |
| Sep 7, 2020 - 8:28:37 PM | $71,500.00 | ipmhanley1 |
| Sep 7, 2020 - 8:27:53 PM | $71,300.00 | iLandowner2021 |
| Sep 7, 2020 - 8:27:53 PM | $71,200.00 | ipmhanley1 |
| Sep 7, 2020 - 8:11:59 PM | $70,100.00 | iLandowner2021 |
| Sep 7, 2020 - 8:11:59 PM | $70,000.00 | iMtj11 |
| Sep 7, 2020 - 6:50:56 PM | $69,100.00 | iMtj11 |
| Sep 7, 2020 - 6:50:56 PM | $69,000.00 | ipmhanley1 |
| Sep 7, 2020 - 6:50:19 PM | $68,100.00 | iMtj11 |
| Sep 7, 2020 - 6:50:19 PM | $68,000.00 | ipmhanley1 |
| Sep 7, 2020 - 6:49:47 PM | $67,600.00 | iMtj11 |
| Sep 7, 2020 - 6:49:47 PM | $67,500.00 | ipmhanley1 |
| Sep 7, 2020 - 6:31:35 PM | $65,800.00 | iMtj11 |
| Sep 7, 2020 - 6:31:35 PM | $65,700.00 | iLandowner2021 |
| Sep 7, 2020 - 6:04:01 PM | $65,600.00 | iMtj11 |
| Sep 7, 2020 - 6:04:01 PM | $65,500.00 | iHippy |
| Sep 7, 2020 - 4:24:19 PM | $60,100.00 | iHippy |
| Sep 7, 2020 - 4:24:13 PM | $60,000.00 | iMtj11 |
| Sep 7, 2020 - 4:24:13 PM | $59,900.00 | iHippy |
| Sep 7, 2020 - 4:24:08 PM | $59,800.00 | iMtj11 |
| Sep 7, 2020 - 4:24:08 PM | $59,700.00 | iHippy |
| Sep 7, 2020 - 4:24:02 PM | $59,600.00 | iMtj11 |
| Sep 7, 2020 - 4:24:02 PM | $59,500.00 | iHippy |
| Sep 7, 2020 - 4:23:58 PM | $59,400.00 | iMtj11 |
| Sep 7, 2020 - 4:23:58 PM | $59,300.00 | iHippy |
| Sep 7, 2020 - 4:23:53 PM | $59,200.00 | iMtj11 |
| Sep 7, 2020 - 4:23:53 PM | $59,100.00 | iHippy |
| Sep 7, 2020 - 4:23:44 PM | $59,000.00 | iMtj11 |
| Sep 7, 2020 - 4:23:44 PM | $58,900.00 | iHippy |
| Sep 7, 2020 - 4:23:39 PM | $58,800.00 | iMtj11 |
| Sep 7, 2020 - 4:23:39 PM | $58,700.00 | iHippy |
| Sep 7, 2020 - 4:23:31 PM | $58,600.00 | iMtj11 |
| Sep 7, 2020 - 4:23:31 PM | $58,500.00 | iHippy |
| Sep 7, 2020 - 4:23:24 PM | $58,400.00 | iMtj11 |
| Sep 7, 2020 - 4:23:24 PM | $58,300.00 | iHippy |
| Sep 7, 2020 - 4:23:08 PM | $58,200.00 | iMtj11 |
| Sep 7, 2020 - 4:23:08 PM | $58,100.00 | iHippy |
| Sep 7, 2020 - 4:23:03 PM | $58,000.00 | iMtj11 |
| Sep 7, 2020 - 4:23:03 PM | $57,900.00 | iHippy |
| Sep 7, 2020 - 4:22:57 PM | $57,800.00 | iMtj11 |
| Sep 7, 2020 - 4:22:57 PM | $57,700.00 | iHippy |
| Sep 7, 2020 - 4:22:47 PM | $57,600.00 | iMtj11 |
| Sep 7, 2020 - 4:22:47 PM | $57,500.00 | iHippy |
| Sep 7, 2020 - 4:22:38 PM | $57,400.00 | iMtj11 |
| Sep 7, 2020 - 4:22:38 PM | $57,300.00 | iHippy |
| Sep 7, 2020 - 4:22:33 PM | $57,200.00 | iMtj11 |
| Sep 7, 2020 - 4:22:33 PM | $57,100.00 | iHippy |
| Sep 7, 2020 - 4:22:27 PM | $57,000.00 | iMtj11 |
| Sep 7, 2020 - 4:22:27 PM | $56,900.00 | iHippy |
| Sep 7, 2020 - 4:22:22 PM | $56,800.00 | iMtj11 |
| Sep 7, 2020 - 4:22:22 PM | $56,700.00 | iHippy |
| Sep 7, 2020 - 4:22:15 PM | $56,600.00 | iMtj11 |
| Sep 7, 2020 - 4:22:15 PM | $56,500.00 | iHippy |
| Sep 7, 2020 - 4:22:09 PM | $56,400.00 | iMtj11 |
| Sep 7, 2020 - 4:22:09 PM | $56,300.00 | iHippy |
| Sep 7, 2020 - 4:22:03 PM | $56,200.00 | iMtj11 |
| Sep 7, 2020 - 4:22:03 PM | $56,100.00 | iHippy |
| Sep 7, 2020 - 4:21:52 PM | $56,000.00 | iMtj11 |
| Sep 7, 2020 - 4:21:52 PM | $55,900.00 | iHippy |
| Sep 7, 2020 - 4:21:44 PM | $55,800.00 | iMtj11 |
| Sep 7, 2020 - 4:21:44 PM | $55,700.00 | iHippy |
| Sep 7, 2020 - 4:21:36 PM | $55,600.00 | iMtj11 |
| Sep 7, 2020 - 4:21:36 PM | $55,500.00 | iHippy |
| Sep 7, 2020 - 4:21:26 PM | $55,400.00 | iMtj11 |
| Sep 7, 2020 - 4:21:26 PM | $55,300.00 | iHippy |
| Sep 7, 2020 - 4:20:59 PM | $55,200.00 | iMtj11 |
| Sep 7, 2020 - 4:20:59 PM | $55,100.00 | iHippy |
| Sep 7, 2020 - 4:20:45 PM | $55,000.00 | iMtj11 |
| Sep 7, 2020 - 4:20:45 PM | $54,900.00 | iHippy |
| Sep 7, 2020 - 4:20:26 PM | $54,800.00 | iMtj11 |
| Sep 7, 2020 - 4:20:26 PM | $54,700.00 | iHippy |
| Sep 7, 2020 - 4:20:19 PM | $54,600.00 | iMtj11 |
| Sep 7, 2020 - 4:20:19 PM | $54,500.00 | iHippy |
| Sep 7, 2020 - 4:20:09 PM | $54,400.00 | iMtj11 |
| Sep 7, 2020 - 4:20:09 PM | $54,300.00 | iHippy |
| Sep 7, 2020 - 4:20:02 PM | $54,200.00 | iMtj11 |
| Sep 7, 2020 - 4:20:02 PM | $54,100.00 | iHippy |
| Sep 7, 2020 - 4:19:55 PM | $54,000.00 | iMtj11 |
| Sep 7, 2020 - 4:19:55 PM | $53,900.00 | iHippy |
| Sep 7, 2020 - 4:19:48 PM | $53,800.00 | iMtj11 |
| Sep 7, 2020 - 4:19:48 PM | $53,700.00 | iHippy |
| Sep 7, 2020 - 4:19:41 PM | $53,600.00 | iMtj11 |
| Sep 7, 2020 - 4:19:41 PM | $53,500.00 | iHippy |
| Sep 7, 2020 - 4:19:32 PM | $53,400.00 | iMtj11 |
| Sep 7, 2020 - 4:19:32 PM | $53,300.00 | iHippy |
| Sep 7, 2020 - 4:19:17 PM | $53,200.00 | iMtj11 |
| Sep 7, 2020 - 4:19:17 PM | $53,100.00 | iHippy |
| Sep 7, 2020 - 4:19:06 PM | $53,000.00 | iMtj11 |
| Sep 7, 2020 - 4:19:06 PM | $52,900.00 | iHippy |
| Sep 7, 2020 - 4:18:56 PM | $52,800.00 | iMtj11 |
| Sep 7, 2020 - 4:18:56 PM | $52,700.00 | iHippy |
| Sep 7, 2020 - 4:18:45 PM | $52,600.00 | iMtj11 |
| Sep 7, 2020 - 4:18:45 PM | $52,500.00 | iHippy |
| Sep 7, 2020 - 4:18:36 PM | $52,400.00 | iMtj11 |
| Sep 7, 2020 - 4:18:36 PM | $52,300.00 | iHippy |
| Sep 7, 2020 - 4:18:27 PM | $52,200.00 | iMtj11 |
| Sep 7, 2020 - 4:18:27 PM | $52,100.00 | iHippy |
| Sep 7, 2020 - 4:18:17 PM | $52,000.00 | iMtj11 |
| Sep 7, 2020 - 4:18:17 PM | $51,900.00 | iHippy |
| Sep 7, 2020 - 4:17:58 PM | $51,800.00 | iMtj11 |
| Sep 7, 2020 - 4:17:58 PM | $51,700.00 | iHippy |
| Sep 7, 2020 - 4:17:45 PM | $51,600.00 | iMtj11 |
| Sep 7, 2020 - 4:17:45 PM | $51,500.00 | iHippy |
| Sep 5, 2020 - 11:57:32 AM | $51,400.00 | iMtj11 |
| Sep 5, 2020 - 11:57:32 AM | $51,300.00 | ipmhanley1 |
| Sep 5, 2020 - 11:57:06 AM | $50,100.00 | ipmhanley1 |
| Sep 5, 2020 - 11:57:06 AM | $50,000.00 | iMtj11 |
| Sep 5, 2020 - 11:56:02 AM | $48,500.00 | ipmhanley1 |
| Sep 5, 2020 - 11:56:02 AM | $48,400.00 | iMtj11 |
| Sep 5, 2020 - 10:09:22 AM | $46,300.00 | ipmhanley1 |
| Sep 5, 2020 - 10:09:22 AM | $46,200.00 | iMtj11 |
| Sep 5, 2020 - 10:08:46 AM | $45,100.00 | iMtj11 |
| Sep 5, 2020 - 10:08:46 AM | $45,000.00 | ipmhanley1 |
| Sep 5, 2020 - 7:59:13 AM | $42,100.00 | iMtj11 |
| Sep 5, 2020 - 7:59:13 AM | $42,000.00 | iHippy |
| Sep 4, 2020 - 5:07:05 PM | $41,100.00 | iHippy |
| Sep 4, 2020 - 5:06:54 PM | $41,000.00 | isal62 |
| Sep 4, 2020 - 5:06:55 PM | $41,000.00 | iHippy |
| Sep 4, 2020 - 5:06:36 PM | $40,900.00 | isal62 |
| Sep 4, 2020 - 5:06:36 PM | $40,800.00 | iHippy |
| Sep 4, 2020 - 4:52:38 PM | $40,700.00 | isal62 |
| Sep 4, 2020 - 4:52:38 PM | $40,600.00 | iHippy |
| Sep 4, 2020 - 4:52:21 PM | $40,500.00 | isal62 |
| Sep 4, 2020 - 4:52:21 PM | $40,400.00 | iHippy |
| Sep 4, 2020 - 4:52:00 PM | $40,300.00 | isal62 |
| Sep 4, 2020 - 4:52:00 PM | $40,200.00 | iHippy |
| Sep 3, 2020 - 8:12:07 AM | $40,100.00 | isal62 |
| Sep 3, 2020 - 8:12:07 AM | $40,000.00 | iMtj11 |
| Sep 3, 2020 - 8:11:18 AM | $37,300.00 | iMtj11 |
| Sep 3, 2020 - 8:11:18 AM | $37,200.00 | isal62 |
| Sep 2, 2020 - 9:28:57 PM | $37,100.00 | iMtj11 |
| Sep 2, 2020 - 9:28:57 PM | $37,000.00 | itomenter |
| Sep 2, 2020 - 9:27:43 PM | $35,900.00 | itomenter |
| Sep 2, 2020 - 9:27:43 PM | $35,800.00 | iMtj11 |
| Sep 2, 2020 - 8:34:18 PM | $35,600.00 | itomenter |
| Sep 2, 2020 - 8:34:18 PM | $35,500.00 | iMtj11 |
| Sep 2, 2020 - 8:20:50 PM | $35,300.00 | iMtj11 |
| Sep 2, 2020 - 8:20:22 PM | $35,200.00 | isal62 |
| Sep 2, 2020 - 8:20:23 PM | $35,200.00 | iMtj11 |
| Sep 1, 2020 - 6:05:17 PM | $35,100.00 | isal62 |
| Sep 1, 2020 - 6:05:17 PM | $35,000.00 | iLighting22 |
| Sep 1, 2020 - 6:04:42 PM | $33,900.00 | iLighting22 |
| Sep 1, 2020 - 6:04:42 PM | $33,800.00 | isal62 |
| Sep 1, 2020 - 6:04:21 PM | $33,600.00 | iLighting22 |
| Sep 1, 2020 - 6:04:21 PM | $33,500.00 | isal62 |
| Sep 1, 2020 - 6:03:50 PM | $33,400.00 | iLighting22 |
| Sep 1, 2020 - 6:03:50 PM | $33,300.00 | isal62 |
| Sep 1, 2020 - 6:03:27 PM | $33,000.00 | iLighting22 |
| Sep 1, 2020 - 6:03:27 PM | $32,900.00 | isal62 |
| Sep 1, 2020 - 6:02:51 PM | $32,600.00 | iLighting22 |
| Sep 1, 2020 - 6:02:51 PM | $32,500.00 | isal62 |
| Sep 1, 2020 - 6:01:45 PM | $32,300.00 | iLighting22 |
| Sep 1, 2020 - 6:01:45 PM | $32,200.00 | isal62 |
| Sep 1, 2020 - 6:01:00 PM | $31,900.00 | iLighting22 |
| Sep 1, 2020 - 6:01:00 PM | $31,800.00 | isal62 |
| Sep 1, 2020 - 6:00:26 PM | $31,600.00 | iLighting22 |
| Sep 1, 2020 - 6:00:26 PM | $31,500.00 | isal62 |
| Sep 1, 2020 - 5:59:34 PM | $31,400.00 | iLighting22 |
| Sep 1, 2020 - 5:59:34 PM | $31,300.00 | isal62 |
| Sep 1, 2020 - 5:59:02 PM | $31,200.00 | iLighting22 |
| Sep 1, 2020 - 5:59:02 PM | $31,100.00 | isal62 |
| Sep 1, 2020 - 5:58:14 PM | $31,000.00 | iLighting22 |
| Sep 1, 2020 - 5:58:14 PM | $30,900.00 | isal62 |
| Sep 1, 2020 - 5:57:31 PM | $30,800.00 | iLighting22 |
| Sep 1, 2020 - 5:57:31 PM | $30,700.00 | isal62 |
| Sep 1, 2020 - 5:56:43 PM | $30,600.00 | iLighting22 |
| Sep 1, 2020 - 5:56:43 PM | $30,500.00 | isal62 |
| Sep 1, 2020 - 5:56:19 PM | $30,100.00 | iLighting22 |
| Sep 1, 2020 - 5:56:19 PM | $30,000.00 | isal62 |
| Sep 1, 2020 - 5:55:50 PM | $29,100.00 | iLighting22 |
| Sep 1, 2020 - 5:55:50 PM | $29,000.00 | isal62 |
| Sep 1, 2020 - 5:54:55 PM | $28,600.00 | iLighting22 |
| Sep 1, 2020 - 5:54:55 PM | $28,500.00 | isal62 |
| Sep 1, 2020 - 5:54:30 PM | $28,100.00 | iLighting22 |
| Sep 1, 2020 - 5:54:30 PM | $28,000.00 | isal62 |
| Sep 1, 2020 - 5:53:58 PM | $27,600.00 | iLighting22 |
| Sep 1, 2020 - 5:53:58 PM | $27,500.00 | isal62 |
| Sep 1, 2020 - 3:29:02 PM | $27,300.00 | iLighting22 |
| Sep 1, 2020 - 3:29:02 PM | $27,200.00 | ibuchanan61 |
| Sep 1, 2020 - 11:59:55 AM | $27,100.00 | iLighting22 |
| Sep 1, 2020 - 11:59:55 AM | $27,000.00 | iDee&Jay |
| Aug 30, 2020 - 12:59:27 PM | $26,800.00 | iLighting22 |
| Aug 30, 2020 - 12:37:05 PM | $26,700.00 | iace2020 |
| Aug 30, 2020 - 12:34:28 PM | $26,600.00 | iLighting22 |
| Aug 30, 2020 - 12:34:29 PM | $26,600.00 | iace2020 |
| Aug 29, 2020 - 10:24:43 AM | $26,500.00 | iLighting22 |
| Aug 29, 2020 - 10:24:43 AM | $26,400.00 | ibuchanan61 |
| Aug 29, 2020 - 10:23:47 AM | $26,300.00 | iLighting22 |
| Aug 29, 2020 - 10:23:47 AM | $26,200.00 | ibuchanan61 |
| Aug 27, 2020 - 8:52:03 PM | $26,100.00 | iLighting22 |
| Aug 27, 2020 - 8:52:03 PM | $26,000.00 | ikenzieda |
| Aug 27, 2020 - 8:51:57 PM | $25,900.00 | iLighting22 |
| Aug 27, 2020 - 8:51:57 PM | $25,800.00 | ikenzieda |
| Aug 27, 2020 - 8:51:50 PM | $25,700.00 | iLighting22 |
| Aug 27, 2020 - 8:51:50 PM | $25,600.00 | ikenzieda |
| Aug 27, 2020 - 8:43:10 PM | $25,500.00 | iLighting22 |
| Aug 27, 2020 - 8:43:10 PM | $25,400.00 | ikenzieda |
| Aug 26, 2020 - 7:21:00 PM | $25,300.00 | iLighting22 |
| Aug 26, 2020 - 7:21:00 PM | $25,200.00 | iLandowner2021 |
| Aug 26, 2020 - 7:20:16 PM | $25,100.00 | iLighting22 |
| Aug 26, 2020 - 7:20:16 PM | $25,000.00 | iLandowner2021 |
| Aug 26, 2020 - 5:21:24 PM | $20,500.00 | iLighting22 |
| Aug 26, 2020 - 4:52:25 PM | $20,400.00 | ischweick |
| Aug 26, 2020 - 4:52:25 PM | $20,300.00 | iDrichter1369 |
| Aug 26, 2020 - 4:44:56 PM | $20,200.00 | ischweick |
| Aug 26, 2020 - 4:31:08 PM | $20,100.00 | iDrichter1369 |
| Aug 26, 2020 - 4:31:06 PM | $20,000.00 | iLandowner2021 |
| Aug 26, 2020 - 4:31:07 PM | $20,000.00 | iDrichter1369 |
| Aug 26, 2020 - 4:31:04 PM | $19,900.00 | iLandowner2021 |
| Aug 26, 2020 - 4:31:04 PM | $19,800.00 | iDrichter1369 |
| Aug 26, 2020 - 4:31:01 PM | $19,700.00 | iLandowner2021 |
| Aug 26, 2020 - 4:31:01 PM | $19,600.00 | iDrichter1369 |
| Aug 26, 2020 - 4:30:59 PM | $19,500.00 | iLandowner2021 |
| Aug 26, 2020 - 4:30:59 PM | $19,400.00 | iDrichter1369 |
| Aug 26, 2020 - 4:30:55 PM | $19,300.00 | iLandowner2021 |
| Aug 26, 2020 - 4:30:55 PM | $19,200.00 | iDrichter1369 |
| Aug 26, 2020 - 4:28:35 PM | $19,100.00 | iLandowner2021 |
| Aug 26, 2020 - 4:28:35 PM | $19,000.00 | iDrichter1369 |
| Aug 26, 2020 - 4:16:22 PM | $16,100.00 | iDrichter1369 |
| Aug 26, 2020 - 4:16:22 PM | $16,000.00 | iJbird0325 |
| Aug 26, 2020 - 4:13:16 PM | $15,100.00 | iJbird0325 |
| Aug 26, 2020 - 4:12:41 PM | $15,000.00 | iLighting22 |
| Aug 26, 2020 - 4:12:42 PM | $15,000.00 | iJbird0325 |
| Aug 26, 2020 - 4:12:22 PM | $13,100.00 | iLighting22 |
| Aug 26, 2020 - 4:12:22 PM | $13,000.00 | iJbird0325 |
| Aug 26, 2020 - 4:11:29 PM | $11,900.00 | iLighting22 |
| Aug 26, 2020 - 4:11:29 PM | $11,800.00 | iJbird0325 |
| Aug 26, 2020 - 4:11:23 PM | $11,700.00 | iLighting22 |
| Aug 26, 2020 - 4:11:23 PM | $11,600.00 | iJbird0325 |
| Aug 26, 2020 - 4:11:14 PM | $11,500.00 | iLighting22 |
| Aug 26, 2020 - 4:11:14 PM | $11,400.00 | iJbird0325 |
| Aug 26, 2020 - 4:10:56 PM | $11,300.00 | iLighting22 |
| Aug 26, 2020 - 4:10:56 PM | $11,200.00 | iJbird0325 |
| Aug 26, 2020 - 4:10:47 PM | $11,100.00 | iLighting22 |
| Aug 26, 2020 - 4:10:47 PM | $11,000.00 | iJbird0325 |
| Aug 26, 2020 - 4:10:02 PM | $10,900.00 | iLighting22 |
| Aug 26, 2020 - 4:10:02 PM | $10,800.00 | iJbird0325 |
| Aug 26, 2020 - 4:06:16 PM | $10,700.00 | iLighting22 |
| Aug 26, 2020 - 4:06:16 PM | $10,600.00 | iDrichter1369 |
| Aug 26, 2020 - 4:02:44 PM | $10,500.00 | iLighting22 |
| Aug 26, 2020 - 4:02:44 PM | $10,400.00 | iDrichter1369 |
| Aug 26, 2020 - 4:00:41 PM | $10,300.00 | iLighting22 |
| Aug 26, 2020 - 4:00:41 PM | $10,200.00 | iDrichter1369 |
| Aug 26, 2020 - 2:58:14 PM | $10,100.00 | iDrichter1369 |
| Aug 26, 2020 - 2:57:55 PM | $10,000.00 | iLighting22 |
| Aug 26, 2020 - 2:57:56 PM | $10,000.00 | iDrichter1369 |
| Aug 26, 2020 - 2:44:30 PM | $7,500.00 | iLighting22 |
| Aug 26, 2020 - 2:44:30 PM | $7,400.00 | iSchmidt1 |
| Aug 26, 2020 - 2:44:26 PM | $7,300.00 | iLighting22 |
| Aug 26, 2020 - 2:44:26 PM | $7,200.00 | iSchmidt1 |
| Aug 26, 2020 - 2:44:21 PM | $7,100.00 | iLighting22 |
| Aug 26, 2020 - 2:44:21 PM | $7,000.00 | iSchmidt1 |
| Aug 26, 2020 - 2:44:18 PM | $6,900.00 | iLighting22 |
| Aug 26, 2020 - 2:44:18 PM | $6,800.00 | iSchmidt1 |
| Aug 26, 2020 - 2:44:16 PM | $6,700.00 | iLighting22 |
| Aug 26, 2020 - 2:44:16 PM | $6,600.00 | iSchmidt1 |
| Aug 26, 2020 - 2:44:13 PM | $6,500.00 | iLighting22 |
| Aug 26, 2020 - 2:44:13 PM | $6,400.00 | iSchmidt1 |
| Aug 26, 2020 - 2:44:10 PM | $6,300.00 | iLighting22 |
| Aug 26, 2020 - 2:44:10 PM | $6,200.00 | iSchmidt1 |
| Aug 26, 2020 - 2:43:50 PM | $6,100.00 | iLighting22 |
| Aug 26, 2020 - 2:43:50 PM | $6,000.00 | iSchmidt1 |
| Aug 26, 2020 - 2:43:46 PM | $5,900.00 | iLighting22 |
| Aug 26, 2020 - 2:43:46 PM | $5,800.00 | iSchmidt1 |
| Aug 26, 2020 - 2:43:19 PM | $5,700.00 | iLighting22 |
| Aug 26, 2020 - 2:43:19 PM | $5,600.00 | iSchmidt1 |
| Aug 26, 2020 - 2:43:17 PM | $5,500.00 | iLighting22 |
| Aug 26, 2020 - 2:43:17 PM | $5,400.00 | iSchmidt1 |
| Aug 26, 2020 - 2:43:14 PM | $5,300.00 | iLighting22 |
| Aug 26, 2020 - 2:43:14 PM | $5,200.00 | iSchmidt1 |
| Aug 26, 2020 - 2:33:47 PM | $5,100.00 | iLighting22 |
| Aug 26, 2020 - 2:33:47 PM | $5,000.00 | iSchmidt1 |
| Aug 26, 2020 - 12:27:06 PM | $4,050.00 | iSchmidt1 |
| Aug 26, 2020 - 12:27:06 PM | $4,000.00 | ismokincannoli |
| Aug 26, 2020 - 12:26:55 PM | $3,100.00 | ismokincannoli |
| Aug 26, 2020 - 12:26:55 PM | $3,050.00 | iSchmidt1 |
| Aug 25, 2020 - 6:58:00 PM | $3,000.00 | ismokincannoli |
| Aug 25, 2020 - 6:58:00 PM | $2,950.00 | idozersion |
| Aug 25, 2020 - 6:55:38 PM | $2,800.00 | ismokincannoli |
| Aug 25, 2020 - 6:55:38 PM | $2,750.00 | idozersion |
| Aug 25, 2020 - 6:55:22 PM | $2,700.00 | ismokincannoli |
| Aug 25, 2020 - 5:56:17 PM | $2,650.00 | iBubba6412 |
| Aug 25, 2020 - 5:56:17 PM | $2,600.00 | ismokincannoli |
| Aug 25, 2020 - 5:55:41 PM | $2,550.00 | ismokincannoli |
| Aug 25, 2020 - 5:55:41 PM | $2,500.00 | iBubba6412 |
| Aug 25, 2020 - 5:55:22 PM | $2,025.00 | ismokincannoli |
| Aug 25, 2020 - 5:55:22 PM | $2,000.00 | iBubba6412 |
| Aug 23, 2020 - 4:59:01 PM | $1,125.00 | ismokincannoli |
| Aug 23, 2020 - 4:59:01 PM | $1,100.00 | iCassyandra |
| Aug 23, 2020 - 4:58:54 PM | $1,075.00 | ismokincannoli |
| Aug 23, 2020 - 4:58:54 PM | $1,050.00 | iCassyandra |
| Aug 22, 2020 - 10:46:56 PM | $1,025.00 | ismokincannoli |
| Aug 22, 2020 - 10:46:56 PM | $1,000.00 | iCassyandra |
| Aug 22, 2020 - 10:46:28 PM | $580.00 | iCassyandra |
| Aug 22, 2020 - 10:46:28 PM | $570.00 | ismokincannoli |
| Aug 22, 2020 - 8:07:22 PM | $560.00 | iCassyandra |
| Aug 22, 2020 - 8:07:22 PM | $550.00 | ismokincannoli |
| Aug 22, 2020 - 8:07:02 PM | $62.50 | ismokincannoli |
| Aug 22, 2020 - 8:07:02 PM | $60.00 | iCassyandra |
| Aug 22, 2020 - 8:06:49 PM | $55.00 | ismokincannoli |
| Aug 22, 2020 - 8:06:49 PM | $52.50 | iCassyandra |
| Aug 22, 2020 - 4:02:49 PM | $50.00 | ismokincannoli |