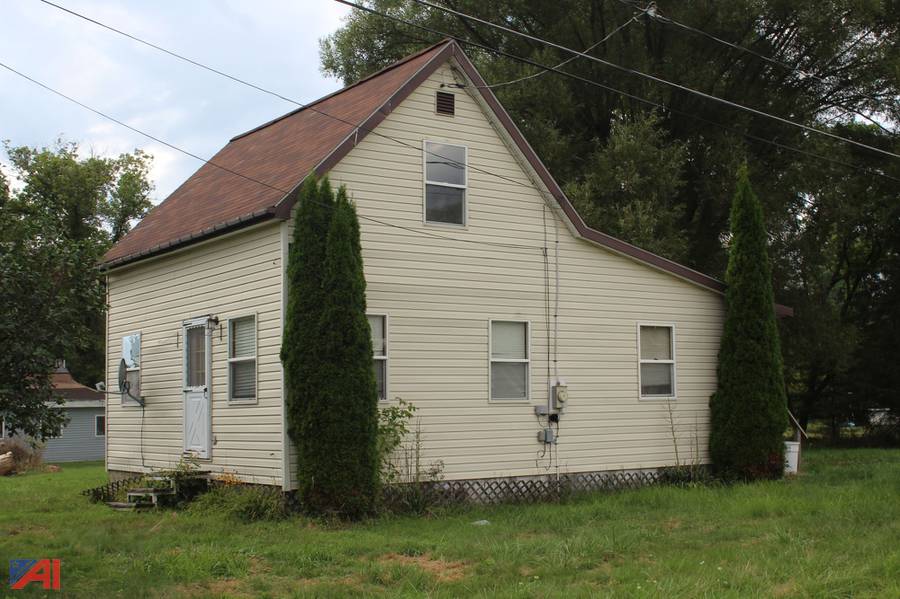 Lot #0108:
555 Highland Ave, City of Olean
Bidding is

closed

.
High Bid:
$22,000.00
NA
Bidding Ended:
Tue, Sep 8 11:02:36 am ET
High Bidder:
daltonwc
Bid Increment:
$100.00
Starting Bid:
$2,000.00
Item has been viewed 1,213 times.
Property Address: 555 Highland Ave
Municipality: City of Olean
Tax ID: 94.058-3-29
School District: Olean
Bldg Sq Feet: 912
Built: 1950
1st Floor: 720 sq. ft.
2nd Floor: 0 sq. ft.
Heat: None
House Type: Old Style
Bedrooms: 3
Bathrooms: 1
Water: Comm/public
Basement: Crawl Space
Sewer: Comm/public
Number Stories: 1.5

Acreage: 120 x 140.5
Property Type: 210 - 1 Family Res
Longitude: 1193170
Latitude: 759160
Total Assessment: 2020 - $37,000
Land Assessment: 2020 - $9,300
Full Market Value: 2020 - $42,045
Directions & Description: 1.5 Story tan house with white trim, located at the corner of East Highland and Plymouth. Mailbox clearly marked 555. $2,000 minimum.
Taxes Due Upon Closing: $555.31
***Please review all Auction terms at left side of auction before bidding***
Information deemed reliable, but NOT guaranteed. Bidders should rely on their own inspections and research of each property they are interested in, including revision of public records.  Bidders are not permitted on any properties included in this auction, for any reason whatsoever. Any physical inspection of properties should be done from the roadway or sidewalk.
---
| | | |
| --- | --- | --- |
| Bid Date | Bid Amount | Bidder |
| Sep 8, 2020 - 11:01:36 AM | $22,000.00 | idaltonwc |
| Sep 8, 2020 - 11:01:37 AM | $22,000.00 | iimzach |
| Sep 8, 2020 - 11:01:16 AM | $21,500.00 | idaltonwc |
| Sep 8, 2020 - 11:01:17 AM | $21,500.00 | iimzach |
| Sep 8, 2020 - 11:00:53 AM | $21,200.00 | idaltonwc |
| Sep 8, 2020 - 11:00:53 AM | $21,100.00 | iimzach |
| Sep 8, 2020 - 11:00:08 AM | $21,000.00 | idaltonwc |
| Sep 8, 2020 - 11:00:09 AM | $21,000.00 | iimzach |
| Sep 8, 2020 - 10:59:49 AM | $20,300.00 | idaltonwc |
| Sep 8, 2020 - 10:59:49 AM | $20,200.00 | idea32 |
| Sep 8, 2020 - 10:58:35 AM | $20,100.00 | idaltonwc |
| Sep 8, 2020 - 10:58:31 AM | $20,000.00 | idea32 |
| Sep 8, 2020 - 10:58:32 AM | $20,000.00 | idaltonwc |
| Sep 8, 2020 - 10:58:26 AM | $19,900.00 | idea32 |
| Sep 8, 2020 - 10:58:26 AM | $19,800.00 | idaltonwc |
| Sep 8, 2020 - 10:58:18 AM | $19,700.00 | idea32 |
| Sep 8, 2020 - 10:58:18 AM | $19,600.00 | idaltonwc |
| Sep 8, 2020 - 10:58:09 AM | $19,500.00 | idea32 |
| Sep 8, 2020 - 10:58:09 AM | $19,400.00 | idaltonwc |
| Sep 8, 2020 - 10:56:49 AM | $19,300.00 | idea32 |
| Sep 8, 2020 - 10:56:49 AM | $19,200.00 | iclardexs |
| Sep 8, 2020 - 10:56:10 AM | $19,100.00 | iclardexs |
| Sep 8, 2020 - 10:55:52 AM | $19,000.00 | idea32 |
| Sep 8, 2020 - 10:55:53 AM | $19,000.00 | iclardexs |
| Sep 8, 2020 - 10:55:36 AM | $18,900.00 | idea32 |
| Sep 8, 2020 - 10:54:29 AM | $18,800.00 | iclardexs |
| Sep 8, 2020 - 10:53:44 AM | $18,700.00 | idaltonwc |
| Sep 8, 2020 - 10:53:44 AM | $18,600.00 | iclardexs |
| Sep 8, 2020 - 10:17:15 AM | $18,500.00 | idaltonwc |
| Sep 8, 2020 - 10:17:03 AM | $18,400.00 | ijpeterson |
| Sep 8, 2020 - 10:16:48 AM | $18,300.00 | idaltonwc |
| Sep 8, 2020 - 10:11:14 AM | $18,200.00 | ijpeterson |
| Sep 8, 2020 - 9:59:50 AM | $18,100.00 | idaltonwc |
| Sep 8, 2020 - 9:59:40 AM | $18,000.00 | ijpeterson |
| Sep 8, 2020 - 9:59:40 AM | $17,900.00 | idaltonwc |
| Sep 8, 2020 - 9:56:27 AM | $17,800.00 | ijpeterson |
| Sep 8, 2020 - 9:54:52 AM | $17,700.00 | idaltonwc |
| Sep 8, 2020 - 9:54:28 AM | $17,600.00 | ijpeterson |
| Sep 8, 2020 - 9:53:34 AM | $17,500.00 | idaltonwc |
| Sep 8, 2020 - 9:53:35 AM | $17,500.00 | ijpeterson |
| Sep 8, 2020 - 9:53:26 AM | $17,400.00 | idaltonwc |
| Sep 8, 2020 - 9:53:26 AM | $17,300.00 | ijpeterson |
| Sep 8, 2020 - 9:53:18 AM | $17,200.00 | idaltonwc |
| Sep 8, 2020 - 9:53:18 AM | $17,100.00 | ijpeterson |
| Sep 8, 2020 - 9:49:58 AM | $17,000.00 | idaltonwc |
| Sep 8, 2020 - 9:49:58 AM | $16,900.00 | ijpeterson |
| Sep 8, 2020 - 9:49:54 AM | $16,800.00 | idaltonwc |
| Sep 8, 2020 - 9:49:54 AM | $16,700.00 | ijpeterson |
| Sep 8, 2020 - 9:49:50 AM | $16,600.00 | idaltonwc |
| Sep 8, 2020 - 9:49:50 AM | $16,500.00 | ijpeterson |
| Sep 8, 2020 - 8:31:47 AM | $16,400.00 | idaltonwc |
| Sep 8, 2020 - 7:19:10 AM | $16,300.00 | iCharlie1985 |
| Sep 8, 2020 - 1:51:33 AM | $16,200.00 | idea32 |
| Sep 8, 2020 - 1:30:37 AM | $16,100.00 | idaltonwc |
| Sep 7, 2020 - 10:28:47 PM | $16,000.00 | ijpeterson |
| Sep 7, 2020 - 10:28:47 PM | $15,900.00 | idaltonwc |
| Sep 7, 2020 - 10:22:16 PM | $15,800.00 | ijpeterson |
| Sep 7, 2020 - 10:22:16 PM | $15,700.00 | idaltonwc |
| Sep 7, 2020 - 10:22:10 PM | $15,600.00 | ijpeterson |
| Sep 7, 2020 - 10:22:10 PM | $15,500.00 | idaltonwc |
| Sep 7, 2020 - 10:22:02 PM | $15,400.00 | ijpeterson |
| Sep 7, 2020 - 10:22:02 PM | $15,300.00 | idaltonwc |
| Sep 7, 2020 - 10:06:20 PM | $15,200.00 | ijpeterson |
| Sep 7, 2020 - 9:07:57 PM | $15,100.00 | idaltonwc |
| Sep 7, 2020 - 9:07:47 PM | $15,000.00 | iCharlie1985 |
| Sep 7, 2020 - 9:07:47 PM | $14,900.00 | idaltonwc |
| Sep 7, 2020 - 9:07:29 PM | $14,800.00 | iCharlie1985 |
| Sep 7, 2020 - 9:07:29 PM | $14,700.00 | idaltonwc |
| Sep 7, 2020 - 9:07:13 PM | $14,600.00 | iCharlie1985 |
| Sep 7, 2020 - 9:07:13 PM | $14,500.00 | idaltonwc |
| Sep 7, 2020 - 10:23:50 AM | $14,400.00 | iCharlie1985 |
| Sep 7, 2020 - 10:23:50 AM | $14,300.00 | idaltonwc |
| Sep 5, 2020 - 9:03:13 PM | $14,200.00 | iCharlie1985 |
| Sep 5, 2020 - 4:20:04 PM | $14,100.00 | idaltonwc |
| Sep 5, 2020 - 4:19:59 PM | $14,000.00 | iCharlie1985 |
| Sep 5, 2020 - 4:19:59 PM | $13,900.00 | idaltonwc |
| Sep 5, 2020 - 4:19:53 PM | $13,800.00 | iCharlie1985 |
| Sep 5, 2020 - 4:19:53 PM | $13,700.00 | idaltonwc |
| Sep 5, 2020 - 4:19:45 PM | $13,600.00 | iCharlie1985 |
| Sep 5, 2020 - 4:19:45 PM | $13,500.00 | idaltonwc |
| Sep 5, 2020 - 4:19:36 PM | $13,400.00 | iCharlie1985 |
| Sep 5, 2020 - 4:19:36 PM | $13,300.00 | idaltonwc |
| Sep 5, 2020 - 4:19:15 PM | $13,200.00 | iCharlie1985 |
| Sep 5, 2020 - 4:19:15 PM | $13,100.00 | idaltonwc |
| Sep 5, 2020 - 4:19:08 PM | $13,000.00 | iCharlie1985 |
| Sep 5, 2020 - 4:19:08 PM | $12,900.00 | idaltonwc |
| Sep 5, 2020 - 4:19:02 PM | $12,800.00 | iCharlie1985 |
| Sep 5, 2020 - 4:19:02 PM | $12,700.00 | idaltonwc |
| Sep 5, 2020 - 3:01:15 PM | $12,600.00 | iCharlie1985 |
| Sep 5, 2020 - 3:01:15 PM | $12,500.00 | idaltonwc |
| Sep 4, 2020 - 10:49:14 PM | $12,100.00 | idaltonwc |
| Sep 4, 2020 - 10:48:57 PM | $12,000.00 | iCharlie1985 |
| Sep 4, 2020 - 10:48:58 PM | $12,000.00 | idaltonwc |
| Sep 4, 2020 - 10:48:43 PM | $11,600.00 | iCharlie1985 |
| Sep 4, 2020 - 10:48:43 PM | $11,500.00 | idaltonwc |
| Sep 4, 2020 - 10:46:59 PM | $11,400.00 | iCharlie1985 |
| Sep 4, 2020 - 10:46:59 PM | $11,300.00 | idaltonwc |
| Sep 4, 2020 - 6:37:54 PM | $11,200.00 | iCharlie1985 |
| Sep 4, 2020 - 5:59:01 PM | $11,100.00 | idaltonwc |
| Sep 4, 2020 - 5:58:48 PM | $11,000.00 | iCharlie1985 |
| Sep 4, 2020 - 5:58:49 PM | $11,000.00 | idaltonwc |
| Sep 4, 2020 - 5:58:41 PM | $10,900.00 | iCharlie1985 |
| Sep 4, 2020 - 5:58:41 PM | $10,800.00 | idaltonwc |
| Sep 4, 2020 - 4:47:47 PM | $10,700.00 | iCharlie1985 |
| Sep 4, 2020 - 2:46:01 PM | $10,600.00 | idaltonwc |
| Sep 4, 2020 - 2:45:53 PM | $10,500.00 | idea32 |
| Sep 4, 2020 - 2:45:53 PM | $10,400.00 | idaltonwc |
| Sep 4, 2020 - 10:46:51 AM | $10,300.00 | idea32 |
| Sep 3, 2020 - 11:30:42 PM | $10,200.00 | iCharlie1985 |
| Sep 3, 2020 - 7:49:07 PM | $10,100.00 | idaltonwc |
| Sep 3, 2020 - 6:53:20 PM | $10,000.00 | iCharlie1985 |
| Sep 3, 2020 - 6:53:20 PM | $9,900.00 | idaltonwc |
| Sep 3, 2020 - 6:46:02 PM | $9,800.00 | iCharlie1985 |
| Sep 3, 2020 - 6:46:02 PM | $9,700.00 | idaltonwc |
| Sep 3, 2020 - 6:45:51 PM | $9,600.00 | iCharlie1985 |
| Sep 3, 2020 - 6:45:51 PM | $9,500.00 | idaltonwc |
| Sep 3, 2020 - 6:45:45 PM | $9,400.00 | iCharlie1985 |
| Sep 3, 2020 - 6:45:45 PM | $9,300.00 | idaltonwc |
| Sep 3, 2020 - 6:45:37 PM | $9,200.00 | iCharlie1985 |
| Sep 3, 2020 - 6:45:37 PM | $9,100.00 | idaltonwc |
| Sep 3, 2020 - 5:23:09 PM | $9,000.00 | iCharlie1985 |
| Sep 3, 2020 - 5:23:09 PM | $8,900.00 | iCattcountybuy |
| Sep 2, 2020 - 6:26:36 PM | $8,800.00 | iCharlie1985 |
| Sep 2, 2020 - 6:26:36 PM | $8,700.00 | idaltonwc |
| Sep 2, 2020 - 12:20:36 PM | $8,600.00 | iCharlie1985 |
| Sep 2, 2020 - 12:20:36 PM | $8,500.00 | iRev.Slack |
| Sep 2, 2020 - 11:06:27 AM | $8,100.00 | iRev.Slack |
| Sep 2, 2020 - 11:06:27 AM | $8,000.00 | iCharlie1985 |
| Sep 2, 2020 - 11:05:41 AM | $7,600.00 | iCharlie1985 |
| Sep 2, 2020 - 11:05:41 AM | $7,500.00 | iRev.Slack |
| Sep 1, 2020 - 11:26:07 PM | $7,200.00 | iCharlie1985 |
| Sep 1, 2020 - 9:12:53 PM | $7,100.00 | idaltonwc |
| Sep 1, 2020 - 9:12:37 PM | $7,000.00 | iCharlie1985 |
| Sep 1, 2020 - 9:12:37 PM | $6,900.00 | idaltonwc |
| Sep 1, 2020 - 9:12:20 PM | $6,800.00 | iCharlie1985 |
| Sep 1, 2020 - 9:12:20 PM | $6,700.00 | idaltonwc |
| Sep 1, 2020 - 9:12:10 PM | $6,600.00 | iCharlie1985 |
| Sep 1, 2020 - 9:12:10 PM | $6,500.00 | idaltonwc |
| Sep 1, 2020 - 9:11:52 PM | $6,400.00 | iCharlie1985 |
| Sep 1, 2020 - 9:11:52 PM | $6,300.00 | idaltonwc |
| Sep 1, 2020 - 7:40:17 PM | $6,200.00 | iCharlie1985 |
| Sep 1, 2020 - 7:40:17 PM | $6,100.00 | iBRKNX9 |
| Aug 30, 2020 - 11:16:02 AM | $6,000.00 | iCharlie1985 |
| Aug 30, 2020 - 11:16:02 AM | $5,900.00 | iBRKNX9 |
| Aug 29, 2020 - 11:40:08 AM | $5,800.00 | iCharlie1985 |
| Aug 29, 2020 - 11:40:08 AM | $5,700.00 | iBRKNX9 |
| Aug 28, 2020 - 6:24:42 PM | $5,600.00 | iCharlie1985 |
| Aug 28, 2020 - 6:24:42 PM | $5,500.00 | iBRKNX9 |
| Aug 28, 2020 - 6:18:41 PM | $5,400.00 | iCharlie1985 |
| Aug 28, 2020 - 6:18:41 PM | $5,300.00 | iBRKNX9 |
| Aug 28, 2020 - 5:34:21 PM | $5,200.00 | iCharlie1985 |
| Aug 28, 2020 - 12:01:13 PM | $5,100.00 | iBlabel27 |
| Aug 28, 2020 - 12:00:39 PM | $5,000.00 | iCharlie1985 |
| Aug 28, 2020 - 12:00:40 PM | $5,000.00 | iBlabel27 |
| Aug 28, 2020 - 11:52:58 AM | $3,850.00 | iCharlie1985 |
| Aug 28, 2020 - 11:52:58 AM | $3,800.00 | iBlabel27 |
| Aug 28, 2020 - 11:52:34 AM | $3,750.00 | iCharlie1985 |
| Aug 28, 2020 - 11:52:34 AM | $3,700.00 | iBlabel27 |
| Aug 28, 2020 - 8:29:28 AM | $3,650.00 | iCharlie1985 |
| Aug 28, 2020 - 8:29:28 AM | $3,600.00 | iBigboy2 |
| Aug 27, 2020 - 2:13:06 PM | $3,550.00 | iCharlie1985 |
| Aug 27, 2020 - 2:13:06 PM | $3,500.00 | iBubba6412 |
| Aug 27, 2020 - 2:12:55 PM | $3,250.00 | iCharlie1985 |
| Aug 27, 2020 - 2:12:55 PM | $3,200.00 | iBubba6412 |
| Aug 27, 2020 - 1:32:52 PM | $3,150.00 | iCharlie1985 |
| Aug 27, 2020 - 1:32:52 PM | $3,100.00 | iBubba6412 |
| Aug 27, 2020 - 1:03:13 PM | $3,050.00 | iCharlie1985 |
| Aug 27, 2020 - 1:02:54 PM | $3,000.00 | iBubba6412 |
| Aug 27, 2020 - 1:02:55 PM | $3,000.00 | iCharlie1985 |
| Aug 27, 2020 - 1:02:36 PM | $2,700.00 | iBubba6412 |
| Aug 27, 2020 - 1:02:36 PM | $2,650.00 | iCharlie1985 |
| Aug 27, 2020 - 1:02:30 PM | $2,600.00 | iBubba6412 |
| Aug 27, 2020 - 1:02:30 PM | $2,550.00 | iCharlie1985 |
| Aug 27, 2020 - 1:02:27 PM | $2,500.00 | iBubba6412 |
| Aug 27, 2020 - 1:02:27 PM | $2,475.00 | iCharlie1985 |
| Aug 27, 2020 - 1:02:23 PM | $2,450.00 | iBubba6412 |
| Aug 27, 2020 - 1:02:23 PM | $2,425.00 | iCharlie1985 |
| Aug 27, 2020 - 1:02:20 PM | $2,400.00 | iBubba6412 |
| Aug 27, 2020 - 1:02:20 PM | $2,375.00 | iCharlie1985 |
| Aug 27, 2020 - 1:02:16 PM | $2,350.00 | iBubba6412 |
| Aug 27, 2020 - 1:02:16 PM | $2,325.00 | iCharlie1985 |
| Aug 27, 2020 - 1:02:12 PM | $2,300.00 | iBubba6412 |
| Aug 27, 2020 - 1:02:12 PM | $2,275.00 | iCharlie1985 |
| Aug 27, 2020 - 1:02:08 PM | $2,250.00 | iBubba6412 |
| Aug 27, 2020 - 1:02:08 PM | $2,225.00 | iCharlie1985 |
| Aug 27, 2020 - 1:01:59 PM | $2,200.00 | iBubba6412 |
| Aug 27, 2020 - 1:01:59 PM | $2,175.00 | iCharlie1985 |
| Aug 27, 2020 - 1:01:48 PM | $2,150.00 | iBubba6412 |
| Aug 27, 2020 - 1:01:48 PM | $2,125.00 | iCharlie1985 |
| Aug 27, 2020 - 1:01:17 PM | $2,100.00 | iBubba6412 |
| Aug 27, 2020 - 1:01:17 PM | $2,075.00 | iCharlie1985 |
| Aug 27, 2020 - 12:29:47 PM | $2,050.00 | iBubba6412 |
| Aug 23, 2020 - 4:08:54 PM | $2,025.00 | iBRKNX9 |
| Aug 22, 2020 - 5:43:41 PM | $2,000.00 | idaltonwc |