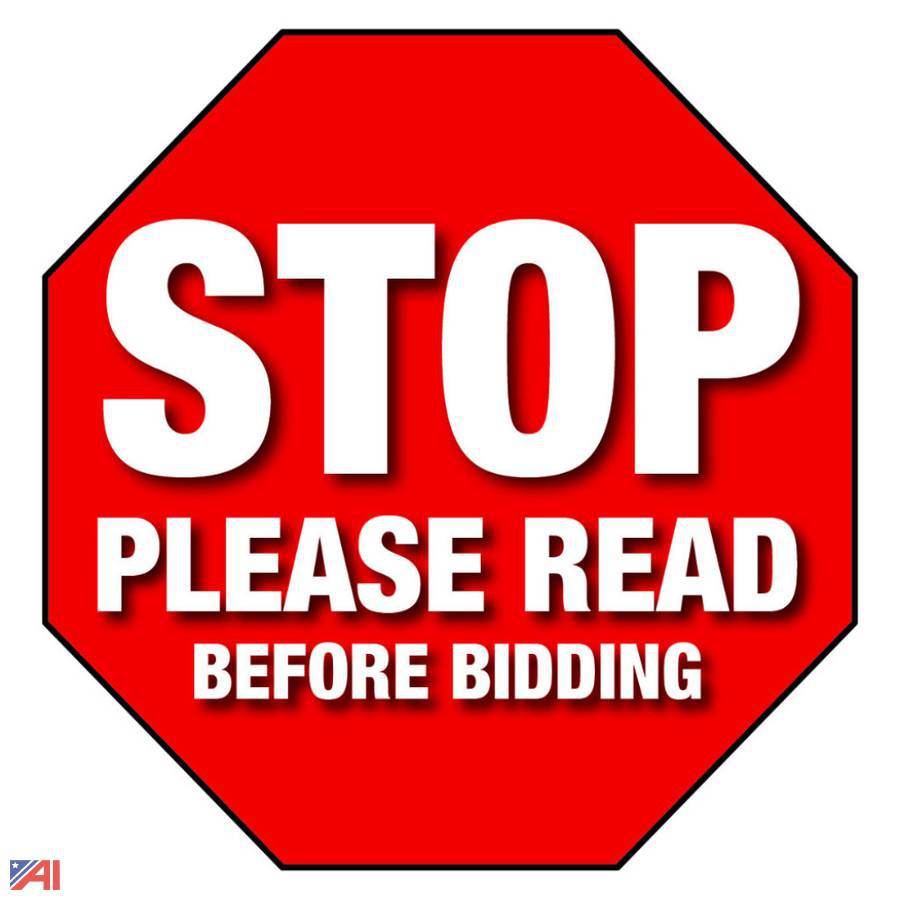 Lot #0000:
Important Auction Information!!
Bidding is

closed

.
High Bid:
$0.00
NA
Bidding Ended:
Tue, Sep 8 10:00:00 am ET
Bid Increment:
$10.00
Starting Bid:
$10.00
Item has been viewed 3,910 times.
***URGENT ANNOUNCEMENT**
If you are a successful high bidder in today's auction, please DO NOT call our office asking what to do next. ALL WINNING BIDDERS WILL BE CONTACTED TODAY by Auctions International staff. Please be available via the telephone you provided at registration.
REGISTRATION IS NOW CLOSED.
The final day to get your Online Bidder Registration packet in is FRIDAY, SEPT. 4th.  We must receive the original forms in our office by 4 PM EST or you will not be able to participate in this auction. (see STEP #1 below)
Please take a moment to review the content below. 
ONLINE BIDDING BEGAN SATURDAY, AUGUST 22ND AT 12PM. 
If you did not send in your completed Online Bidder Registration Packet and receive a confirmation email from Auctions International,  you will not be able to place a bid. Please do not call our office asking why you cant bid. Although you may have an online account with us, you will not be able to place bids in this online sale unless we receive your completed packet. 
IN ORDERED TO "GET APPROVED TO BID" PLEASE FOLLOW THE STEPS LISTED BELOW
STEP #1)
In order to be able to participate in this online sale you must print-off the Online Bidder Registration Packet, fill it out in its entirety and mail the originals to our office. We must have this packet in our office no later than September 4, 2020 at 4pm (EST), no exceptions. If we do not receive your paperwork, you will not be able to participate in this online sale.

ONLINE BIDDER REGISTRATION PACKET (click here)
STEP #2)
Once you have completed your ONLINE BIDDER REGISTRATION PACKET and mailed it to our office, you must then create an online account. Remember to use promo code CATTCO20 to waive the one-time membership fee to our website.
Click here to be directed to the registration portion of our website

For an explanation on how to create your online bidding account, please watch this brief information video (click here)
       
STEP #3)
Although the online auction is listed on the website, it will not begin accepting bids until August 22, 2020 at 12PM. At that time, you can place your bid(s) on parcels of interest



HELPFUL HINTS
-The "Details" portion of most of the property listings has a clickable "Property Address". By clicking on the address, you will be directed to an online mapping tool. (Get directions or explore the area)
-Once you enter a bid, online, there is no "removing" or "retracting" your bid. Please be diligent and cautious when participating in this sale.
-Every evening starting around 6pm our online surplus auctions begin to close. You are strongly encouraged to watch an auction close. (Please DO NOT "test out" how to place bids on ANY of our online sales)
Frequently Asked Questions (click here)
How our online auction closings work (click here)

-**If you do not have access to a printer, to print out the "Online Bidder Registration Packet" here are some area businesses with printing services available.
Staples- Olean, NY
2735 W. State Street, Olean, NY 14760
(716) 372-5441
Absentee Bidder Packet: CLICK HERE
This packet should only be filled out ONLY if you do not have means to participate in the online sale. This packet will need to be received at our office by September 4th, NO EXCEPTIONS. 
---