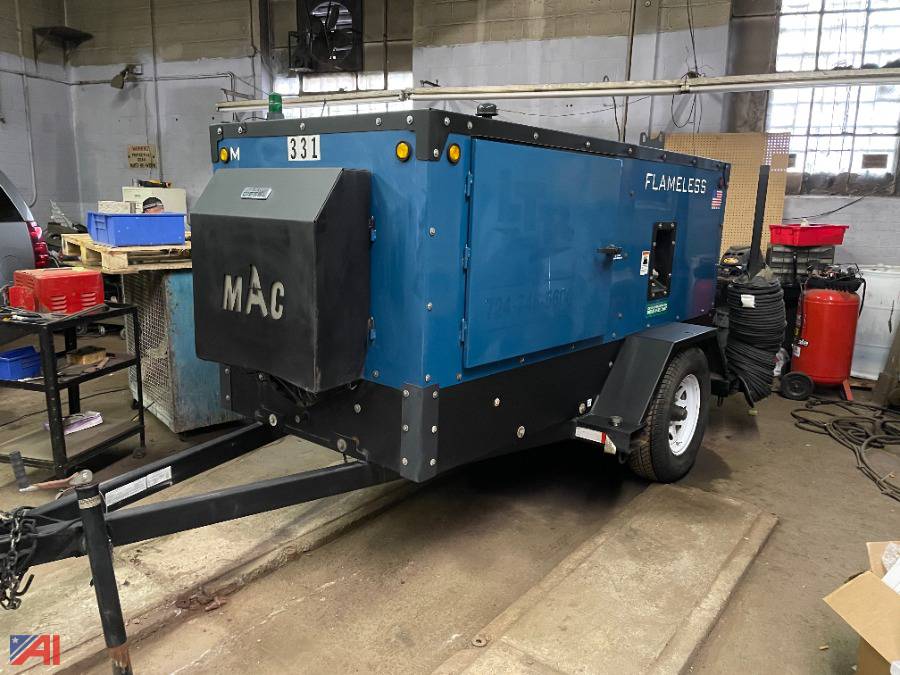 Lot #0004:
2013 MAC550F Flameless Air Heater
Bidding is

closed

.
High Bid:
$2,125.00
NA
Bidding Ended:
Wed, Jan 20 7:08:01 pm ET
High Bidder:
larypg
Bid Increment:
$25.00
Starting Bid:
$25.00
Item Location:

1500 Clinton Street

,

Buffalo , Erie

,

NY

14206

Distance:
Please click on the location address to view the item's location on a map.
Item has been viewed 1,304 times.
2013 MAC550F Flameless Air Heater
Specs from manufacturer:
The MAC550F flameless heater provides highly efficient heat with unprecedented safety in a nice, compact portable trailer mounted package. It combines Generac MAC's industry experience with cutting edge technology and innovative design, with the safety of a flame-free heater. The MAC550F is safe to use in environments/applications where open flame heaters are restricted.
The MAC550F offers a compact heater platform mounted on a single axle trailer for ease of mobility on the job site. It is a flameless heater that provides clean, safe, and reliable air flow capable of ducting long distances with minimal loss of air pressure or outlet temperature. It offers full 110% fluid containment for safety and contamination protection on the job site. The MAC550F is comprised of rugged, heavy-duty construction inside and out, with large doors providing easy access for service, maintenance, and operation. The exterior is fully powder coated.
The MAC550F has a temperature rise of up to 180° F (82° C) and an air output volume of 1,400-3,500 cubic feet per minute at 5 inches of static pressure, delivered through two (2) 12 inch outlets. We offer simple to use, push button controls for ease of operation.
Parts Only
Bill of Sale Only
Item is used and not in working condition.
***Please review all Auction terms at left side of auction before bidding***
Terms of Sale:
All sales are final. No refunds will be issued. This item is being sold as is, where is, with no warranty, expressed written or implied. The seller shall not be responsible for the correct description, authenticity, genuineness, or defects herein, and makes no warranty in connection therewith. No allowance or set aside will be made on account of any incorrectness, imperfection, defect or damage. Any descriptions or representations are for identification purposes only and are not to be construed as a warranty of any type. It is the responsibility of the buyer to have thoroughly inspected this item and to have satisfied himself or herself as to the condition and value and to bid based upon that judgment solely. The seller shall and will make every reasonable effort to disclose any known defects associated with this item at the buyer request prior to the close of sale. Seller assumes no responsibility for any repairs regardless of any oral statements about the item. Seller is NOT responsible for providing tools or heavy equipment to aid in removal. Items left on seller premises after this removal deadline will revert back to possession of the seller, with no refund.
---
| | | |
| --- | --- | --- |
| Bid Date | Bid Amount | Bidder |
| Jan 20, 2021 - 7:07:01 PM | $2,125.00 | ilarypg |
| Jan 20, 2021 - 7:07:01 PM | $2,100.00 | idjtower2 |
| Jan 20, 2021 - 7:06:36 PM | $2,025.00 | ilarypg |
| Jan 20, 2021 - 7:06:36 PM | $2,000.00 | idjtower2 |
| Jan 20, 2021 - 7:06:15 PM | $1,825.00 | ilarypg |
| Jan 20, 2021 - 7:06:15 PM | $1,800.00 | idjtower2 |
| Jan 20, 2021 - 7:05:51 PM | $1,575.00 | ilarypg |
| Jan 20, 2021 - 7:05:51 PM | $1,550.00 | idjtower2 |
| Jan 20, 2021 - 7:05:43 PM | $1,525.00 | ilarypg |
| Jan 20, 2021 - 7:05:43 PM | $1,500.00 | iimgonnaownit |
| Jan 20, 2021 - 7:05:19 PM | $1,375.00 | iimgonnaownit |
| Jan 20, 2021 - 7:05:19 PM | $1,350.00 | ilarypg |
| Jan 20, 2021 - 7:05:13 PM | $1,225.00 | ilarypg |
| Jan 20, 2021 - 7:05:13 PM | $1,200.00 | idjtower2 |
| Jan 20, 2021 - 7:04:14 PM | $1,025.00 | ilarypg |
| Jan 20, 2021 - 7:04:14 PM | $1,000.00 | idjtower2 |
| Jan 20, 2021 - 7:03:58 PM | $960.00 | idjtower2 |
| Jan 20, 2021 - 7:03:58 PM | $950.00 | ilarypg |
| Jan 20, 2021 - 6:59:14 PM | $850.00 | idjtower2 |
| Jan 20, 2021 - 6:59:14 PM | $840.00 | ilarypg |
| Jan 20, 2021 - 6:57:40 PM | $780.00 | ilarypg |
| Jan 20, 2021 - 6:57:40 PM | $770.00 | iimgonnaownit |
| Jan 20, 2021 - 4:02:16 PM | $760.00 | ilarypg |
| Jan 20, 2021 - 4:01:54 PM | $750.00 | idjtower2 |
| Jan 20, 2021 - 4:01:54 PM | $740.00 | ilarypg |
| Jan 20, 2021 - 4:01:39 PM | $650.00 | idjtower2 |
| Jan 20, 2021 - 4:01:39 PM | $640.00 | ilarypg |
| Jan 20, 2021 - 4:01:15 PM | $630.00 | idjtower2 |
| Jan 20, 2021 - 4:01:15 PM | $620.00 | ilarypg |
| Jan 20, 2021 - 11:29:18 AM | $610.00 | idjtower2 |
| Jan 20, 2021 - 11:29:18 AM | $600.00 | ilarypg |
| Jan 19, 2021 - 7:05:41 PM | $590.00 | ilarypg |
| Jan 19, 2021 - 7:05:41 PM | $580.00 | iDieseldig18 |
| Jan 18, 2021 - 7:39:51 PM | $560.00 | iDieseldig18 |
| Jan 18, 2021 - 7:39:12 PM | $550.00 | idjtower2 |
| Jan 18, 2021 - 7:39:13 PM | $550.00 | iDieseldig18 |
| Jan 18, 2021 - 1:18:32 PM | $530.00 | idjtower2 |
| Jan 18, 2021 - 1:18:32 PM | $520.00 | immc0327 |
| Jan 18, 2021 - 12:19:55 PM | $510.00 | idjtower2 |
| Jan 18, 2021 - 6:10:53 AM | $500.00 | iDieseldig18 |
| Jan 18, 2021 - 6:10:54 AM | $500.00 | idjtower2 |
| Jan 18, 2021 - 6:10:17 AM | $460.00 | iDieseldig18 |
| Jan 18, 2021 - 6:10:17 AM | $450.00 | idjtower2 |
| Jan 17, 2021 - 9:22:45 PM | $310.00 | iDieseldig18 |
| Jan 17, 2021 - 9:22:28 PM | $300.00 | idjtower2 |
| Jan 17, 2021 - 9:22:29 PM | $300.00 | iDieseldig18 |
| Jan 17, 2021 - 11:47:34 AM | $290.00 | idjtower2 |
| Jan 17, 2021 - 11:47:34 AM | $280.00 | isuperfrank65 |
| Jan 16, 2021 - 2:37:11 PM | $270.00 | idjtower2 |
| Jan 15, 2021 - 8:36:00 PM | $260.00 | ilarypg |
| Jan 15, 2021 - 10:00:34 AM | $250.00 | imiker |
| Jan 15, 2021 - 10:00:35 AM | $250.00 | iMikeye555 |
| Jan 12, 2021 - 8:27:11 PM | $230.00 | imiker |
| Jan 12, 2021 - 8:27:11 PM | $220.00 | istllc |
| Jan 12, 2021 - 8:01:08 AM | $210.00 | imiker |
| Jan 12, 2021 - 8:01:08 AM | $200.00 | iExecutivecleaning |
| Jan 11, 2021 - 8:30:49 PM | $155.00 | iExecutivecleaning |
| Jan 11, 2021 - 8:30:42 PM | $150.00 | ievauto |
| Jan 11, 2021 - 8:30:43 PM | $150.00 | iExecutivecleaning |
| Jan 11, 2021 - 8:30:39 PM | $145.00 | ievauto |
| Jan 11, 2021 - 8:30:39 PM | $140.00 | iExecutivecleaning |
| Jan 11, 2021 - 8:30:36 PM | $135.00 | ievauto |
| Jan 11, 2021 - 8:30:36 PM | $130.00 | iExecutivecleaning |
| Jan 11, 2021 - 8:30:33 PM | $125.00 | ievauto |
| Jan 11, 2021 - 8:30:33 PM | $120.00 | iExecutivecleaning |
| Jan 11, 2021 - 8:30:27 PM | $115.00 | ievauto |
| Jan 11, 2021 - 8:30:27 PM | $110.00 | iExecutivecleaning |
| Jan 10, 2021 - 4:08:39 PM | $105.00 | ievauto |
| Jan 10, 2021 - 4:08:29 PM | $100.00 | iPoorDon |
| Jan 10, 2021 - 4:08:30 PM | $100.00 | ievauto |
| Jan 6, 2021 - 9:03:03 PM | $77.50 | iPoorDon |
| Jan 6, 2021 - 9:03:03 PM | $75.00 | ievauto |
| Jan 6, 2021 - 6:00:20 PM | $25.00 | ievauto |