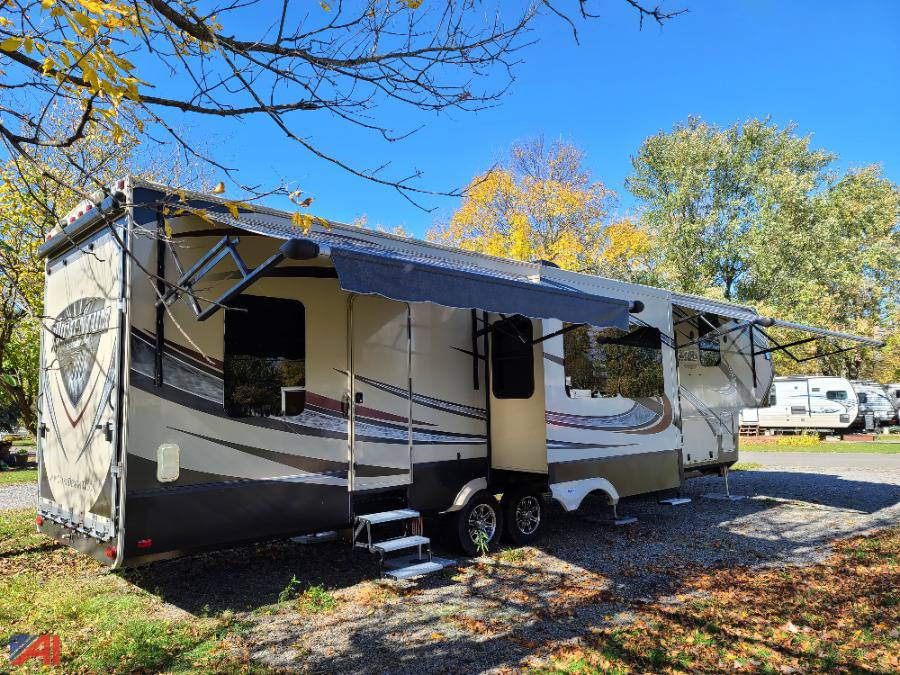 2014 Grand Design Momentum 385TH 43' Toy Hauler
Bidding is

closed

.
High Bid:
$30,900.00
NA
Bidding Ended:
Tue, May 4 7:42:00 pm ET
High Bidder:
Speerit
Bid Increment:
$100.00
Starting Bid:
$25.00
Item Location:

11167 Big Tree Rd

,

East Aurora, Erie

,

NY

14052

Distance:
Please click on the location address to view the item's location on a map.
Item has been viewed 7,854 times.
**Available 7 days a week from 9 am to 3:30 pm, for questions or inspections**
Update: A potential buyer who inspected the trailer removed the tape at the bottom of the slider and dug into the quarter inch sheathing, the floor is not rotted. The corners need to be re-sealed with ETRNA bond tape, standard in the industry. Seller wishes he knew who had the nerve to do this, but it is an easy fix.
UPDATE: Slight water damage to outside sheathing on left side slide-out, tape torn from inspection process. Left side fender is cracked, new fender comes with camper. Ladder to roof is bent at the top.
This Luxury RV is the top of the line in its class, new this type of RV is going for approximately $82,000. Lightweight pulls like a dream. Brought from North Carolina. Was only used in 2020 a couple of times at an RV park.
**SPECIAL FEATURES**
Full-size two-door refrigerator
Three burner stove with oven
Two-compartment sink
Beautiful island in the middle of the kitchen and den
Full-size pantry
Queen size bed and walk-in closet in the master bedroom
One full bathroom with a large shower and one half bathroom
Fireplace and (3) flat-screen TV's
(3) Separate AC units and roof fans in every room
(2) Separate entertainment centers with blue-tooth capabilities
(3) Slide-outs 
(2) Electric awnings
Automatic hydraulic leveling system
(2) Large propane tanks 
Huge storage space under the unit
Fueling system with a pump for the toys
Gasoline tank for the Cummins 5500 generator
Toy hauler compartment is 12 feet long
Tires were replaced approximately in 2019 due to dry-rot, tires are now like new
See attached data sheet for serial data information.

360° Virtual Interior Tour-CLICK HERE
***Please review all Auction terms at left side of auction before bidding***
Terms of Sale:
All sales are final. No refunds will be issued. This item is being sold as is, where is, with no warranty, expressed written or implied. The seller shall not be responsible for the correct description, authenticity, genuineness, or defects herein, and makes no warranty in connection therewith. No allowance or set aside will be made on account of any incorrectness, imperfection, defect or damage. Any descriptions or representations are for identification purposes only and are not to be construed as a warranty of any type. It is the responsibility of the buyer to have thoroughly inspected this item and to have satisfied himself or herself as to the condition and value and to bid based upon that judgment solely. The seller shall and will make every reasonable effort to disclose any known defects associated with this item at the buyer request prior to the close of sale. Seller assumes no responsibility for any repairs regardless of any oral statements about the item. Seller is NOT responsible for providing tools or heavy equipment to aid in removal. Items left on seller premises after this removal deadline will revert back to possession of the seller, with no refund.
Year: 2014
Make: Grand Design Momentum
Model: 385TH
Body Style: 43' Toy Hauler
VIN/SN: 573FM4321E1101268
Transmission Type: N/A
Tire Condition: Good
Drivetrain: N/A
Does the unit operate?: Yes
Does the vehicle start?: Yes
Are keys available?: Yes
Ownership Documents: Clear Title
Mechanical Condition: Good
Mechanical Notes: Luxury RV is the top of the line RV in its class, new this type of RV is going for about $80,000. Brought from North Carolina. Was only used in 2020 a couple of times at an RV park.
Body Condition: Good
Body Notes: Comes with a Cummins 5500 generator with 113 hours. Tires were replaced approximately in 2019 due to dry-rot, tires are like new.
Interior Condition: Good
GVWR: 15,574
Titled: Yes
---
| | | |
| --- | --- | --- |
| Bid Date | Bid Amount | Bidder |
| May 4, 2021 - 6:24:28 PM | $30,900.00 | iSpeerit |
| May 4, 2021 - 6:24:28 PM | $30,800.00 | ihdbman |
| May 4, 2021 - 6:16:57 PM | $30,700.00 | iSpeerit |
| May 4, 2021 - 6:16:57 PM | $30,600.00 | ihdbman |
| May 4, 2021 - 6:10:05 PM | $30,500.00 | iSpeerit |
| May 4, 2021 - 6:10:05 PM | $30,400.00 | ihdbman |
| May 4, 2021 - 6:03:13 PM | $30,300.00 | iSpeerit |
| May 4, 2021 - 6:03:13 PM | $30,200.00 | ihdbman |
| May 2, 2021 - 4:00:30 PM | $30,100.00 | iSpeerit |
| May 2, 2021 - 4:00:30 PM | $30,000.00 | ihdbman |
| May 2, 2021 - 10:06:21 AM | $29,900.00 | ihdbman |
| May 2, 2021 - 10:06:21 AM | $29,800.00 | iSpeerit |
| May 2, 2021 - 10:05:41 AM | $29,100.00 | iSpeerit |
| May 2, 2021 - 10:05:41 AM | $29,000.00 | ihdbman |
| May 2, 2021 - 10:05:28 AM | $28,100.00 | iSpeerit |
| May 2, 2021 - 10:05:28 AM | $28,000.00 | ihdbman |
| May 2, 2021 - 10:05:10 AM | $27,100.00 | iSpeerit |
| May 2, 2021 - 10:05:10 AM | $27,000.00 | ihdbman |
| May 2, 2021 - 10:05:00 AM | $26,600.00 | iSpeerit |
| May 2, 2021 - 10:05:00 AM | $26,500.00 | ihdbman |
| May 2, 2021 - 10:04:41 AM | $26,400.00 | iSpeerit |
| May 2, 2021 - 10:04:41 AM | $26,300.00 | ihdbman |
| May 2, 2021 - 10:04:23 AM | $26,200.00 | iSpeerit |
| May 2, 2021 - 10:04:23 AM | $26,100.00 | ihdbman |
| May 2, 2021 - 10:04:02 AM | $26,000.00 | iSpeerit |
| May 2, 2021 - 10:04:02 AM | $25,900.00 | ihdbman |
| May 2, 2021 - 10:03:50 AM | $25,800.00 | iSpeerit |
| May 2, 2021 - 10:03:50 AM | $25,700.00 | ihdbman |
| May 2, 2021 - 10:03:34 AM | $25,600.00 | iSpeerit |
| May 2, 2021 - 10:03:34 AM | $25,500.00 | ihdbman |
| Apr 28, 2021 - 5:27:52 PM | $23,600.00 | iSpeerit |
| Apr 28, 2021 - 5:27:52 PM | $23,500.00 | iautosource |
| Apr 27, 2021 - 8:26:10 AM | $23,100.00 | iSpeerit |
| Apr 27, 2021 - 8:26:10 AM | $23,000.00 | itritown |
| Apr 24, 2021 - 4:18:32 PM | $20,100.00 | itritown |
| Apr 24, 2021 - 4:18:23 PM | $20,000.00 | iDbrown6 |
| Apr 24, 2021 - 4:18:24 PM | $20,000.00 | itritown |
| Apr 22, 2021 - 6:10:28 PM | $18,600.00 | iDbrown6 |
| Apr 22, 2021 - 6:10:28 PM | $18,500.00 | itritown |
| Apr 22, 2021 - 6:07:33 PM | $17,600.00 | iDbrown6 |
| Apr 22, 2021 - 6:07:33 PM | $17,500.00 | itritown |
| Apr 22, 2021 - 6:06:29 PM | $15,600.00 | iDbrown6 |
| Apr 22, 2021 - 6:06:29 PM | $15,500.00 | itritown |
| Apr 21, 2021 - 5:03:02 PM | $15,400.00 | iDbrown6 |
| Apr 21, 2021 - 5:03:02 PM | $15,300.00 | igvalerim |
| Apr 21, 2021 - 6:24:15 AM | $14,400.00 | iDbrown6 |
| Apr 21, 2021 - 6:24:15 AM | $14,300.00 | ieagle520 |
| Apr 21, 2021 - 6:23:22 AM | $13,200.00 | iDbrown6 |
| Apr 21, 2021 - 6:23:22 AM | $13,100.00 | ieagle520 |
| Apr 21, 2021 - 6:23:11 AM | $12,400.00 | iDbrown6 |
| Apr 21, 2021 - 6:23:11 AM | $12,300.00 | ieagle520 |
| Apr 21, 2021 - 6:22:57 AM | $11,700.00 | iDbrown6 |
| Apr 21, 2021 - 6:22:57 AM | $11,600.00 | ieagle520 |
| Apr 21, 2021 - 6:22:25 AM | $10,300.00 | iDbrown6 |
| Apr 21, 2021 - 6:22:25 AM | $10,200.00 | ieagle520 |
| Apr 21, 2021 - 6:22:14 AM | $9,000.00 | iDbrown6 |
| Apr 21, 2021 - 6:22:14 AM | $8,900.00 | ieagle520 |
| Apr 21, 2021 - 5:22:17 AM | $7,800.00 | iDbrown6 |
| Apr 21, 2021 - 5:22:17 AM | $7,700.00 | ieagle520 |
| Apr 20, 2021 - 9:16:56 PM | $7,100.00 | ieagle520 |
| Apr 20, 2021 - 9:16:56 PM | $7,000.00 | iimgonnaownit |
| Apr 20, 2021 - 7:32:25 PM | $6,600.00 | iimgonnaownit |
| Apr 20, 2021 - 7:32:25 PM | $6,500.00 | ifsenzio |
| Apr 20, 2021 - 7:32:17 PM | $6,300.00 | ifsenzio |
| Apr 20, 2021 - 7:32:17 PM | $6,200.00 | iimgonnaownit |
| Apr 20, 2021 - 5:17:22 PM | $6,100.00 | ifsenzio |
| Apr 20, 2021 - 5:17:22 PM | $6,000.00 | ismith timber |
| Apr 20, 2021 - 5:17:12 PM | $5,600.00 | ismith timber |
| Apr 20, 2021 - 5:17:12 PM | $5,500.00 | ifsenzio |
| Apr 20, 2021 - 5:17:02 PM | $5,100.00 | ismith timber |
| Apr 20, 2021 - 5:17:02 PM | $5,000.00 | ifsenzio |
| Apr 20, 2021 - 5:15:55 PM | $4,550.00 | ismith timber |
| Apr 20, 2021 - 5:15:55 PM | $4,500.00 | ifsenzio |
| Apr 20, 2021 - 5:15:36 PM | $4,050.00 | ifsenzio |
| Apr 20, 2021 - 5:15:36 PM | $4,000.00 | ismith timber |
| Apr 20, 2021 - 5:14:59 PM | $3,550.00 | ismith timber |
| Apr 20, 2021 - 5:14:59 PM | $3,500.00 | ifsenzio |
| Apr 20, 2021 - 4:43:55 PM | $2,550.00 | ifsenzio |
| Apr 20, 2021 - 4:43:45 PM | $2,500.00 | ijohns |
| Apr 20, 2021 - 4:43:46 PM | $2,500.00 | ifsenzio |
| Apr 20, 2021 - 4:43:37 PM | $1,025.00 | ijohns |
| Apr 20, 2021 - 4:43:37 PM | $1,000.00 | ifsenzio |
| Apr 20, 2021 - 4:43:28 PM | $510.00 | ijohns |
| Apr 20, 2021 - 4:43:28 PM | $500.00 | ifsenzio |
| Apr 20, 2021 - 4:38:38 PM | $25.00 | ijohns |