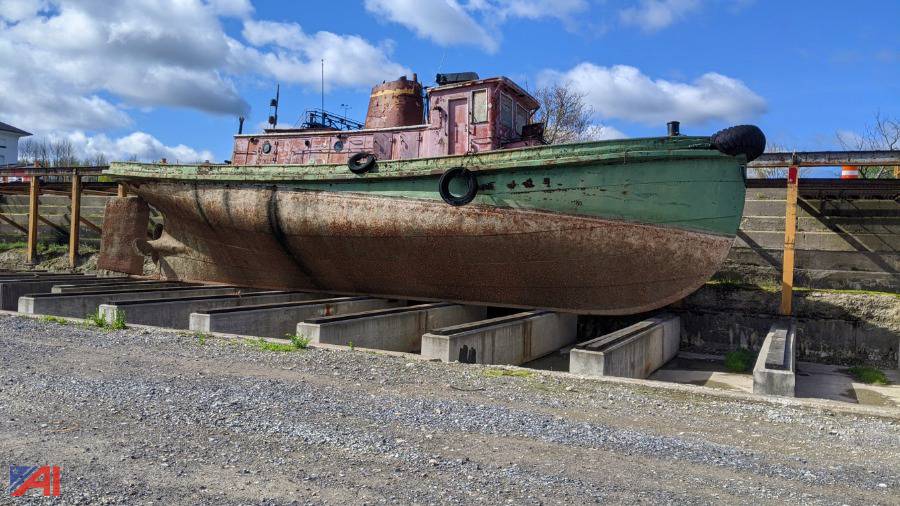 Lot #0003:
1912 Great Lakes Towing Co. Tug Grouper Boat
Bidding is

closed

.
High Bid:
$3,100.00
NA
Bidding Ended:
Mon, Jun 28 6:05:55 pm ET
High Bidder:
Pstrope74
Bid Increment:
$50.00
Starting Bid:
$25.00
Item Location:

7665 Dry Dock Road.

,

Lyons, Wayne

,

NY

14489

Distance:
Please click on the location address to view the item's location on a map.
Item has been viewed 6,575 times.
Questions & Inspection: Inspections are available by appointment. Please contact Troy Sebastiano at 315-871-4308 or troy.sebastiano@canals.ny.gov with questions or to schedule an appointment.


TUG GROUPER
Built in 1912 by the Great Lakes Towing Company of Cleveland, OH, the Grouper is a single screw tugboat with a length of 74 feet, a beam of 19 feet 06 inches, and a depth of 12 feet.
In 1957, it was converted from steam to diesel, and operates on a Kahlenberg 6-cylinder engine.
History:
The tug was originally named the Gary. In 1934, it was sold to the C. Reiss Coal Company and renamed Green Bay. North American Towing purchased the Green Bay in 1981 and renamed her Oneida. In 1987, it was sold to Wellington Towing of Sault Ste. Marie, MI and renamed Iroquois. Its original owner and builder, the Great Lakes Towing Company, purchased it in 1990, and renamed it Alaska. In 1999, it was sold to Florida Marine Terminals and renamed Grouper, but on its delivery voyage was left along the Erie Canal, where it remains, and put up for sale.

**NYSCC is encouraging the re-use of this vessel versus scrapping of the unit. In the event this vessel is purchased solely for the purposes of scrapping, NYSCC asks the winning bidder to consider access to the vessel for the NYS Museum and to consider surrendering to the Museum any components it considers worthy of entry into the State's permanent collection.**
***Please review all Auction terms at left side of auction before bidding***
Terms of Sale:
All sales are final. No refunds will be issued. This item is being sold as is, where is, with no warranty, expressed written or implied. The seller shall not be responsible for the correct description, authenticity, genuineness, or defects herein, and makes no warranty in connection therewith. No allowance or set aside will be made on account of any incorrectness, imperfection, defect or damage. Any descriptions or representations are for identification purposes only and are not to be construed as a warranty of any type. It is the responsibility of the buyer to have thoroughly inspected this item and to have satisfied himself or herself as to the condition and value and to bid based upon that judgment solely. The seller shall and will make every reasonable effort to disclose any known defects associated with this item at the buyer request prior to the close of sale. Seller assumes no responsibility for any repairs regardless of any oral statements about the item. Seller is NOT responsible for providing tools or heavy equipment to aid in removal. Items left on seller premises after this removal deadline will revert back to possession of the seller, with no refund.
Year: 1912
Make: Great Lakes Towing Co.
Model: Tug Grouper
Body Style: Boat
VIN/SN: Official # 210878
Odometer Numbers: N/A
Hours: 8745
Engine Make/Model: Kahlenberg, 750 HP
Cyl: 6
Fuel Type: Gas
Transmission Type: N/A
Single Axle/Dual Axle: N/A
Tire Size/Type: N/A
Tire Condition: N/A
Drivetrain: N/A
Does the unit operate?: Unknown
Does the vehicle start?: Unknown
Are keys available?: N/A
Ownership Documents: Bill of Sale Only
Mechanical Condition: Unknown
Mechanical Notes: Converted from steam in 1950s. Abandoned vessel not owned by NYSCC. LOA 73.5', Beam 18.5', Draft 10'. Due to draft size will need to be removed on the eastbound canal from Lyons NY other wise can't get past Penfield. Prompt removal of this vessel is required.
Body Condition: Fair
Body Notes: Rust, top deck area signs of rusted through. Formerly named Iroquois, Oneida, Alaska, Green Bay and Gary.
Interior Condition: Poor
Misc Info: Peeling paint, abandoned for several years. (1) head, (2) sinks.
Titled: No
GVWR: 71 Tons
---
| | | |
| --- | --- | --- |
| Bid Date | Bid Amount | Bidder |
| Jun 28, 2021 - 6:04:55 PM | $3,100.00 | iPstrope74 |
| Jun 28, 2021 - 6:04:55 PM | $3,050.00 | iarearecyclingllc |
| Jun 28, 2021 - 6:04:39 PM | $2,900.00 | iPstrope74 |
| Jun 28, 2021 - 6:04:39 PM | $2,850.00 | iarearecyclingllc |
| Jun 28, 2021 - 6:04:29 PM | $2,750.00 | iarearecyclingllc |
| Jun 28, 2021 - 6:04:29 PM | $2,700.00 | iPstrope74 |
| Jun 28, 2021 - 6:04:23 PM | $2,650.00 | iarearecyclingllc |
| Jun 28, 2021 - 6:03:58 PM | $2,600.00 | iPstrope74 |
| Jun 28, 2021 - 6:03:58 PM | $2,550.00 | iarearecyclingllc |
| Jun 28, 2021 - 6:03:48 PM | $2,425.00 | iarearecyclingllc |
| Jun 28, 2021 - 6:03:48 PM | $2,400.00 | iPstrope74 |
| Jun 28, 2021 - 6:03:38 PM | $2,025.00 | iarearecyclingllc |
| Jun 28, 2021 - 6:03:38 PM | $2,000.00 | iPstrope74 |
| Jun 28, 2021 - 6:03:19 PM | $1,800.00 | iarearecyclingllc |
| Jun 28, 2021 - 6:03:19 PM | $1,775.00 | iPstrope74 |
| Jun 28, 2021 - 6:03:14 PM | $1,725.00 | iarearecyclingllc |
| Jun 28, 2021 - 6:03:14 PM | $1,700.00 | iPurple4royalty |
| Jun 28, 2021 - 6:02:49 PM | $1,650.00 | iarearecyclingllc |
| Jun 28, 2021 - 6:02:49 PM | $1,625.00 | iPstrope74 |
| Jun 28, 2021 - 6:02:08 PM | $1,525.00 | iPstrope74 |
| Jun 28, 2021 - 6:01:59 PM | $1,500.00 | iarearecyclingllc |
| Jun 28, 2021 - 6:02:00 PM | $1,500.00 | iPstrope74 |
| Jun 28, 2021 - 6:01:46 PM | $1,425.00 | iarearecyclingllc |
| Jun 28, 2021 - 6:01:46 PM | $1,400.00 | iPstrope74 |
| Jun 28, 2021 - 6:01:33 PM | $1,275.00 | iarearecyclingllc |
| Jun 28, 2021 - 6:01:33 PM | $1,250.00 | iPstrope74 |
| Jun 28, 2021 - 6:01:19 PM | $1,025.00 | iarearecyclingllc |
| Jun 28, 2021 - 6:01:19 PM | $1,000.00 | iPstrope74 |
| Jun 28, 2021 - 5:59:42 PM | $860.00 | iPstrope74 |
| Jun 28, 2021 - 5:59:42 PM | $850.00 | iPurple4royalty |
| Jun 28, 2021 - 5:59:34 PM | $780.00 | iPurple4royalty |
| Jun 28, 2021 - 5:59:34 PM | $770.00 | iPstrope74 |
| Jun 28, 2021 - 5:59:22 PM | $760.00 | iPurple4royalty |
| Jun 28, 2021 - 5:59:22 PM | $750.00 | iPstrope74 |
| Jun 28, 2021 - 5:59:13 PM | $720.00 | iPstrope74 |
| Jun 28, 2021 - 5:59:13 PM | $710.00 | iPurple4royalty |
| Jun 28, 2021 - 5:57:51 PM | $700.00 | iPstrope74 |
| Jun 28, 2021 - 5:57:51 PM | $690.00 | iPurple4royalty |
| Jun 28, 2021 - 5:56:45 PM | $680.00 | iPstrope74 |
| Jun 28, 2021 - 5:56:45 PM | $670.00 | iPurple4royalty |
| Jun 28, 2021 - 5:56:42 PM | $660.00 | iPstrope74 |
| Jun 28, 2021 - 5:56:42 PM | $650.00 | iPurple4royalty |
| Jun 28, 2021 - 5:56:36 PM | $640.00 | iPstrope74 |
| Jun 28, 2021 - 5:56:36 PM | $630.00 | iPurple4royalty |
| Jun 28, 2021 - 5:56:31 PM | $620.00 | iPstrope74 |
| Jun 28, 2021 - 5:56:31 PM | $610.00 | iPurple4royalty |
| Jun 28, 2021 - 5:56:28 PM | $600.00 | iPstrope74 |
| Jun 28, 2021 - 5:56:28 PM | $590.00 | iPurple4royalty |
| Jun 28, 2021 - 5:56:25 PM | $580.00 | iPstrope74 |
| Jun 28, 2021 - 5:56:25 PM | $570.00 | iPurple4royalty |
| Jun 28, 2021 - 5:56:20 PM | $560.00 | iPstrope74 |
| Jun 28, 2021 - 5:56:20 PM | $550.00 | iPurple4royalty |
| Jun 28, 2021 - 5:56:17 PM | $540.00 | iPstrope74 |
| Jun 28, 2021 - 5:56:17 PM | $530.00 | iPurple4royalty |
| Jun 28, 2021 - 5:56:13 PM | $520.00 | iPstrope74 |
| Jun 28, 2021 - 5:56:13 PM | $510.00 | iPurple4royalty |
| Jun 28, 2021 - 5:56:10 PM | $500.00 | iPstrope74 |
| Jun 28, 2021 - 5:56:10 PM | $490.00 | iPurple4royalty |
| Jun 28, 2021 - 5:56:06 PM | $480.00 | iPstrope74 |
| Jun 28, 2021 - 5:56:06 PM | $470.00 | iPurple4royalty |
| Jun 28, 2021 - 5:56:02 PM | $460.00 | iPstrope74 |
| Jun 28, 2021 - 5:56:02 PM | $450.00 | iPurple4royalty |
| Jun 28, 2021 - 5:55:58 PM | $440.00 | iPstrope74 |
| Jun 28, 2021 - 5:55:58 PM | $430.00 | iPurple4royalty |
| Jun 28, 2021 - 12:56:31 PM | $420.00 | iPstrope74 |
| Jun 28, 2021 - 12:34:32 PM | $410.00 | istatesurplusllc |
| Jun 28, 2021 - 12:34:32 PM | $400.00 | iPstrope74 |
| Jun 28, 2021 - 12:34:24 PM | $340.00 | iPstrope74 |
| Jun 28, 2021 - 12:34:24 PM | $330.00 | istatesurplusllc |
| Jun 28, 2021 - 12:34:21 PM | $320.00 | iPstrope74 |
| Jun 28, 2021 - 12:34:21 PM | $310.00 | istatesurplusllc |
| Jun 28, 2021 - 12:34:19 PM | $300.00 | iPstrope74 |
| Jun 28, 2021 - 12:34:19 PM | $290.00 | istatesurplusllc |
| Jun 28, 2021 - 12:34:16 PM | $280.00 | iPstrope74 |
| Jun 28, 2021 - 12:34:16 PM | $270.00 | istatesurplusllc |
| Jun 28, 2021 - 12:34:13 PM | $260.00 | iPstrope74 |
| Jun 28, 2021 - 12:34:13 PM | $250.00 | istatesurplusllc |
| Jun 28, 2021 - 12:34:09 PM | $240.00 | iPstrope74 |
| Jun 28, 2021 - 12:34:09 PM | $230.00 | istatesurplusllc |
| Jun 28, 2021 - 12:33:47 PM | $220.00 | iPstrope74 |
| Jun 28, 2021 - 12:20:03 PM | $210.00 | istatesurplusllc |
| Jun 28, 2021 - 12:19:58 PM | $200.00 | iPstrope74 |
| Jun 28, 2021 - 12:19:58 PM | $195.00 | istatesurplusllc |
| Jun 28, 2021 - 12:19:53 PM | $190.00 | iPstrope74 |
| Jun 28, 2021 - 12:19:53 PM | $185.00 | istatesurplusllc |
| Jun 28, 2021 - 12:19:49 PM | $180.00 | iPstrope74 |
| Jun 28, 2021 - 12:19:49 PM | $175.00 | istatesurplusllc |
| Jun 28, 2021 - 12:19:44 PM | $170.00 | iPstrope74 |
| Jun 28, 2021 - 12:19:44 PM | $165.00 | istatesurplusllc |
| Jun 28, 2021 - 12:06:38 PM | $160.00 | iPstrope74 |
| Jun 28, 2021 - 6:45:49 AM | $155.00 | istatesurplusllc |
| Jun 23, 2021 - 8:11:52 PM | $150.00 | ipatrickgbuckohr |
| Jun 18, 2021 - 11:12:20 PM | $145.00 | iKingsfarm14516 |
| Jun 18, 2021 - 11:12:20 PM | $140.00 | ipatrickgbuckohr |
| Jun 15, 2021 - 6:20:16 PM | $135.00 | iKingsfarm14516 |
| Jun 15, 2021 - 6:20:16 PM | $130.00 | ipatrickgbuckohr |
| Jun 15, 2021 - 6:19:55 PM | $125.00 | iKingsfarm14516 |
| Jun 15, 2021 - 6:19:55 PM | $120.00 | ipatrickgbuckohr |
| Jun 15, 2021 - 6:19:41 PM | $115.00 | iKingsfarm14516 |
| Jun 15, 2021 - 6:19:41 PM | $110.00 | ipatrickgbuckohr |
| Jun 15, 2021 - 1:42:33 PM | $105.00 | iKingsfarm14516 |
| Jun 15, 2021 - 1:40:31 PM | $100.00 | ipatrickgbuckohr |
| Jun 15, 2021 - 1:40:32 PM | $100.00 | iKingsfarm14516 |
| Jun 7, 2021 - 2:49:42 PM | $25.00 | ipatrickgbuckohr |