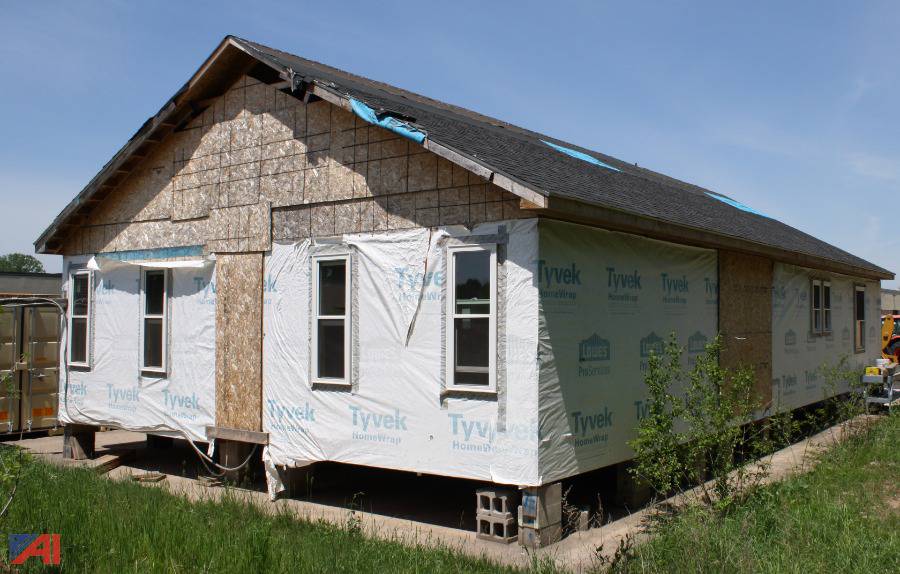 Newly Constructed 1,404 sq. ft Ranch House
Bidding is

closed

.
High Bid:
$70,700.00
NA
Bidding Ended:
Wed, Jul 14 6:00:23 pm ET
High Bidder:
dtodd
Bid Increment:
$100.00
Starting Bid:
$25.00
Item Location:

3589 Big Ridge Road

,

Spencerport, Monroe

,

NY

14559

Distance:
Please click on the location address to view the item's location on a map.
Item has been viewed 10,670 times.
Newly Constructed 1,404 sq. ft Ranch House
This house is ready to be turned into your perfect home. Constructed by Monroe 2-Orleans BOCES Career and Technical Education students, this house features three bedrooms, a great room, a dining area, a kitchen, and two bathrooms all on one floor for easy access. The house is 26' x 54' and plumbing and electric wiring are completed throughout.
This house provides a new larger design with many features that no other BOCES 2 CTE house has had. A large open floor plan invites you into space with plenty of room for entertaining. The house also includes a breakfast bar space between the kitchen and dining area.
House includes double hung vinyl tilt-in windows with screens, easy to clean and maintenance-free. The roof is comprised of 30-year architectural shingles. Drywall has been installed throughout the house including mold-resistant drywall in the bathrooms.  Build features 2 x 6 exterior wall studs, allowing for superior R21 insulation. Full one-piece fiberglass tub/showers in both bathrooms.
All four building inspections have been signed off on by an independent inspector.
Not included in this construction: baseboards; interior doors; exterior doors; interior door casings; flooring: transition strips for flooring; siding; drywall finishing; cap shingles; plumbing for basement connections, furnace, and hot water tank.
Note:  The house is a two-piece modular with a folding roof system (for road transport). The moving company will be responsible for lowering the roof here at the school and prepping it for transportation.
**Please see the "Documents" tabs to view specific information & a building materials list.**
**Please see the "Documents" tab to view the Hold Harmless Agreement for this house. A signed copy of this form will be REQUIRED with payment**
***Please review all Auction terms at left side of auction before bidding***
Terms of Sale:
All sales are final. No refunds will be issued. This item is being sold as is, where is, with no warranty, expressed written or implied. The seller shall not be responsible for the correct description, authenticity, genuineness, or defects herein, and makes no warranty in connection therewith. No allowance or set aside will be made on account of any incorrectness, imperfection, defect or damage. Any descriptions or representations are for identification purposes only and are not to be construed as a warranty of any type. It is the responsibility of the buyer to have thoroughly inspected this item and to have satisfied himself or herself as to the condition and value and to bid based upon that judgment solely. The seller shall and will make every reasonable effort to disclose any known defects associated with this item at the buyer request prior to the close of sale. Seller assumes no responsibility for any repairs regardless of any oral statements about the item. Seller is NOT responsible for providing tools or heavy equipment to aid in removal. Items left on seller premises after this removal deadline will revert back to possession of the seller, with no refund.
---
| | | |
| --- | --- | --- |
| Bid Date | Bid Amount | Bidder |
| Jul 14, 2021 - 5:59:23 PM | $70,700.00 | idtodd |
| Jul 14, 2021 - 5:59:23 PM | $70,600.00 | iHol4471 |
| Jul 14, 2021 - 5:58:58 PM | $70,300.00 | idtodd |
| Jul 14, 2021 - 5:58:58 PM | $70,200.00 | iHol4471 |
| Jul 14, 2021 - 5:58:21 PM | $70,100.00 | iHol4471 |
| Jul 14, 2021 - 5:57:50 PM | $70,000.00 | idtodd |
| Jul 14, 2021 - 5:57:51 PM | $70,000.00 | ipcplus4 |
| Jul 14, 2021 - 5:57:37 PM | $64,600.00 | idtodd |
| Jul 14, 2021 - 5:57:37 PM | $64,500.00 | iHol4471 |
| Jul 14, 2021 - 5:57:04 PM | $64,100.00 | idtodd |
| Jul 14, 2021 - 5:57:04 PM | $64,000.00 | ipcplus4 |
| Jul 14, 2021 - 5:55:54 PM | $61,200.00 | ipcplus4 |
| Jul 14, 2021 - 5:55:54 PM | $61,100.00 | iHol4471 |
| Jul 14, 2021 - 5:55:29 PM | $60,400.00 | iHol4471 |
| Jul 14, 2021 - 5:55:29 PM | $60,300.00 | ipcplus4 |
| Jul 14, 2021 - 5:19:23 PM | $56,100.00 | iHol4471 |
| Jul 14, 2021 - 5:19:23 PM | $56,000.00 | ipcplus4 |
| Jul 14, 2021 - 5:07:30 PM | $55,700.00 | ipcplus4 |
| Jul 14, 2021 - 5:07:30 PM | $55,600.00 | iHol4471 |
| Jul 14, 2021 - 5:06:43 PM | $51,600.00 | iHol4471 |
| Jul 14, 2021 - 5:06:43 PM | $51,500.00 | ipcplus4 |
| Jul 14, 2021 - 4:41:18 PM | $44,000.00 | iHol4471 |
| Jul 14, 2021 - 4:41:18 PM | $43,900.00 | ijoecap |
| Jul 14, 2021 - 4:25:31 PM | $41,900.00 | ijoecap |
| Jul 14, 2021 - 4:25:31 PM | $41,800.00 | iHol4471 |
| Jul 14, 2021 - 4:17:50 PM | $41,400.00 | iHol4471 |
| Jul 14, 2021 - 4:17:50 PM | $41,300.00 | ijoecap |
| Jul 14, 2021 - 4:10:08 PM | $41,100.00 | iHol4471 |
| Jul 14, 2021 - 4:10:08 PM | $41,000.00 | ijoecap |
| Jul 14, 2021 - 4:08:34 PM | $40,900.00 | iHol4471 |
| Jul 14, 2021 - 4:08:34 PM | $40,800.00 | ijoecap |
| Jul 14, 2021 - 3:57:29 PM | $40,700.00 | iHol4471 |
| Jul 14, 2021 - 3:57:05 PM | $40,600.00 | ijoecap |
| Jul 14, 2021 - 3:57:05 PM | $40,500.00 | iHol4471 |
| Jul 14, 2021 - 1:43:48 PM | $40,200.00 | ijoecap |
| Jul 14, 2021 - 1:43:12 PM | $40,100.00 | iHol4471 |
| Jul 14, 2021 - 1:43:13 PM | $40,100.00 | ijoecap |
| Jul 14, 2021 - 1:42:47 PM | $38,100.00 | iHol4471 |
| Jul 14, 2021 - 1:42:47 PM | $38,000.00 | ijoecap |
| Jul 14, 2021 - 1:42:12 PM | $36,500.00 | iHol4471 |
| Jul 14, 2021 - 1:42:12 PM | $36,400.00 | ijoecap |
| Jul 14, 2021 - 9:56:38 AM | $36,200.00 | iHol4471 |
| Jul 14, 2021 - 9:56:38 AM | $36,100.00 | ijoecap |
| Jul 14, 2021 - 9:56:22 AM | $35,700.00 | iHol4471 |
| Jul 14, 2021 - 9:56:22 AM | $35,600.00 | ijoecap |
| Jul 14, 2021 - 9:56:02 AM | $35,500.00 | iHol4471 |
| Jul 14, 2021 - 9:56:02 AM | $35,400.00 | ijoecap |
| Jul 13, 2021 - 8:12:49 PM | $35,300.00 | iHol4471 |
| Jul 13, 2021 - 8:12:49 PM | $35,200.00 | ijoecap |
| Jul 13, 2021 - 7:17:30 PM | $35,100.00 | iHol4471 |
| Jul 13, 2021 - 7:17:30 PM | $35,000.00 | iJcmeys929 |
| Jul 13, 2021 - 6:13:22 PM | $33,100.00 | iJcmeys929 |
| Jul 13, 2021 - 6:13:22 PM | $33,000.00 | idtodd |
| Jul 13, 2021 - 6:12:14 PM | $32,800.00 | iJcmeys929 |
| Jul 13, 2021 - 6:12:14 PM | $32,700.00 | idtodd |
| Jul 12, 2021 - 10:59:19 PM | $32,600.00 | iJcmeys929 |
| Jul 12, 2021 - 10:59:14 PM | $32,500.00 | idtodd |
| Jul 12, 2021 - 10:59:14 PM | $32,400.00 | iJcmeys929 |
| Jul 12, 2021 - 10:59:08 PM | $32,300.00 | idtodd |
| Jul 12, 2021 - 10:59:08 PM | $32,200.00 | iJcmeys929 |
| Jul 12, 2021 - 10:59:04 PM | $32,100.00 | idtodd |
| Jul 12, 2021 - 10:59:04 PM | $32,000.00 | iJcmeys929 |
| Jul 12, 2021 - 10:59:00 PM | $31,900.00 | idtodd |
| Jul 12, 2021 - 10:59:00 PM | $31,800.00 | iJcmeys929 |
| Jul 12, 2021 - 10:58:56 PM | $31,700.00 | idtodd |
| Jul 12, 2021 - 10:58:56 PM | $31,600.00 | iJcmeys929 |
| Jul 12, 2021 - 10:58:53 PM | $31,500.00 | idtodd |
| Jul 12, 2021 - 10:58:53 PM | $31,400.00 | iJcmeys929 |
| Jul 12, 2021 - 10:58:23 PM | $31,300.00 | idtodd |
| Jul 12, 2021 - 10:58:23 PM | $31,200.00 | iJcmeys929 |
| Jul 12, 2021 - 10:58:15 PM | $31,100.00 | idtodd |
| Jul 12, 2021 - 10:58:15 PM | $31,000.00 | iJcmeys929 |
| Jul 12, 2021 - 10:58:11 PM | $30,900.00 | idtodd |
| Jul 12, 2021 - 10:58:11 PM | $30,800.00 | iJcmeys929 |
| Jul 12, 2021 - 10:58:06 PM | $30,700.00 | idtodd |
| Jul 12, 2021 - 10:58:06 PM | $30,600.00 | iJcmeys929 |
| Jul 12, 2021 - 10:58:02 PM | $30,500.00 | idtodd |
| Jul 12, 2021 - 10:58:02 PM | $30,400.00 | iJcmeys929 |
| Jul 12, 2021 - 10:57:59 PM | $30,300.00 | idtodd |
| Jul 12, 2021 - 10:57:59 PM | $30,200.00 | iJcmeys929 |
| Jul 12, 2021 - 10:57:30 PM | $30,100.00 | idtodd |
| Jul 12, 2021 - 10:57:30 PM | $30,000.00 | iJcmeys929 |
| Jul 12, 2021 - 10:56:47 PM | $27,300.00 | idtodd |
| Jul 12, 2021 - 10:56:47 PM | $27,200.00 | iJcmeys929 |
| Jul 12, 2021 - 10:56:41 PM | $27,100.00 | idtodd |
| Jul 12, 2021 - 10:56:41 PM | $27,000.00 | iJcmeys929 |
| Jul 12, 2021 - 10:56:37 PM | $26,900.00 | idtodd |
| Jul 12, 2021 - 10:56:37 PM | $26,800.00 | iJcmeys929 |
| Jul 12, 2021 - 10:56:34 PM | $26,700.00 | idtodd |
| Jul 12, 2021 - 10:56:34 PM | $26,600.00 | iJcmeys929 |
| Jul 12, 2021 - 10:56:30 PM | $26,500.00 | idtodd |
| Jul 12, 2021 - 10:56:30 PM | $26,400.00 | iJcmeys929 |
| Jul 12, 2021 - 10:56:14 PM | $26,300.00 | idtodd |
| Jul 12, 2021 - 10:56:14 PM | $26,200.00 | iJcmeys929 |
| Jul 12, 2021 - 8:28:20 PM | $26,100.00 | idtodd |
| Jul 12, 2021 - 5:39:33 PM | $26,000.00 | iMitch1 |
| Jul 12, 2021 - 5:39:34 PM | $26,000.00 | idtodd |
| Jul 12, 2021 - 5:12:43 PM | $25,100.00 | iMitch1 |
| Jul 12, 2021 - 5:12:43 PM | $25,000.00 | idtodd |
| Jul 12, 2021 - 5:10:44 PM | $23,100.00 | iMitch1 |
| Jul 12, 2021 - 5:10:44 PM | $23,000.00 | idtodd |
| Jul 12, 2021 - 5:10:12 PM | $22,600.00 | iMitch1 |
| Jul 12, 2021 - 5:10:12 PM | $22,500.00 | idtodd |
| Jul 12, 2021 - 5:07:45 PM | $22,200.00 | iMitch1 |
| Jul 12, 2021 - 5:07:45 PM | $22,100.00 | idtodd |
| Jul 12, 2021 - 5:07:14 PM | $21,900.00 | iMitch1 |
| Jul 12, 2021 - 5:07:14 PM | $21,800.00 | idtodd |
| Jul 12, 2021 - 4:48:51 PM | $21,600.00 | iMitch1 |
| Jul 12, 2021 - 4:48:51 PM | $21,500.00 | idtodd |
| Jul 12, 2021 - 4:48:21 PM | $21,300.00 | iMitch1 |
| Jul 12, 2021 - 4:48:21 PM | $21,200.00 | idtodd |
| Jul 12, 2021 - 2:11:53 PM | $21,100.00 | iMitch1 |
| Jul 12, 2021 - 2:11:53 PM | $21,000.00 | iJcmeys929 |
| Jul 11, 2021 - 7:23:22 PM | $20,700.00 | iJcmeys929 |
| Jul 11, 2021 - 7:23:22 PM | $20,600.00 | iMitch1 |
| Jul 11, 2021 - 7:23:05 PM | $20,300.00 | iMitch1 |
| Jul 11, 2021 - 7:23:05 PM | $20,200.00 | iJcmeys929 |
| Jul 11, 2021 - 6:33:48 PM | $20,100.00 | iMitch1 |
| Jul 11, 2021 - 6:33:48 PM | $20,000.00 | iJcmeys929 |
| Jul 11, 2021 - 11:56:43 AM | $17,600.00 | iJcmeys929 |
| Jul 11, 2021 - 11:56:43 AM | $17,500.00 | iMitch1 |
| Jul 11, 2021 - 11:03:25 AM | $14,400.00 | iJcmeys929 |
| Jul 11, 2021 - 11:03:25 AM | $14,300.00 | iMitch1 |
| Jul 11, 2021 - 8:41:11 AM | $14,200.00 | iJcmeys929 |
| Jul 10, 2021 - 10:10:02 AM | $14,100.00 | iMitch1 |
| Jul 10, 2021 - 10:10:02 AM | $14,000.00 | ilighting |
| Jul 10, 2021 - 8:37:49 AM | $13,200.00 | ilighting |
| Jul 10, 2021 - 8:37:49 AM | $13,100.00 | iMitch1 |
| Jul 9, 2021 - 4:56:26 PM | $12,600.00 | iMitch1 |
| Jul 9, 2021 - 4:56:26 PM | $12,500.00 | ilighting |
| Jul 9, 2021 - 12:45:05 PM | $12,200.00 | ilighting |
| Jul 9, 2021 - 12:45:05 PM | $12,100.00 | iMitch1 |
| Jul 7, 2021 - 9:02:41 AM | $11,300.00 | ilighting |
| Jul 6, 2021 - 9:04:23 PM | $11,200.00 | ibrightly |
| Jul 5, 2021 - 10:41:46 PM | $11,100.00 | inismo240sx |
| Jul 5, 2021 - 10:41:46 PM | $11,000.00 | iPilotjim |
| Jul 5, 2021 - 10:41:37 PM | $10,200.00 | iPilotjim |
| Jul 5, 2021 - 10:41:37 PM | $10,100.00 | inismo240sx |
| Jul 5, 2021 - 10:41:24 PM | $9,000.00 | iPilotjim |
| Jul 5, 2021 - 10:41:24 PM | $8,900.00 | inismo240sx |
| Jul 5, 2021 - 9:08:42 PM | $7,700.00 | iPilotjim |
| Jul 5, 2021 - 9:08:42 PM | $7,600.00 | inelly |
| Jul 4, 2021 - 12:49:22 AM | $7,100.00 | inelly |
| Jul 4, 2021 - 12:49:22 AM | $7,000.00 | ilighting |
| Jul 4, 2021 - 12:48:55 AM | $6,700.00 | ilighting |
| Jul 4, 2021 - 12:48:55 AM | $6,600.00 | inelly |
| Jul 3, 2021 - 10:11:40 AM | $6,100.00 | ilighting |
| Jul 3, 2021 - 10:11:28 AM | $6,000.00 | iBigBuildersNY |
| Jul 3, 2021 - 10:11:29 AM | $6,000.00 | ilighting |
| Jul 1, 2021 - 11:15:43 AM | $5,200.00 | iBigBuildersNY |
| Jul 1, 2021 - 8:26:06 AM | $5,100.00 | iJcmeys929 |
| Jul 1, 2021 - 8:25:51 AM | $5,000.00 | iBigBuildersNY |
| Jul 1, 2021 - 8:25:52 AM | $5,000.00 | iJcmeys929 |
| Jul 1, 2021 - 8:25:46 AM | $4,950.00 | iBigBuildersNY |
| Jul 1, 2021 - 8:25:46 AM | $4,900.00 | iJcmeys929 |
| Jul 1, 2021 - 8:25:42 AM | $4,850.00 | iBigBuildersNY |
| Jul 1, 2021 - 8:25:42 AM | $4,800.00 | iJcmeys929 |
| Jul 1, 2021 - 8:25:38 AM | $4,750.00 | iBigBuildersNY |
| Jul 1, 2021 - 8:25:38 AM | $4,700.00 | iJcmeys929 |
| Jul 1, 2021 - 8:25:24 AM | $4,650.00 | iBigBuildersNY |
| Jul 1, 2021 - 8:25:24 AM | $4,600.00 | iJcmeys929 |
| Jul 1, 2021 - 8:25:19 AM | $4,550.00 | iBigBuildersNY |
| Jul 1, 2021 - 8:25:19 AM | $4,500.00 | iJcmeys929 |
| Jul 1, 2021 - 8:25:14 AM | $4,450.00 | iBigBuildersNY |
| Jul 1, 2021 - 8:25:14 AM | $4,400.00 | iJcmeys929 |
| Jul 1, 2021 - 8:25:10 AM | $4,350.00 | iBigBuildersNY |
| Jul 1, 2021 - 8:25:10 AM | $4,300.00 | iJcmeys929 |
| Jul 1, 2021 - 8:25:06 AM | $4,250.00 | iBigBuildersNY |
| Jul 1, 2021 - 8:25:06 AM | $4,200.00 | iJcmeys929 |
| Jul 1, 2021 - 8:24:57 AM | $4,150.00 | iBigBuildersNY |
| Jul 1, 2021 - 8:24:57 AM | $4,100.00 | iJcmeys929 |
| Jul 1, 2021 - 8:24:39 AM | $4,050.00 | iBigBuildersNY |
| Jul 1, 2021 - 8:24:39 AM | $4,000.00 | iJcmeys929 |
| Jun 30, 2021 - 10:13:03 PM | $3,950.00 | iBigBuildersNY |
| Jun 30, 2021 - 10:13:03 PM | $3,900.00 | ilighting |
| Jun 28, 2021 - 11:57:57 AM | $3,550.00 | ilighting |
| Jun 28, 2021 - 11:57:57 AM | $3,500.00 | iScootter |
| Jun 28, 2021 - 11:57:41 AM | $3,350.00 | iScootter |
| Jun 28, 2021 - 11:57:41 AM | $3,300.00 | ilighting |
| Jun 26, 2021 - 9:32:25 AM | $3,150.00 | iScootter |
| Jun 26, 2021 - 9:32:12 AM | $3,100.00 | idieselinblood |
| Jun 26, 2021 - 9:32:13 AM | $3,100.00 | iScootter |
| Jun 25, 2021 - 4:33:15 PM | $3,050.00 | idieselinblood |
| Jun 25, 2021 - 4:33:15 PM | $3,000.00 | iScootter |
| Jun 25, 2021 - 4:33:05 PM | $2,650.00 | iScootter |
| Jun 25, 2021 - 4:33:05 PM | $2,600.00 | idieselinblood |
| Jun 25, 2021 - 8:01:18 AM | $2,550.00 | iScootter |
| Jun 25, 2021 - 8:01:18 AM | $2,500.00 | itmp022364 |
| Jun 25, 2021 - 8:01:07 AM | $2,150.00 | itmp022364 |
| Jun 25, 2021 - 8:01:07 AM | $2,125.00 | iScootter |
| Jun 25, 2021 - 8:00:45 AM | $2,100.00 | itmp022364 |
| Jun 25, 2021 - 8:00:45 AM | $2,075.00 | iScootter |
| Jun 24, 2021 - 7:46:40 PM | $2,025.00 | itmp022364 |
| Jun 24, 2021 - 7:46:40 PM | $2,000.00 | iC.A.R.S.tow |
| Jun 24, 2021 - 4:26:58 PM | $510.00 | iC.A.R.S.tow |
| Jun 24, 2021 - 4:26:58 PM | $500.00 | iSJSUMMERVILLE |
| Jun 24, 2021 - 4:26:48 PM | $105.00 | iC.A.R.S.tow |
| Jun 24, 2021 - 4:26:48 PM | $100.00 | iSJSUMMERVILLE |
| Jun 24, 2021 - 4:26:39 PM | $67.50 | iC.A.R.S.tow |
| Jun 24, 2021 - 4:26:39 PM | $65.00 | iSJSUMMERVILLE |
| Jun 24, 2021 - 4:26:27 PM | $62.50 | iC.A.R.S.tow |
| Jun 24, 2021 - 4:26:27 PM | $60.00 | iSJSUMMERVILLE |
| Jun 24, 2021 - 12:46:47 AM | $57.50 | iC.A.R.S.tow |
| Jun 24, 2021 - 12:46:47 AM | $55.00 | iHandsandfeetofcny |
| Jun 23, 2021 - 8:09:30 PM | $26.00 | iC.A.R.S.tow |
| Jun 23, 2021 - 10:36:54 AM | $25.00 | iecob |