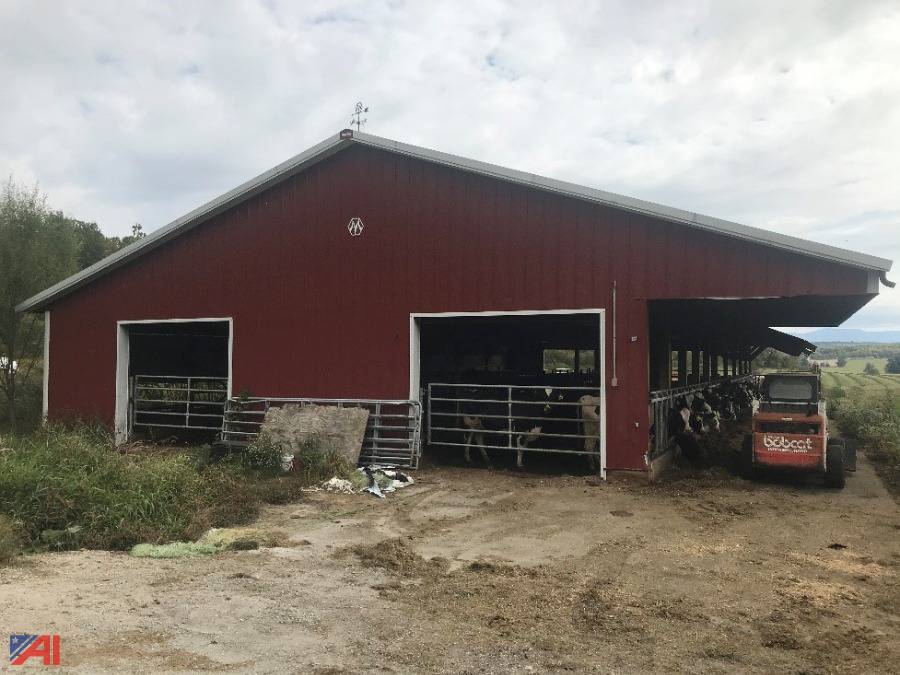 Lot #0002:
Dry Barn, Payne Road
Bidding is

closed

.
High Bid:
$3,450.00
NA
Bidding Ended:
Fri, Nov 5 6:01:00 pm ET
High Bidder:
burchdalefarm
Bid Increment:
$50.00
Starting Bid:
$10.00
Item Location:

Deering Farm

,

Bridport, Addison

,

VT

05734

Distance:
Please click on the location address to view the item's location on a map.
Item has been viewed 2,287 times.
Dry Barn, Payne Road
Built in 2015 as a prefab structure by Morton Buildings, this barn currently houses dry dairy cows. The foundation is concrete with metal stanchions. There is also a cattle yard with concrete foundation and a large manure pit on the eastern side of the building. Given the age of the structure, concerns over historic resources are a nonissue.
**JUST building, NO cows or machinery is included**
**See the attached document about Attachment C: Standard State Provisions for Contracts and Grants**
**Before removing items, the purchasing party must provide evidence of coverage for the party(ies) loading and moving the buildings/materials irrespective of whether the Purchaser removes the buildings/materials themselves or hires a third party contractor to remove the buildings/materials. Purchasing party must agree to the terms and conditions of "Attachment C" and provide proof of compliance with the required insurance provisions.**
***Please review all Auction terms at left side of auction before bidding***
Terms of Sale:
All sales are final. No refunds will be issued. This item is being sold as is, where is, with no warranty, expressed written or implied. The seller shall not be responsible for the correct description, authenticity, genuineness, or defects herein, and makes no warranty in connection therewith. No allowance or set aside will be made on account of any incorrectness, imperfection, defect or damage. Any descriptions or representations are for identification purposes only and are not to be construed as a warranty of any type. It is the responsibility of the buyer to have thoroughly inspected this item and to have satisfied himself or herself as to the condition and value and to bid based upon that judgment solely. The seller shall and will make every reasonable effort to disclose any known defects associated with this item at the buyer request prior to the close of sale. Seller assumes no responsibility for any repairs regardless of any oral statements about the item. Seller is NOT responsible for providing tools or heavy equipment to aid in removal. Items left on seller premises after this removal deadline will revert back to possession of the seller, with no refund.
---
| | | |
| --- | --- | --- |
| Bid Date | Bid Amount | Bidder |
| Nov 5, 2021 - 5:57:47 PM | $3,450.00 | iburchdalefarm |
| Nov 5, 2021 - 5:57:47 PM | $3,400.00 | i2314rene |
| Nov 5, 2021 - 5:48:12 PM | $3,200.00 | i2314rene |
| Nov 5, 2021 - 5:44:23 PM | $3,150.00 | iburchdalefarm |
| Nov 5, 2021 - 5:44:24 PM | $3,150.00 | i2314rene |
| Nov 5, 2021 - 5:39:26 PM | $2,900.00 | iburchdalefarm |
| Nov 5, 2021 - 5:39:06 PM | $2,850.00 | i2314rene |
| Nov 5, 2021 - 5:39:07 PM | $2,850.00 | iburchdalefarm |
| Nov 5, 2021 - 5:09:42 PM | $2,425.00 | i2314rene |
| Nov 5, 2021 - 5:09:42 PM | $2,400.00 | iBrianv123 |
| Nov 5, 2021 - 5:09:21 PM | $2,375.00 | i2314rene |
| Nov 5, 2021 - 5:09:21 PM | $2,350.00 | iBrianv123 |
| Nov 5, 2021 - 5:09:18 PM | $2,325.00 | i2314rene |
| Nov 5, 2021 - 5:09:18 PM | $2,300.00 | iBrianv123 |
| Nov 5, 2021 - 5:09:16 PM | $2,275.00 | i2314rene |
| Nov 5, 2021 - 5:09:16 PM | $2,250.00 | iBrianv123 |
| Nov 5, 2021 - 5:08:28 PM | $2,225.00 | i2314rene |
| Nov 5, 2021 - 5:08:28 PM | $2,200.00 | iBrianv123 |
| Nov 5, 2021 - 4:50:49 PM | $2,125.00 | iBrianv123 |
| Nov 5, 2021 - 4:50:49 PM | $2,100.00 | iburchdalefarm |
| Nov 5, 2021 - 4:50:42 PM | $2,075.00 | iburchdalefarm |
| Nov 5, 2021 - 4:50:42 PM | $2,050.00 | iBrianv123 |
| Nov 5, 2021 - 4:50:37 PM | $2,025.00 | iburchdalefarm |
| Nov 5, 2021 - 4:50:37 PM | $2,000.00 | iBrianv123 |
| Nov 5, 2021 - 3:40:52 PM | $1,850.00 | iburchdalefarm |
| Nov 5, 2021 - 3:40:52 PM | $1,825.00 | i2314rene |
| Nov 5, 2021 - 3:40:39 PM | $1,675.00 | i2314rene |
| Nov 5, 2021 - 3:40:39 PM | $1,650.00 | iburchdalefarm |
| Nov 5, 2021 - 3:40:32 PM | $1,625.00 | i2314rene |
| Nov 5, 2021 - 3:40:32 PM | $1,600.00 | iburchdalefarm |
| Nov 5, 2021 - 3:11:22 PM | $1,575.00 | i2314rene |
| Nov 5, 2021 - 3:11:22 PM | $1,550.00 | iburchdalefarm |
| Nov 5, 2021 - 2:54:05 PM | $1,525.00 | iburchdalefarm |
| Nov 5, 2021 - 2:54:05 PM | $1,500.00 | iBrianv123 |
| Nov 5, 2021 - 11:20:19 AM | $1,075.00 | iBrianv123 |
| Nov 5, 2021 - 11:20:19 AM | $1,050.00 | iburchdalefarm |
| Nov 5, 2021 - 11:19:50 AM | $1,025.00 | iburchdalefarm |
| Nov 5, 2021 - 11:19:50 AM | $1,000.00 | iBrianv123 |
| Nov 5, 2021 - 11:19:39 AM | $520.00 | iburchdalefarm |
| Nov 5, 2021 - 11:19:39 AM | $510.00 | iBrianv123 |
| Nov 5, 2021 - 11:18:36 AM | $500.00 | iburchdalefarm |
| Nov 5, 2021 - 11:18:36 AM | $490.00 | iBrianv123 |
| Nov 5, 2021 - 11:17:51 AM | $480.00 | iburchdalefarm |
| Nov 5, 2021 - 11:17:51 AM | $470.00 | iBrianv123 |
| Nov 5, 2021 - 9:35:12 AM | $460.00 | iburchdalefarm |
| Nov 5, 2021 - 9:35:12 AM | $450.00 | i2314rene |
| Nov 5, 2021 - 9:33:13 AM | $430.00 | i2314rene |
| Nov 5, 2021 - 9:33:13 AM | $420.00 | iburchdalefarm |
| Nov 5, 2021 - 9:32:45 AM | $410.00 | i2314rene |
| Nov 5, 2021 - 9:32:45 AM | $400.00 | iburchdalefarm |
| Nov 5, 2021 - 7:06:08 AM | $390.00 | i2314rene |
| Nov 4, 2021 - 7:10:46 PM | $380.00 | iBrianv123 |
| Nov 4, 2021 - 5:29:39 PM | $370.00 | iburchdalefarm |
| Nov 3, 2021 - 7:15:18 PM | $360.00 | iBrianv123 |
| Nov 3, 2021 - 7:15:14 PM | $350.00 | itoy |
| Nov 3, 2021 - 7:15:15 PM | $350.00 | iBrianv123 |
| Nov 3, 2021 - 7:15:02 PM | $340.00 | itoy |
| Nov 3, 2021 - 7:15:02 PM | $330.00 | iBrianv123 |
| Nov 2, 2021 - 7:30:52 PM | $320.00 | itoy |
| Nov 2, 2021 - 4:52:13 PM | $310.00 | iBrianv123 |
| Nov 1, 2021 - 4:36:38 PM | $300.00 | ia591521255 |
| Nov 1, 2021 - 4:36:39 PM | $300.00 | iBrianv123 |
| Nov 1, 2021 - 12:33:08 AM | $260.00 | ia591521255 |
| Nov 1, 2021 - 12:33:08 AM | $250.00 | iCallMattforThat |
| Oct 31, 2021 - 10:32:39 PM | $155.00 | iCallMattforThat |
| Oct 31, 2021 - 10:32:39 PM | $150.00 | itoy |
| Oct 27, 2021 - 9:08:50 PM | $105.00 | itoy |
| Oct 27, 2021 - 9:08:50 PM | $100.00 | ijlinc1 |
| Oct 27, 2021 - 9:08:37 PM | $77.50 | ijlinc1 |
| Oct 27, 2021 - 9:08:37 PM | $75.00 | itoy |
| Oct 25, 2021 - 8:31:41 PM | $52.50 | ijlinc1 |
| Oct 25, 2021 - 8:31:41 PM | $50.00 | inate21 |
| Oct 22, 2021 - 10:30:43 PM | $26.00 | inate21 |
| Oct 22, 2021 - 10:30:27 PM | $25.00 | itoy |
| Oct 22, 2021 - 10:30:28 PM | $25.00 | inate21 |
| Oct 22, 2021 - 10:18:02 PM | $21.00 | itoy |
| Oct 22, 2021 - 10:18:02 PM | $20.00 | inate21 |
| Oct 22, 2021 - 10:09:35 PM | $16.00 | inate21 |
| Oct 22, 2021 - 10:09:19 PM | $15.00 | itoy |
| Oct 22, 2021 - 10:09:20 PM | $15.00 | inate21 |
| Oct 15, 2021 - 7:41:37 PM | $11.00 | itoy |
| Oct 15, 2021 - 6:53:50 PM | $10.00 | ifirecontrol |