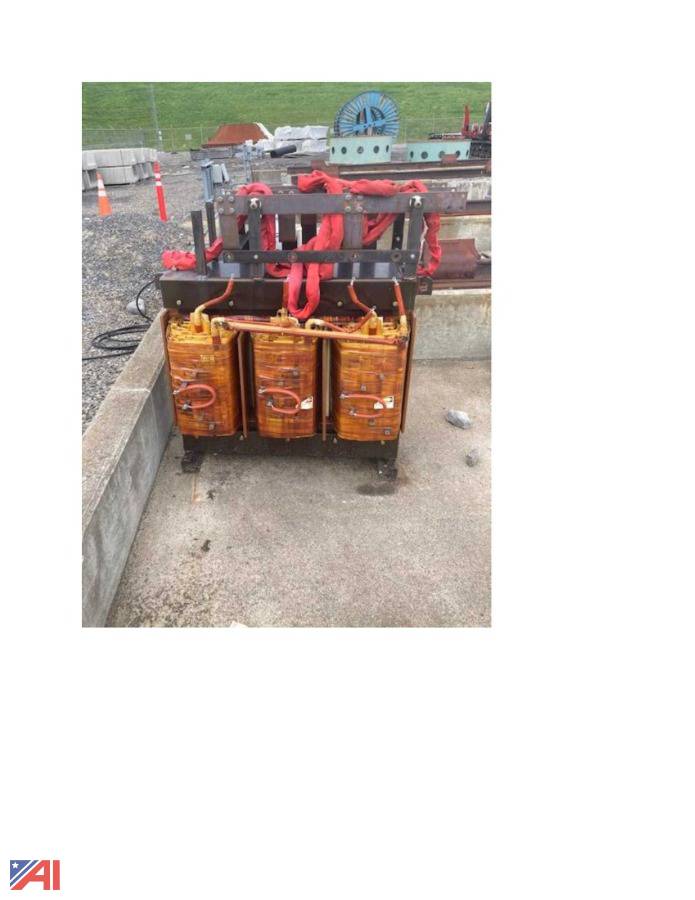 Scrap Buss Slats, Current Transformers, Armor Rod And More
Bidding is

closed

.
High Bid:
$3,850.00
NA
Bidding Ended:
Tue, Dec 14 7:50:00 pm ET
High Bidder:
cmutch
Bid Increment:
$50.00
Starting Bid:
$10.00
Item Location:

830 Barnhart Island Road

,

Massena, Saint Lawrence

,

NY

13662

Distance:
Please click on the location address to view the item's location on a map.
Item has been viewed 2,349 times.
Scrap Buss Slats, Current Transformers, Armor Rod And More to include:
Scrap buss slats - contains copper
(18) Copper slats, dimension 6"W x 34"L
Total weight 700lbs
(1) Scrap Current Transformer Coil-Contains Copper
Dimensions 52.5"D x 20"H
Weight 2400lbs
(1) Scrap Transformer Whole
Transformer contains copper
Dimensions 26"L x 34"W x 50"H
Total weight 1250lbs
(1) Scrap Transformer Part-Coil Contains Copper
Dimensions 26"W x 40"L x 56"H
Total pieces (1) weight 4200lbs
Quantity (18) Rod- Armor Hollow Copper
Wire size 25 @.162 x 142" 5 strands per set,1.4" diameter
Approximately 300lbs
Items are in unknown working condition. 
The Buyer is responsible for scheduling pick up/shipping arrangements with the Power Authority.  The Buyer warrants full responsibility for transportation per all NYS DOT regulations.
The Buyer warrants that he/she/it is not a current or former Authority employee, is not related to an Authority employee and did not bid on behalf of an Authority employee. Buyer is aware that Authority employees and their family members are precluded from subsequently receiving, or acquiring, in whole or in part, by any manner including gift, sale, loan or lease, the personal property acquired by the Buyer pursuant to this sale.  The term "related to" as used in this paragraph means the relationships of spouse, child, parent, sister, brother, grandparent, grandchild, aunt, uncle, cousin, niece, nephew, stepchild, stepparent, stepsister, stepbrother, mother‑in‑law, father‑in‑law, sister-in-law, brother‑in‑law, daughter-in-law, or son-in-law.  The Authority reserves the right to invoke any available legal or equitable remedy in the event of a breach by the Buyer of his or her warranty under this paragraph, including but not limited to, rescinding the sale and recovering the property sold and all costs associated with the sale and the rescission of said sale.
The Authority reserves the right to reject any and all proposals.
***Please review all Auction terms at left side of auction before bidding***
Terms of Sale:
All sales are final. No refunds will be issued. This item is being sold as is, where is, with no warranty, expressed written or implied. The seller shall not be responsible for the correct description, authenticity, genuineness, or defects herein, and makes no warranty in connection therewith. No allowance or set aside will be made on account of any incorrectness, imperfection, defect or damage. Any descriptions or representations are for identification purposes only and are not to be construed as a warranty of any type. It is the responsibility of the buyer to have thoroughly inspected this item and to have satisfied himself or herself as to the condition and value and to bid based upon that judgment solely. The seller shall and will make every reasonable effort to disclose any known defects associated with this item at the buyer request prior to the close of sale. Seller assumes no responsibility for any repairs regardless of any oral statements about the item. Seller is NOT responsible for providing tools or heavy equipment to aid in removal. Items left on seller premises after this removal deadline will revert back to possession of the seller, with no refund.
---
| | | |
| --- | --- | --- |
| Bid Date | Bid Amount | Bidder |
| Dec 14, 2021 - 7:28:49 PM | $3,850.00 | icmutch |
| Dec 14, 2021 - 12:28:51 PM | $3,800.00 | imike2000 |
| Dec 14, 2021 - 12:28:52 PM | $3,800.00 | ictown12884 |
| Dec 14, 2021 - 12:28:36 PM | $3,750.00 | imike2000 |
| Dec 14, 2021 - 12:28:36 PM | $3,700.00 | ictown12884 |
| Dec 14, 2021 - 12:28:16 PM | $3,650.00 | imike2000 |
| Dec 14, 2021 - 12:28:16 PM | $3,600.00 | ictown12884 |
| Dec 14, 2021 - 3:24:24 AM | $3,550.00 | imike2000 |
| Dec 14, 2021 - 3:24:24 AM | $3,500.00 | iRocker213 |
| Dec 13, 2021 - 6:51:59 PM | $3,450.00 | iRocker213 |
| Dec 13, 2021 - 6:51:59 PM | $3,400.00 | ichase5597 |
| Dec 13, 2021 - 6:51:12 PM | $3,200.00 | iRocker213 |
| Dec 13, 2021 - 6:51:12 PM | $3,150.00 | ichase5597 |
| Dec 13, 2021 - 6:50:54 PM | $3,050.00 | iRocker213 |
| Dec 13, 2021 - 6:50:54 PM | $3,000.00 | ichase5597 |
| Dec 13, 2021 - 6:43:28 PM | $2,850.00 | iRocker213 |
| Dec 13, 2021 - 6:43:15 PM | $2,800.00 | ichase5597 |
| Dec 13, 2021 - 6:43:16 PM | $2,800.00 | iRocker213 |
| Dec 13, 2021 - 6:21:28 PM | $2,650.00 | ichase5597 |
| Dec 13, 2021 - 6:21:28 PM | $2,600.00 | imike2000 |
| Dec 13, 2021 - 11:31:32 AM | $2,550.00 | imike2000 |
| Dec 13, 2021 - 11:31:32 AM | $2,500.00 | iLewbob |
| Dec 13, 2021 - 11:31:22 AM | $2,300.00 | iLewbob |
| Dec 13, 2021 - 11:31:22 AM | $2,275.00 | imike2000 |
| Dec 13, 2021 - 11:31:17 AM | $2,250.00 | iLewbob |
| Dec 13, 2021 - 11:31:17 AM | $2,225.00 | imike2000 |
| Dec 13, 2021 - 11:31:12 AM | $2,200.00 | iLewbob |
| Dec 13, 2021 - 11:31:12 AM | $2,175.00 | imike2000 |
| Dec 13, 2021 - 11:31:05 AM | $2,150.00 | iLewbob |
| Dec 13, 2021 - 11:31:05 AM | $2,125.00 | imike2000 |
| Dec 13, 2021 - 11:31:01 AM | $2,100.00 | iLewbob |
| Dec 13, 2021 - 11:31:01 AM | $2,075.00 | imike2000 |
| Dec 13, 2021 - 11:30:56 AM | $2,050.00 | iLewbob |
| Dec 13, 2021 - 11:30:56 AM | $2,025.00 | imike2000 |
| Dec 13, 2021 - 11:30:52 AM | $2,000.00 | iLewbob |
| Dec 13, 2021 - 11:30:52 AM | $1,975.00 | imike2000 |
| Dec 13, 2021 - 11:30:46 AM | $1,950.00 | iLewbob |
| Dec 13, 2021 - 11:30:46 AM | $1,925.00 | imike2000 |
| Dec 13, 2021 - 11:30:42 AM | $1,900.00 | iLewbob |
| Dec 13, 2021 - 11:30:42 AM | $1,875.00 | imike2000 |
| Dec 13, 2021 - 11:30:35 AM | $1,850.00 | iLewbob |
| Dec 13, 2021 - 11:30:35 AM | $1,825.00 | imike2000 |
| Dec 13, 2021 - 9:16:54 AM | $1,800.00 | iLewbob |
| Dec 13, 2021 - 5:35:04 AM | $1,775.00 | imike2000 |
| Dec 13, 2021 - 5:34:58 AM | $1,750.00 | iRocker213 |
| Dec 13, 2021 - 5:34:59 AM | $1,750.00 | imike2000 |
| Dec 13, 2021 - 5:34:51 AM | $1,725.00 | iRocker213 |
| Dec 13, 2021 - 5:34:51 AM | $1,700.00 | imike2000 |
| Dec 13, 2021 - 5:34:45 AM | $1,675.00 | iRocker213 |
| Dec 13, 2021 - 5:34:45 AM | $1,650.00 | imike2000 |
| Dec 13, 2021 - 5:34:36 AM | $1,625.00 | iRocker213 |
| Dec 13, 2021 - 5:34:36 AM | $1,600.00 | imike2000 |
| Dec 12, 2021 - 2:11:44 PM | $1,575.00 | iRocker213 |
| Dec 12, 2021 - 2:11:44 PM | $1,550.00 | iLewbob |
| Dec 12, 2021 - 2:11:38 PM | $1,325.00 | iLewbob |
| Dec 12, 2021 - 2:11:38 PM | $1,300.00 | iRocker213 |
| Dec 12, 2021 - 2:03:19 PM | $1,125.00 | iLewbob |
| Dec 12, 2021 - 2:03:19 PM | $1,100.00 | iRocker213 |
| Dec 11, 2021 - 1:29:20 PM | $1,025.00 | iLewbob |
| Dec 11, 2021 - 1:29:20 PM | $1,000.00 | iGWSR315 |
| Dec 5, 2021 - 9:54:16 PM | $830.00 | iGWSR315 |
| Dec 5, 2021 - 9:54:16 PM | $820.00 | iArvey101 |
| Dec 2, 2021 - 7:52:55 PM | $810.00 | iGWSR315 |
| Dec 2, 2021 - 7:52:55 PM | $800.00 | iRJ7657777 |
| Dec 2, 2021 - 7:53:19 AM | $760.00 | iGWSR315 |
| Dec 2, 2021 - 7:53:19 AM | $750.00 | icleancar |
| Dec 2, 2021 - 7:53:12 AM | $510.00 | iGWSR315 |
| Dec 2, 2021 - 7:53:12 AM | $500.00 | icleancar |
| Dec 2, 2021 - 7:53:03 AM | $310.00 | iGWSR315 |
| Dec 2, 2021 - 7:53:03 AM | $300.00 | icleancar |
| Dec 1, 2021 - 6:53:55 PM | $105.00 | iGWSR315 |
| Dec 1, 2021 - 6:53:55 PM | $100.00 | ibobbyo694 |
| Dec 1, 2021 - 6:14:17 PM | $26.00 | iGWSR315 |
| Dec 1, 2021 - 6:14:17 PM | $25.00 | i34cow |
| Dec 1, 2021 - 5:41:26 PM | $10.00 | i34cow |