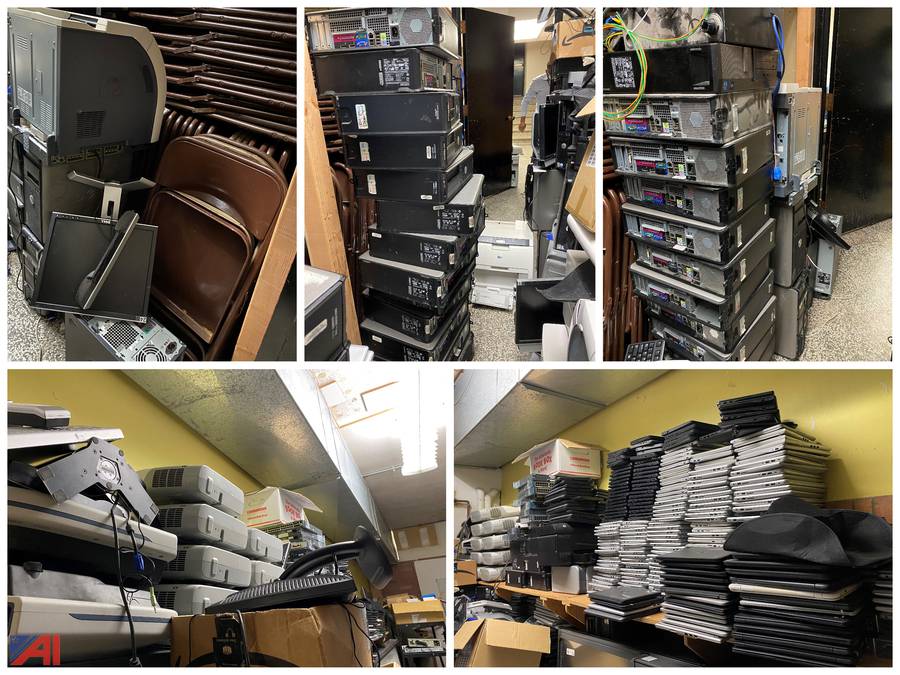 Various Desktop Computers, Chromebooks, Apple MAC, Projectors, Printers, Network Devices, and More
Bidding is

closed

.
High Bid:
$7,100.00
NA
Bidding Ended:
Fri, Jul 1 7:35:38 pm ET
High Bidder:
MHC219
Bid Increment:
$100.00
Starting Bid:
$25.00
Item Location:

1000 West Boston Post Rd

,

Mamaroneck, Westchester

,

NY

10543

Distance:
Please click on the location address to view the item's location on a map.
Item has been viewed 1,126 times.
Various Desktop Computers, Chromebooks, Apple MAC, Projectors, Printers, Network Devices, and More
The hard drives have been removed and swiped. Hard drives are not installed. They are in a box. 
Printers:
(8) HP Color Laserjet 3600
(2) HP Laserjet 4100
(1) HP Laserjet 4050
(1)Brother 2170
(1) HP Laserjet P3015
(1) HP Laserjet 4250
(1) HP Color Laserjet 2840
Projectors:
(7) Epson Powerlite 450
(2) Epson brightlink 455Wi
(2) Sony VPL FX 51
(3) Note Vision
(17) Note Vision XR 10s
(2) Infocus
(5) Philips
Network Devices:
(5) Cisco 2960
(1) Cisco 3750
(1) Cosco switch
(1) Cisco switch
(3) PowerDsine switch
Chrome Books:
(123) Toshiba B3123
(58) EduGear CE0560 (black)
(37) Samsung 303C
(13) EduGear NL6 (white)
(25) HP Chromebook 11G5 EE
Desktops: 
(4) Power MAC G5
(2) Power MAC G4
(10) HP P6404Ay
(24) Dell Optiplex 760
(26) Optiplex 755
(52) Optiplex 745
And Much More!!
Unknown working condition.
***Please review all Auction terms at left side of auction before bidding***
Terms of Sale:
All sales are final. No refunds will be issued. This item is being sold as is, where is, with no warranty, expressed written or implied. The seller shall not be responsible for the correct description, authenticity, genuineness, or defects herein, and makes no warranty in connection therewith. No allowance or set aside will be made on account of any incorrectness, imperfection, defect or damage. Any descriptions or representations are for identification purposes only and are not to be construed as a warranty of any type. It is the responsibility of the buyer to have thoroughly inspected this item and to have satisfied himself or herself as to the condition and value and to bid based upon that judgment solely. The seller shall and will make every reasonable effort to disclose any known defects associated with this item at the buyer request prior to the close of sale. Seller assumes no responsibility for any repairs regardless of any oral statements about the item. Seller is NOT responsible for providing tools or heavy equipment to aid in removal. Items left on seller premises after this removal deadline will revert back to possession of the seller, with no refund.
---
| | | |
| --- | --- | --- |
| Bid Date | Bid Amount | Bidder |
| Jul 1, 2022 - 7:34:38 PM | $7,100.00 | iMHC219 |
| Jul 1, 2022 - 7:34:38 PM | $7,000.00 | iSIGNAHOLIC1 |
| Jul 1, 2022 - 7:34:01 PM | $6,100.00 | iMHC219 |
| Jul 1, 2022 - 7:34:01 PM | $6,000.00 | iSIGNAHOLIC1 |
| Jul 1, 2022 - 7:33:48 PM | $5,100.00 | iMHC219 |
| Jul 1, 2022 - 7:33:48 PM | $5,000.00 | iSIGNAHOLIC1 |
| Jul 1, 2022 - 7:33:36 PM | $4,650.00 | iMHC219 |
| Jul 1, 2022 - 7:33:36 PM | $4,600.00 | iSIGNAHOLIC1 |
| Jul 1, 2022 - 7:33:23 PM | $4,050.00 | iMHC219 |
| Jul 1, 2022 - 7:33:23 PM | $4,000.00 | iSIGNAHOLIC1 |
| Jul 1, 2022 - 7:33:06 PM | $3,650.00 | iMHC219 |
| Jul 1, 2022 - 7:33:06 PM | $3,600.00 | iSIGNAHOLIC1 |
| Jul 1, 2022 - 7:32:54 PM | $3,550.00 | iSIGNAHOLIC1 |
| Jul 1, 2022 - 7:32:54 PM | $3,500.00 | iMHC219 |
| Jul 1, 2022 - 7:32:05 PM | $3,450.00 | iSIGNAHOLIC1 |
| Jul 1, 2022 - 7:32:01 PM | $3,400.00 | iMHC219 |
| Jul 1, 2022 - 7:32:02 PM | $3,400.00 | iSIGNAHOLIC1 |
| Jul 1, 2022 - 7:31:57 PM | $3,350.00 | iMHC219 |
| Jul 1, 2022 - 7:31:57 PM | $3,300.00 | iSIGNAHOLIC1 |
| Jul 1, 2022 - 7:31:06 PM | $3,250.00 | iSIGNAHOLIC1 |
| Jul 1, 2022 - 7:31:06 PM | $3,200.00 | iMHC219 |
| Jul 1, 2022 - 7:30:48 PM | $3,150.00 | iMHC219 |
| Jul 1, 2022 - 7:30:38 PM | $3,100.00 | iSIGNAHOLIC1 |
| Jul 1, 2022 - 7:30:39 PM | $3,100.00 | iMHC219 |
| Jul 1, 2022 - 7:30:26 PM | $3,050.00 | iSIGNAHOLIC1 |
| Jul 1, 2022 - 7:30:26 PM | $3,000.00 | iMHC219 |
| Jul 1, 2022 - 7:29:31 PM | $2,650.00 | iMHC219 |
| Jul 1, 2022 - 7:29:31 PM | $2,600.00 | iSIGNAHOLIC1 |
| Jul 1, 2022 - 7:29:16 PM | $2,550.00 | iSIGNAHOLIC1 |
| Jul 1, 2022 - 7:29:16 PM | $2,500.00 | iMHC219 |
| Jul 1, 2022 - 2:02:35 PM | $1,675.00 | iSIGNAHOLIC1 |
| Jul 1, 2022 - 2:02:35 PM | $1,650.00 | iseneca 1808 |
| Jun 30, 2022 - 3:53:06 AM | $1,575.00 | iseneca 1808 |
| Jun 30, 2022 - 3:53:06 AM | $1,550.00 | iBrooklyn592 |
| Jun 28, 2022 - 4:05:31 PM | $1,525.00 | iseneca 1808 |
| Jun 28, 2022 - 4:05:31 PM | $1,500.00 | ijamoah1234 |
| Jun 28, 2022 - 4:04:02 PM | $1,475.00 | iseneca 1808 |
| Jun 28, 2022 - 4:04:02 PM | $1,450.00 | ijamoah1234 |
| Jun 26, 2022 - 6:23:29 PM | $1,425.00 | iseneca 1808 |
| Jun 26, 2022 - 6:23:29 PM | $1,400.00 | iIssacherbuys |
| Jun 25, 2022 - 3:34:06 AM | $1,125.00 | iIssacherbuys |
| Jun 25, 2022 - 3:34:06 AM | $1,100.00 | iseneca 1808 |
| Jun 25, 2022 - 3:33:48 AM | $1,025.00 | iseneca 1808 |
| Jun 25, 2022 - 3:33:48 AM | $1,000.00 | iIssacherbuys |
| Jun 18, 2022 - 10:26:51 PM | $510.00 | iseneca 1808 |
| Jun 18, 2022 - 10:26:51 PM | $500.00 | ijford10801 |
| Jun 18, 2022 - 10:26:41 PM | $410.00 | ijford10801 |
| Jun 18, 2022 - 10:26:41 PM | $400.00 | iseneca 1808 |
| Jun 18, 2022 - 7:25:40 PM | $105.00 | ijford10801 |
| Jun 18, 2022 - 7:25:40 PM | $100.00 | imjtelesca |
| Jun 18, 2022 - 7:25:27 PM | $28.00 | ijford10801 |
| Jun 18, 2022 - 7:25:27 PM | $27.00 | imjtelesca |
| Jun 17, 2022 - 9:19:50 PM | $26.00 | ijford10801 |
| Jun 17, 2022 - 11:47:32 AM | $25.00 | ijaybling |