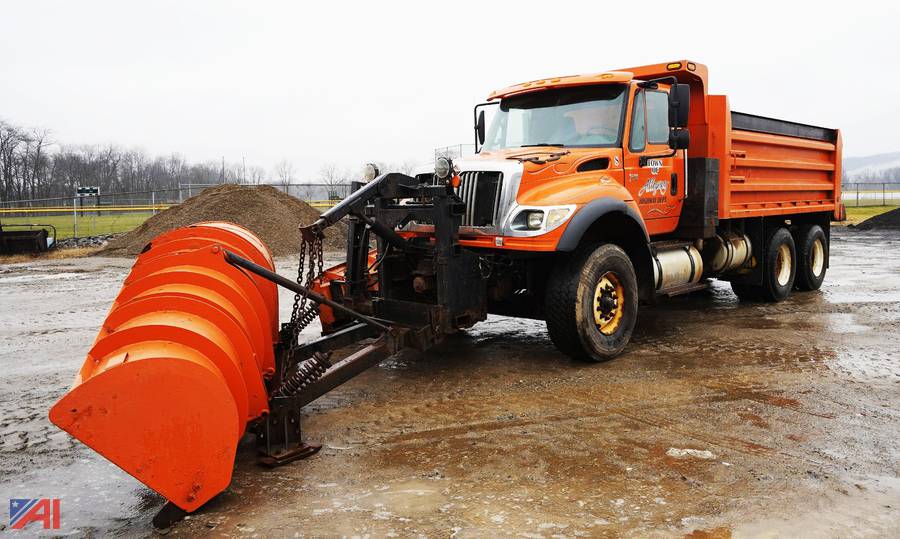 2006 International WorkStar 7600 Dump Truck with Plow and Wing
Bidding is

closed

.
High Bid:
$20,200.00
NA
Bidding Ended:
Tue, Feb 7 6:39:14 pm ET
High Bidder:
ktmbrown
Bid Increment:
$100.00
Starting Bid:
$25.00
Item Location:

3790 Birch Run Rd.

,

Allegany, Cattaraugus

,

NY

14706

Distance:
Please click on the location address to view the item's location on a map.
Item has been viewed 2,242 times.
Interested in Financing? Click here 
**Financing is offered by a third party entity. The sale of this piece is not contingent upon the bidder/buyer securing financing. This is simply offered as a courtesy. 
***Please review all Auction terms at left side of auction before bidding***
Terms of Sale:
All sales are final. No refunds will be issued. This item is being sold as is, where is, with no warranty, expressed written or implied. The seller shall not be responsible for the correct description, authenticity, genuineness, or defects herein, and makes no warranty in connection therewith. No allowance or set aside will be made on account of any incorrectness, imperfection, defect or damage. Any descriptions or representations are for identification purposes only and are not to be construed as a warranty of any type. It is the responsibility of the buyer to have thoroughly inspected this item and to have satisfied himself or herself as to the condition and value and to bid based upon that judgment solely. The seller shall and will make every reasonable effort to disclose any known defects associated with this item at the buyer request prior to the close of sale. Seller assumes no responsibility for any repairs regardless of any oral statements about the item. Seller is NOT responsible for providing tools or heavy equipment to aid in removal. Items left on seller premises after this removal deadline will revert back to possession of the seller, with no refund.
Year: 2006
Make: International
Model: WorkStar 7600
Body Style: Dump Truck with Plow and Wing
VIN/SN: 1HTWXAHT06J204040
Odometer Numbers: 113991
Hours: 7927
Engine Make/Model: Cummins ISM-425hp, 10.8L
Cyl: 6
Fuel Type: Diesel
Transmission Model: Eaton Fuller 8 Speed + Lo & Lo-Lo
Transmission Type: Manual
Single Axle/Dual Axle: Tandem Axel Dual Wheel
Tire Size/Type: 11R22.5, fair to good
Tire Condition: Fair
Plow Size: Henderson 11' one-way steel and 11'wing
Dump Box Size: Henderson 15' steel dump body
Drivetrain: 6x4
Does the unit operate?: Yes
Does the vehicle start?: Yes
Are keys available?: Yes
Ownership Documents: Clear Title
Mechanical Condition: Fair
Mechanical Notes: Fleet maintained, dump and plow equipment are operational, ABS light is on at start up.
Body Condition: Fair
Body Notes: Solid with average wear, view images.
Interior Condition: Fair
Misc Info: Drivers seat wear.
GVWR: 66,000Lbs
Titled: Yes
---
| | | |
| --- | --- | --- |
| Bid Date | Bid Amount | Bidder |
| Feb 7, 2023 - 6:38:14 PM | $20,200.00 | iktmbrown |
| Feb 7, 2023 - 6:37:52 PM | $20,100.00 | iHoney39 |
| Feb 7, 2023 - 6:37:52 PM | $20,000.00 | iktmbrown |
| Feb 7, 2023 - 6:37:36 PM | $19,700.00 | iktmbrown |
| Feb 7, 2023 - 6:37:17 PM | $19,600.00 | iHoney39 |
| Feb 7, 2023 - 6:37:17 PM | $19,500.00 | iktmbrown |
| Feb 7, 2023 - 6:37:09 PM | $19,200.00 | iktmbrown |
| Feb 7, 2023 - 6:36:39 PM | $19,100.00 | iHoney39 |
| Feb 7, 2023 - 6:36:39 PM | $19,000.00 | iktmbrown |
| Feb 7, 2023 - 6:36:15 PM | $18,700.00 | iktmbrown |
| Feb 7, 2023 - 6:35:55 PM | $18,600.00 | iHoney39 |
| Feb 7, 2023 - 6:35:55 PM | $18,500.00 | iktmbrown |
| Feb 7, 2023 - 6:35:35 PM | $18,100.00 | iHoney39 |
| Feb 7, 2023 - 6:35:35 PM | $18,000.00 | iktmbrown |
| Feb 7, 2023 - 6:35:20 PM | $17,600.00 | iHoney39 |
| Feb 7, 2023 - 6:35:20 PM | $17,500.00 | iktmbrown |
| Feb 7, 2023 - 6:35:12 PM | $17,200.00 | iktmbrown |
| Feb 7, 2023 - 6:34:54 PM | $17,100.00 | iHoney39 |
| Feb 7, 2023 - 6:34:54 PM | $17,000.00 | iktmbrown |
| Feb 7, 2023 - 6:34:41 PM | $16,900.00 | iHoney39 |
| Feb 7, 2023 - 6:34:40 PM | $16,800.00 | iktmbrown |
| Feb 7, 2023 - 6:34:27 PM | $16,700.00 | iktmbrown |
| Feb 7, 2023 - 6:34:07 PM | $16,600.00 | iHoney39 |
| Feb 7, 2023 - 6:34:07 PM | $16,500.00 | iktmbrown |
| Feb 7, 2023 - 6:33:59 PM | $16,200.00 | iktmbrown |
| Feb 7, 2023 - 6:33:34 PM | $16,100.00 | iHoney39 |
| Feb 7, 2023 - 6:33:34 PM | $16,000.00 | iktmbrown |
| Feb 7, 2023 - 6:33:27 PM | $15,700.00 | iktmbrown |
| Feb 7, 2023 - 6:33:13 PM | $15,600.00 | iHoney39 |
| Feb 7, 2023 - 6:33:13 PM | $15,500.00 | iktmbrown |
| Feb 7, 2023 - 6:32:43 PM | $15,100.00 | iHoney39 |
| Feb 7, 2023 - 6:32:43 PM | $15,000.00 | iktmbrown |
| Feb 6, 2023 - 5:03:01 AM | $14,200.00 | iktmbrown |
| Feb 5, 2023 - 8:58:28 PM | $14,100.00 | iRigo798 |
| Feb 5, 2023 - 8:58:24 PM | $14,000.00 | iktmbrown |
| Feb 5, 2023 - 8:58:25 PM | $13,900.00 | iRigo798 |
| Feb 5, 2023 - 8:55:36 PM | $13,800.00 | iktmbrown |
| Feb 5, 2023 - 8:55:36 PM | $13,700.00 | iRigo798 |
| Feb 5, 2023 - 8:55:34 PM | $13,600.00 | iktmbrown |
| Feb 5, 2023 - 8:55:34 PM | $13,500.00 | iRigo798 |
| Feb 5, 2023 - 8:55:31 PM | $13,400.00 | iktmbrown |
| Feb 5, 2023 - 8:55:32 PM | $13,300.00 | iRigo798 |
| Feb 5, 2023 - 8:55:29 PM | $13,200.00 | iktmbrown |
| Feb 5, 2023 - 8:55:29 PM | $13,100.00 | iRigo798 |
| Feb 5, 2023 - 8:55:27 PM | $13,000.00 | iktmbrown |
| Feb 5, 2023 - 8:55:27 PM | $12,900.00 | iRigo798 |
| Feb 5, 2023 - 8:55:25 PM | $12,800.00 | iktmbrown |
| Feb 5, 2023 - 8:55:25 PM | $12,700.00 | iRigo798 |
| Feb 5, 2023 - 8:55:23 PM | $12,600.00 | iktmbrown |
| Feb 5, 2023 - 8:55:23 PM | $12,500.00 | iRigo798 |
| Feb 5, 2023 - 8:55:21 PM | $12,400.00 | iktmbrown |
| Feb 5, 2023 - 8:55:21 PM | $12,300.00 | iRigo798 |
| Feb 5, 2023 - 2:39:11 PM | $12,200.00 | iktmbrown |
| Feb 5, 2023 - 12:33:51 PM | $12,100.00 | iRigo798 |
| Feb 5, 2023 - 12:33:43 PM | $12,000.00 | iktmbrown |
| Feb 5, 2023 - 12:33:44 PM | $12,000.00 | iRigo798 |
| Feb 5, 2023 - 12:33:39 PM | $11,900.00 | iktmbrown |
| Feb 5, 2023 - 12:33:39 PM | $11,800.00 | iRigo798 |
| Feb 5, 2023 - 12:33:34 PM | $11,700.00 | iktmbrown |
| Feb 5, 2023 - 12:33:34 PM | $11,600.00 | iRigo798 |
| Feb 5, 2023 - 12:33:30 PM | $11,500.00 | iktmbrown |
| Feb 5, 2023 - 12:33:30 PM | $11,400.00 | iRigo798 |
| Feb 5, 2023 - 12:33:27 PM | $11,300.00 | iktmbrown |
| Feb 5, 2023 - 12:33:27 PM | $11,200.00 | iRigo798 |
| Feb 5, 2023 - 12:33:24 PM | $11,100.00 | iktmbrown |
| Feb 5, 2023 - 12:33:24 PM | $11,000.00 | iRigo798 |
| Feb 5, 2023 - 12:33:22 PM | $10,900.00 | iktmbrown |
| Feb 5, 2023 - 12:33:22 PM | $10,800.00 | iRigo798 |
| Feb 5, 2023 - 12:33:19 PM | $10,700.00 | iktmbrown |
| Feb 5, 2023 - 12:33:19 PM | $10,600.00 | iRigo798 |
| Feb 5, 2023 - 12:33:16 PM | $10,500.00 | iktmbrown |
| Feb 5, 2023 - 12:33:16 PM | $10,400.00 | iRigo798 |
| Feb 5, 2023 - 9:06:08 AM | $10,300.00 | iktmbrown |
| Feb 5, 2023 - 9:06:08 AM | $10,200.00 | iRigo798 |
| Feb 4, 2023 - 3:08:24 PM | $10,100.00 | iRigo798 |
| Feb 4, 2023 - 3:08:22 PM | $10,000.00 | irsautomation |
| Feb 4, 2023 - 3:08:23 PM | $10,000.00 | iRigo798 |
| Feb 4, 2023 - 3:08:20 PM | $9,900.00 | irsautomation |
| Feb 4, 2023 - 3:08:20 PM | $9,800.00 | iRigo798 |
| Feb 4, 2023 - 3:08:17 PM | $9,700.00 | irsautomation |
| Feb 4, 2023 - 3:08:17 PM | $9,600.00 | iRigo798 |
| Feb 4, 2023 - 3:08:15 PM | $9,500.00 | irsautomation |
| Feb 4, 2023 - 3:08:15 PM | $9,400.00 | iRigo798 |
| Feb 4, 2023 - 3:08:13 PM | $9,300.00 | irsautomation |
| Feb 4, 2023 - 3:08:13 PM | $9,200.00 | iRigo798 |
| Feb 4, 2023 - 3:08:11 PM | $9,100.00 | irsautomation |
| Feb 4, 2023 - 3:08:11 PM | $9,000.00 | iRigo798 |
| Feb 4, 2023 - 9:50:43 AM | $8,900.00 | irsautomation |
| Feb 2, 2023 - 8:36:23 AM | $8,800.00 | iRigo798 |
| Feb 1, 2023 - 10:56:37 PM | $8,700.00 | iIdunno |
| Jan 31, 2023 - 3:53:16 PM | $8,600.00 | iRigo798 |
| Jan 31, 2023 - 3:53:13 PM | $8,500.00 | isearchin4adeal |
| Jan 31, 2023 - 3:53:13 PM | $8,400.00 | iRigo798 |
| Jan 31, 2023 - 2:48:00 PM | $8,300.00 | isearchin4adeal |
| Jan 31, 2023 - 2:48:00 PM | $8,200.00 | iRigo798 |
| Jan 31, 2023 - 2:47:57 PM | $8,100.00 | isearchin4adeal |
| Jan 31, 2023 - 2:47:57 PM | $8,000.00 | iRigo798 |
| Jan 31, 2023 - 2:47:55 PM | $7,900.00 | isearchin4adeal |
| Jan 31, 2023 - 2:47:55 PM | $7,800.00 | iRigo798 |
| Jan 31, 2023 - 10:55:47 AM | $7,700.00 | isearchin4adeal |
| Jan 30, 2023 - 9:31:50 PM | $7,600.00 | iRigo798 |
| Jan 30, 2023 - 9:31:48 PM | $7,500.00 | irsautomation |
| Jan 30, 2023 - 9:31:49 PM | $7,500.00 | iRigo798 |
| Jan 30, 2023 - 9:31:45 PM | $7,400.00 | irsautomation |
| Jan 30, 2023 - 9:31:45 PM | $7,300.00 | iRigo798 |
| Jan 30, 2023 - 1:08:17 PM | $7,200.00 | irsautomation |
| Jan 26, 2023 - 9:53:49 PM | $7,100.00 | iRigo798 |
| Jan 26, 2023 - 9:53:45 PM | $7,000.00 | iFern7884 |
| Jan 26, 2023 - 9:53:46 PM | $7,000.00 | iRigo798 |
| Jan 26, 2023 - 9:53:42 PM | $6,900.00 | iFern7884 |
| Jan 26, 2023 - 9:53:42 PM | $6,800.00 | iRigo798 |
| Jan 26, 2023 - 9:19:10 PM | $6,700.00 | iFern7884 |
| Jan 26, 2023 - 5:53:11 PM | $6,600.00 | iRigo798 |
| Jan 26, 2023 - 5:53:08 PM | $6,500.00 | ibmwzr3 |
| Jan 26, 2023 - 5:53:08 PM | $6,400.00 | iRigo798 |
| Jan 26, 2023 - 5:38:29 PM | $6,300.00 | ibmwzr3 |
| Jan 26, 2023 - 9:48:10 AM | $6,200.00 | iRigo798 |
| Jan 25, 2023 - 8:50:04 PM | $6,100.00 | iJdonna79! |
| Jan 25, 2023 - 7:05:30 AM | $6,000.00 | iRigo798 |
| Jan 25, 2023 - 7:05:31 AM | $6,000.00 | iMountainTop |
| Jan 24, 2023 - 10:17:40 PM | $5,400.00 | iRigo798 |
| Jan 24, 2023 - 10:17:40 PM | $5,300.00 | ipmbaldwin |
| Jan 24, 2023 - 8:12:56 PM | $5,200.00 | iRigo798 |
| Jan 24, 2023 - 8:12:56 PM | $5,100.00 | ibmwzr3 |
| Jan 24, 2023 - 8:12:20 PM | $3,050.00 | ibmwzr3 |
| Jan 24, 2023 - 8:12:20 PM | $3,000.00 | iRigo798 |
| Jan 24, 2023 - 8:12:11 PM | $1,700.00 | ibmwzr3 |
| Jan 24, 2023 - 8:12:11 PM | $1,675.00 | iRigo798 |
| Jan 24, 2023 - 8:12:08 PM | $1,650.00 | ibmwzr3 |
| Jan 24, 2023 - 8:12:08 PM | $1,625.00 | iRigo798 |
| Jan 24, 2023 - 8:00:11 PM | $1,600.00 | ibmwzr3 |
| Jan 24, 2023 - 8:00:11 PM | $1,575.00 | iRigo798 |
| Jan 24, 2023 - 7:40:26 PM | $1,550.00 | ibmwzr3 |
| Jan 24, 2023 - 7:40:26 PM | $1,525.00 | ichayawachs1 |
| Jan 24, 2023 - 7:40:08 PM | $1,275.00 | ibmwzr3 |
| Jan 24, 2023 - 7:40:08 PM | $1,250.00 | ichayawachs1 |
| Jan 24, 2023 - 5:18:25 PM | $25.00 | ibmwzr3 |