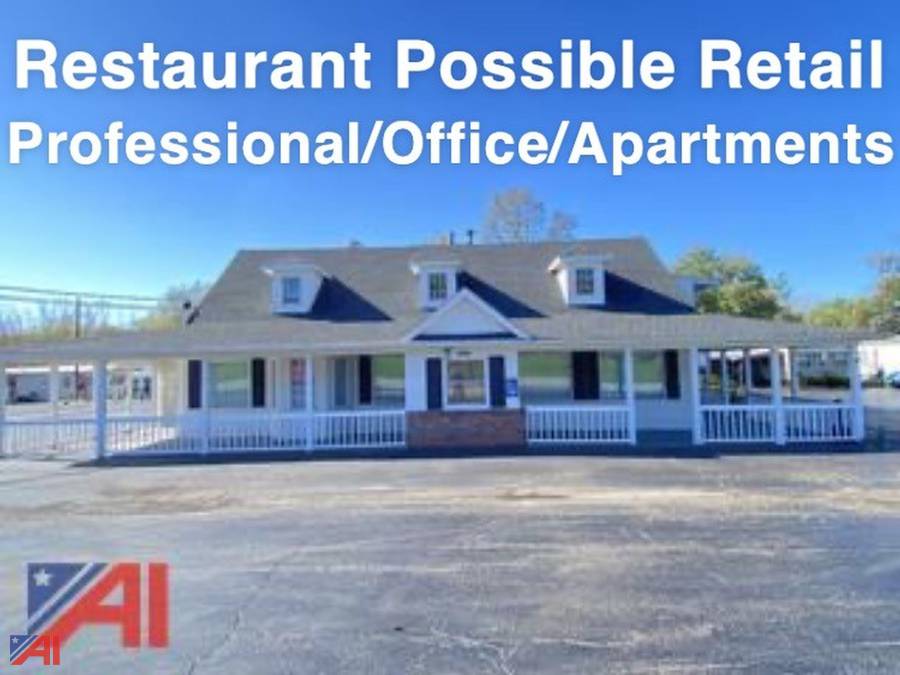 Lot #0001:
Former "Iron Kettle Restaurant"
Bidding is

closed

.
High Bid:
$200,400.00
NA
Bidding Ended:
Wed, Nov 17 12:01:53 pm ET
High Bidder:
WIHoldings
Bid Increment:
$100.00
Starting Bid:
$1,500.00
Item Location:

1009 Olean Rd

,

East Aurora, Erie

,

NY

14052

Distance:
Please click on the location address to view the item's location on a map.
Item has been viewed 6,774 times.
YOU CANNOT PARTICIPATE IN THIS SALE UNLESS YOU COMPLETE THE ONLINE BIDDER REGISTRATION PACKET 
>>CLICK HERE<< FOR COMPLETE REGISTRATION INSTRUCTIONS.

AUCTIONEER'S NOTES  Please Read

Appraisal Report

Water Bills

NYSEG Bills

Cable Bills

Utility Bills

Property Address: 1009 Olean Rd, East Aurora, NY 14052
Municipality: Town of Aurora
Tax ID #: 188.01-1-15
SWIS: 142489
School District: East Aurora Union Free School District

Location Description:
West side of Olean Road, north of Blakely Corners Road and south of Lapham Road. Located less than .5 mile from the 400 Expressway.
Google Maps- Street view <
Google Maps- Aerial view << CLICK HERE
Google Earth- Aerial view << CLICK HERE

360° Virtual Tour
Click here for a tutorial on navigating the virtual walk-through

Legal Description: Liber 11044 / Page 2093 
Property Class: 422- Diner/Lunch
Zoning: "B2" Business- 2 District
Year Built: 1946+/- (Assessor's records)

Gross Building area (sf): 5,408+/- (survey)
Land Area (sf): 32,104+/- (ECGIS Data)
Land Area (acres): 0.737+/- (ECGIS Date)
Frontage: 228.6' (Olean Road)
Depth: 178.6'

ASSESSED VALUE & TAXES (status date of March 1, 2020)
Assessed Land: $15,200.00
Assessed Improvements: $142,700.00
Total Assessment: $157,900
Equalization Rate: 30.25%
Equalized Assessment: $521,983.00
Current Town & County Taxes: $4,676.28
Current School District Taxes: $6,560.15
Current Annual True Taxes: $11,236.43
Flood Plain: Flood Hazard Community ID# 360227
Flood Panel: 0526H (June 7, 2019)
Flood Zone: Zone X

Utilities: Public electric, gas & water
Private Septic

OPEN HOUSE DATES:
(10am-1pm)
Saturday, October 30th (COMPLETED)
Monday, November 1st (COMPLETED)
Sunday, November 7th (COMPLETED)
Monday, November 8th
Sunday, November 14th

Property Description:
5,400+/- square foot restaurant featuring and outdoor dining area, indoor dining area with a built-in fireplace and a buffet/catering room. This well known facility has seating for 150 with a banquet/meeting room that seats. The building was renovated in 2000.
Built 1947, operated as Aurora Drive-In till 1960
Since 1960, name change of the Iron Kettle became a well-known established for breakfast, lunch, and dinner with annual sales of $1,290,000.00 until the pandemic outbreak.
DEC septic permits have been renewed and good for approximately 5 years. Septic is on join adjacent property with deeded easement. There are cross easements with the adjacent properties that are noted in the survey. Almost all the restaurant equipment has been replaced approximately 2 to 3 years ago. Within the last 5 years, new roof, carpeting and a high efficiency HVAC system.
This charming 5,400-Square foot restaurant features an indoor dining area with 2 built-in fireplaces and a buffet/catering room. The building was renovated in the year 2000.
This well know and popular business has seating for 150 with a banquet / meeting room that seats 75.
This is a turnkey opportunity. Property Also has a second floor apartment which has rented in the past for $1,200 a month.
Approx. Dimensions:
Restaurant (approximate measurements):
Entrance - 7'3 X 9'
Dinning Rm #1 – 15'3" X 23'3"
Dinning Rm #2 – 19' X 23'6"
Buffet Rm – 11'6" X 18'9"
Banquet Rm – 47'6" X 20'9"
Coat Room - 4' X 19'4"
Restroom #1 – 10'6" X 6'7"
Restroom #2 – 8'2" X 3'9"
Prep Area – 9'7" X  19'6"
Kitchen #1 – 22'6" X 8'9"
Kitchen  #2 – 13'3" X 11'9"
Kitchen Storage Area 21'6" X 8'5"
Washing Station Area 10'9" X 15'6"
2nd Floor Apartment (approximate measurements):
Apartment office – 13' X 8'
Room #1 – 12'3" X 19'4"
Room #2 – 20'5" X 9'
Laundry Room – 11'11" X 8"
Living Room – 19' X 11'
Kitchen – 11' X 8'

Restaurant Kitchen Equipment and Furnishings included in the sale:
-Walk in cooler 6'X19"
-Walk in freezer 6'X7'
-Garland 10 burner stove with 2 ovens
-Metro C5 Warmer-Proofer
-Hobart Mixer with accessories
-Assortment of wire shelving
-Globe Gravity meat slicer
-Various pots, pans, and utensils
-Superior 3 door freezer
-Manitowoc Ice Machine
-Dishwasher Machine
-Various Stainless Steel prep tables
-Star Ultra Max 60" flat top grill
-(2) Pitco Fryers
-Sunfire 6 burner stove
-Server Well 4 bay steam table
-Ice cream freezer
-Whirlpool Refrigerator
-(2) Kenmore Microwaves
-(3) POS Systems
-(129) Chairs
-(32)  Tables 3'X3'
-(2) Tables 30"X2'
-Salad Bar Buffet line with Steam Table
-(2) Ansul Systems
-Vizio 40" flat screen TV
Official Town of Aurora website << CLICK HERE
Official Village of East Aurora website << CLICK HERE
East Aurora Union Free School District website << CLICK HERE


***Please review all Auction terms at left side of auction before bidding***
***Please review all Auction terms at left side of auction before bidding***
***Please review all Auction terms at left side of auction before bidding***
***Please review all Auction terms at left side of auction before bidding***
---
| | | |
| --- | --- | --- |
| Bid Date | Bid Amount | Bidder |
| Nov 17, 2021 - 12:00:53 PM | $200,400.00 | iWIHoldings |
| Nov 17, 2021 - 12:00:53 PM | $200,300.00 | iDOUGLASWELCH |
| Nov 17, 2021 - 12:00:10 PM | $200,200.00 | iWIHoldings |
| Nov 17, 2021 - 11:47:38 AM | $200,100.00 | iDOUGLASWELCH |
| Nov 17, 2021 - 11:47:38 AM | $200,000.00 | iendofthetrail |
| Nov 17, 2021 - 11:45:43 AM | $199,100.00 | iDOUGLASWELCH |
| Nov 17, 2021 - 11:45:43 AM | $199,000.00 | iendofthetrail |
| Nov 17, 2021 - 9:32:06 AM | $195,000.00 | iendofthetrail |
| Nov 17, 2021 - 9:32:07 AM | $195,000.00 | ibaileyroadproperties |
| Nov 17, 2021 - 9:26:15 AM | $190,100.00 | iendofthetrail |
| Nov 17, 2021 - 9:24:30 AM | $190,000.00 | ibaileyroadproperties |
| Nov 17, 2021 - 9:24:31 AM | $190,000.00 | iendofthetrail |
| Nov 17, 2021 - 8:16:17 AM | $187,100.00 | ibaileyroadproperties |
| Nov 17, 2021 - 8:16:17 AM | $187,000.00 | iendofthetrail |
| Nov 17, 2021 - 8:15:56 AM | $185,100.00 | iendofthetrail |
| Nov 17, 2021 - 8:15:56 AM | $185,000.00 | ibaileyroadproperties |
| Nov 17, 2021 - 8:07:47 AM | $180,100.00 | iendofthetrail |
| Nov 17, 2021 - 8:07:24 AM | $180,000.00 | ibaileyroadproperties |
| Nov 17, 2021 - 8:07:25 AM | $180,000.00 | iendofthetrail |
| Nov 17, 2021 - 7:24:32 AM | $170,100.00 | ibaileyroadproperties |
| Nov 17, 2021 - 7:23:12 AM | $170,000.00 | iendofthetrail |
| Nov 17, 2021 - 7:23:13 AM | $170,000.00 | ibaileyroadproperties |
| Nov 17, 2021 - 7:22:50 AM | $160,100.00 | iendofthetrail |
| Nov 17, 2021 - 7:22:50 AM | $160,000.00 | ibaileyroadproperties |
| Nov 17, 2021 - 7:20:17 AM | $150,200.00 | iendofthetrail |
| Nov 16, 2021 - 9:39:37 PM | $150,100.00 | ibaileyroadproperties |
| Nov 16, 2021 - 9:17:20 PM | $150,000.00 | iendofthetrail |
| Nov 16, 2021 - 9:17:21 PM | $150,000.00 | ibaileyroadproperties |
| Nov 16, 2021 - 9:17:00 PM | $120,100.00 | iendofthetrail |
| Nov 16, 2021 - 9:17:00 PM | $120,000.00 | ibaileyroadproperties |
| Nov 16, 2021 - 8:16:25 PM | $100,300.00 | iendofthetrail |
| Nov 16, 2021 - 8:16:25 PM | $100,200.00 | iDOUGLASWELCH |
| Nov 16, 2021 - 4:13:29 PM | $100,100.00 | iDOUGLASWELCH |
| Nov 16, 2021 - 4:13:29 PM | $100,000.00 | iendofthetrail |
| Nov 16, 2021 - 4:11:08 PM | $80,300.00 | iendofthetrail |
| Nov 16, 2021 - 4:11:08 PM | $80,200.00 | iDOUGLASWELCH |
| Nov 16, 2021 - 4:10:50 PM | $75,300.00 | iendofthetrail |
| Nov 16, 2021 - 4:10:50 PM | $75,200.00 | iDOUGLASWELCH |
| Nov 16, 2021 - 4:10:26 PM | $70,100.00 | iendofthetrail |
| Nov 16, 2021 - 4:10:26 PM | $70,000.00 | iDOUGLASWELCH |
| Nov 16, 2021 - 4:10:09 PM | $65,100.00 | iendofthetrail |
| Nov 16, 2021 - 4:10:09 PM | $65,000.00 | iDOUGLASWELCH |
| Nov 16, 2021 - 4:08:50 PM | $60,100.00 | iendofthetrail |
| Nov 16, 2021 - 4:08:50 PM | $60,000.00 | iDOUGLASWELCH |
| Nov 16, 2021 - 3:15:50 PM | $55,500.00 | iendofthetrail |
| Nov 15, 2021 - 8:38:50 PM | $55,400.00 | iDOUGLASWELCH |
| Nov 15, 2021 - 4:24:11 PM | $55,300.00 | iBoris3729 |
| Nov 15, 2021 - 4:22:41 PM | $55,200.00 | iTasty |
| Nov 15, 2021 - 4:22:42 PM | $55,200.00 | iBoris3729 |
| Nov 13, 2021 - 2:36:24 PM | $55,100.00 | iTasty |
| Nov 13, 2021 - 2:36:24 PM | $55,000.00 | iabdulahadkhan7073 |
| Nov 13, 2021 - 2:36:03 PM | $50,900.00 | iabdulahadkhan7073 |
| Nov 13, 2021 - 2:36:03 PM | $50,800.00 | iTasty |
| Nov 13, 2021 - 2:35:51 PM | $50,700.00 | iabdulahadkhan7073 |
| Nov 13, 2021 - 2:35:51 PM | $50,600.00 | iTasty |
| Nov 13, 2021 - 12:56:59 PM | $50,500.00 | iabdulahadkhan7073 |
| Nov 7, 2021 - 9:21:59 AM | $50,400.00 | iTasty |
| Nov 6, 2021 - 4:33:34 PM | $50,300.00 | iabdulahadkhan7073 |
| Nov 6, 2021 - 4:33:34 PM | $50,200.00 | iTasty |
| Nov 6, 2021 - 10:57:39 AM | $50,100.00 | iTasty |
| Nov 6, 2021 - 10:57:39 AM | $50,000.00 | iabdulahadkhan7073 |
| Nov 6, 2021 - 10:54:06 AM | $45,100.00 | iTasty |
| Nov 6, 2021 - 10:54:06 AM | $45,000.00 | iabdulahadkhan7073 |
| Nov 6, 2021 - 10:53:56 AM | $40,200.00 | iabdulahadkhan7073 |
| Nov 6, 2021 - 10:53:56 AM | $40,100.00 | iTasty |
| Nov 6, 2021 - 10:53:44 AM | $30,200.00 | iabdulahadkhan7073 |
| Nov 6, 2021 - 10:53:44 AM | $30,100.00 | iTasty |
| Nov 6, 2021 - 10:53:33 AM | $20,200.00 | iabdulahadkhan7073 |
| Nov 6, 2021 - 10:53:33 AM | $20,100.00 | iTasty |
| Nov 6, 2021 - 10:53:22 AM | $10,200.00 | iabdulahadkhan7073 |
| Nov 6, 2021 - 10:53:22 AM | $10,100.00 | iTasty |
| Nov 6, 2021 - 10:53:12 AM | $5,200.00 | iabdulahadkhan7073 |
| Nov 6, 2021 - 10:53:12 AM | $5,100.00 | iTasty |
| Nov 6, 2021 - 10:53:01 AM | $2,125.00 | iabdulahadkhan7073 |
| Nov 6, 2021 - 10:53:01 AM | $2,100.00 | iTasty |
| Nov 6, 2021 - 10:52:49 AM | $1,600.00 | iabdulahadkhan7073 |
| Nov 6, 2021 - 10:52:49 AM | $1,575.00 | iTasty |
| Nov 6, 2021 - 10:52:29 AM | $1,550.00 | iabdulahadkhan7073 |
| Nov 6, 2021 - 10:52:29 AM | $1,525.00 | iTasty |
| Nov 3, 2021 - 5:53:07 PM | $1,500.00 | iabdulahadkhan7073 |