Sell With Us
Since 2002 Auctions International, Inc. has been helping agencies and businesses sell their assets for maximum dollar.
Our high-traffic website receives over 45 million+ page views annually and we proudly serve over 1,500 agencies across the Northeast and Beyond.
If you are from an Educational Institution or Municipality please contact your designated Sales Representative, listed below, to start your selling process today!

5 Steps to Auction Success<<CLICK HERE
How to Approve your recently closed online sale- Walk-through video

Submitting an Online Auction directly to our system- Walk-through video
If you are a business or individual please contact our Listings Department directly; Listings@auctionsinternational.com  
For all other inquiries please contact our Operations Manager directly
RJ Klisiewicz III
(800) 536-1401 x110
(716) 656-1400 x110
rich@auctionsinternational.com
NEW YORK STATE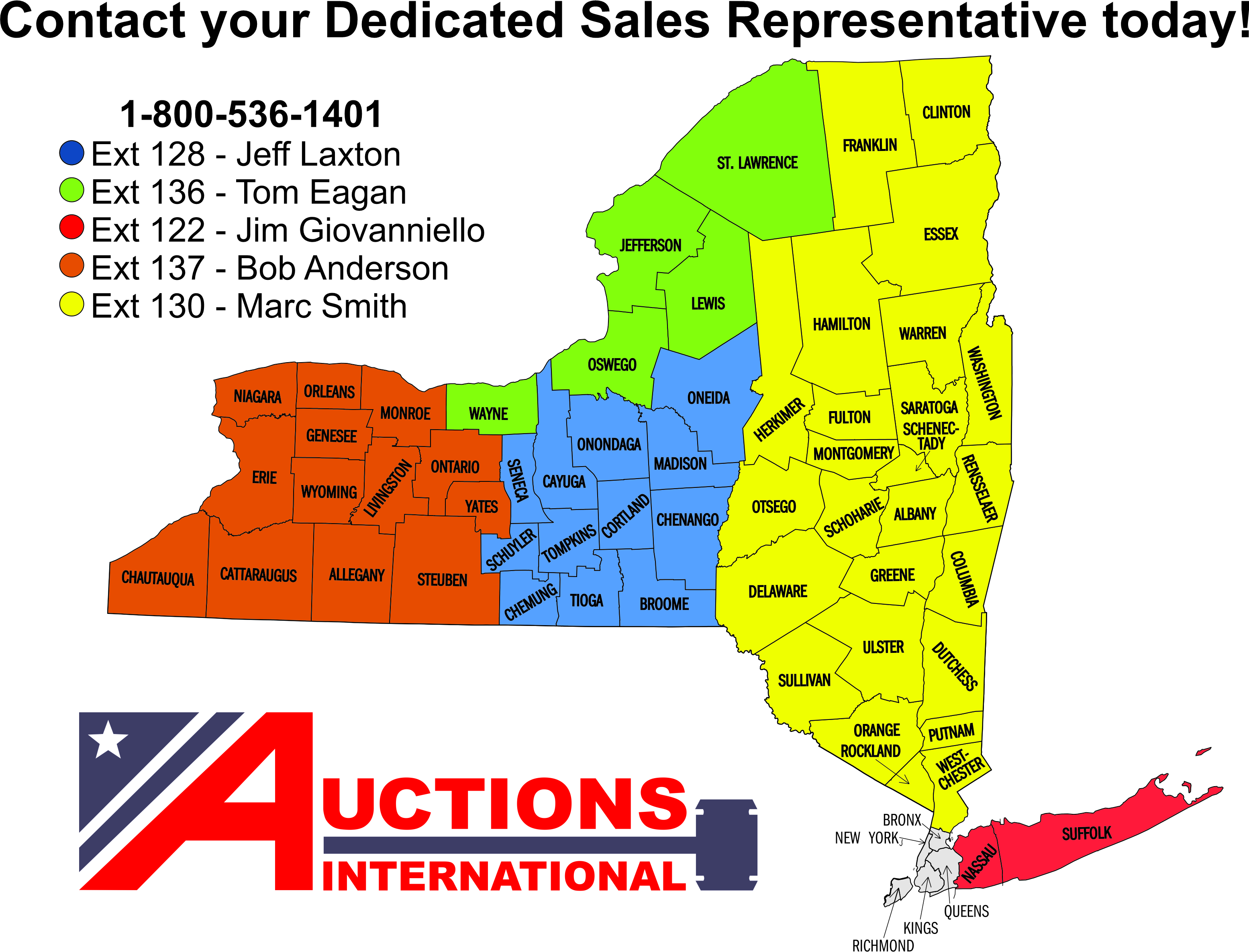 Bob Anderson- WNY: rja@auctionsinternational.com
Jeff Laxton- CNY: jeff@auctionsinternational.com
Tom Eagan- Northern CNY: tom@auctionsinternational.com
Marc Smith- Eastern NY: marc@auctionsinternational.com
Jim Giovanniello- Long Island: jim@auctionsinternational.com
NEW ENGLAND REGION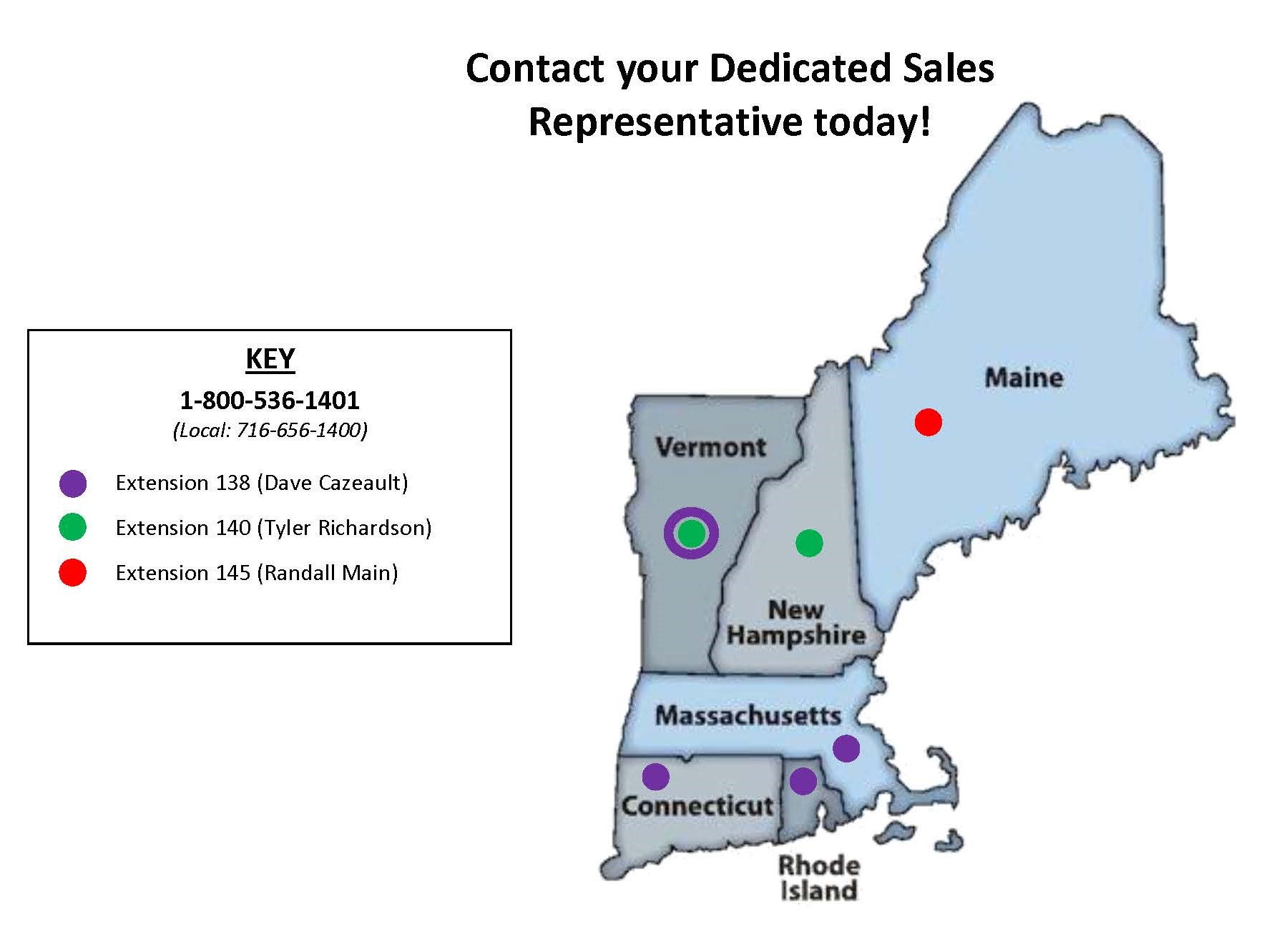 Dave Cazeault- New England Sales Representative: dave@auctionsinternational.com
Tyler Richardson- NH Sales Representative: tyler@auctionsinternational.com 

Randall Main- ME Sales Representative: randall@auctionsinternational.com 
National Contract Representative
Craig Robbins- craig@auctionsinternational.com

Choice Partners- Contract #:20/015KC-0 Auctioneer Services
Purchasing Cooperative of America- Contract #: PCA 3-221-19 Auction Services for Public Entities
 

HELPFUL HINTS FOR CATALOGING YOUR OWN AUCTION<<CLICK HERE
For our sellers
Welcome to Auctions International                                                                       
Auctions International is the award-winning online auction company to turn to
for liquidating your surplus municipal, educational, secured creditor and personal/business assets.
The company was founded by Owner and President Russ Scherrer in 2002. Scherrer began his career
hosting live auction sales at municipal facilities across the Northeast.  With decades of experience in
the live auction method of selling, Scherrer realized the internet was ideally suited for all types of
equipment, vehicles and real estate sales.  More importantly, online auctions were the best way to
reach a wider audience and create the ultimate competitive bidding platform while reducing the
sellers expenditures typically associated with a live auction event. 
Virtual Equipment Showroom                                                                                                             
Today Auctions International is entering its 18th year in business. The company is a virtual equipment
showroom with over 1,500 consignors across the Northeast, and is New York State's largest volume
online auction provider for municipal and educational surplus assets.  With our innovative processes,
we strive to stay on the cutting edge of the online auction industry.  Yet, give the same care and
attention whether selling one piece or an entire business.
Turn-Key Process                                                                                                                                    
From the time you make the call to liquidate your assets until you collect your check, the process is simple,
flexible, and designed for  optimum success.  We provide the evaluation, identification, marketing, sales,
transaction and site management to assure a turn-key, operation. With over 65,000 registered bidders
your surplus assets are sure to receive maximum exposure. More eyes on your surplus results in higher returns.
The Way It Works
Our online auction platform creates a competitive bidding environment for interested parties to essentially
name their price on assets.
Make the Call                                                                                                                                          
When you are ready to liquidate an item, pick up the phone or email our Corporate Office. 
Auctions International has a team of dedicated Sales Representatives ready to assist you.
To find the representative nearest you, CLICK HERE
Preparing the Auction                                                                                                                            
Once you have signed our simple non-exclusive contract you will receive condition reports and instructions on
how to compose your sale and get the information to our office. You (or your sales representative) will prepare
a detailed report of each item you wish to post along with accompanying photographs.
Web Posting                                                                                                                                              
Your item will be posted within days of the identification process. The bidding begins and ends on mutually agreed
upon dates, and items are typically listed for 14 days.  Each item listed will include multiple photographs from
every angle and detailed descriptions, so a potential buyer can make an educated buying decision.
During the Auction                                                                                                                                    
While your online auction is running you can view the bidding events unfold in real     time. Interested bidders are
encouraged to arrange an inspection of the assets with you, the seller.  A count-down timer will note how much time
is left in the sale, before the bidding window closes.  You can also see how many times assets were viewed!
 Transaction Processing                                                                                                                               
At the conclusion of the sale, all bidder transactions are automatically processed for payment in accordance with the
specific contract utilized for your online sale. Our incredible staff are trained and experienced to provide swift, and
efficient transaction details for every step of your auction. 
Removal                                                                                                                                                           
It is the buyer's responsibility to remove their purchased items from the seller's location.  The seller will coordinate
the removal date and schedule the pick-up time.
Collect the Check                                                                                                                                           
Once payment is received from the winning bidder,  an email with the paid receipt is sent to both the buyer and the seller.
Payment from Auctions International will be sent to the seller within 15 business days, once all auction monies have been collected.
We also offer a full-service turnkey tax foreclosed real estate auction service that utilize both the live and online
auction platforms.  For more information regarding these specialized sales please contact our Operations Manager,
RJ Klisiewicz. (rich@auctionsinternational.com)
We welcome the opportunity to discuss your project and evaluate your assets at no charge. 
Call us today for your free consultation 800-536-1401